Overview
Interventional neuroradiology offers minimally invasive therapies for lesions of the head, neck, spine, brain, and spinal cord. Endovascular therapies include embolotherapy (see the images below), the goal of which is the occlusion of abnormal blood vessels (eg, vascular malformations, aneurysms, and vascular tumors) and cerebral revascularization, the goal of which is to reopen occluded or narrowed normal vessels. Nonvascular interventions include pain management, percutaneous biopsies, percutaneous vertebral augmentation procedures, and percutaneous management of disk disease.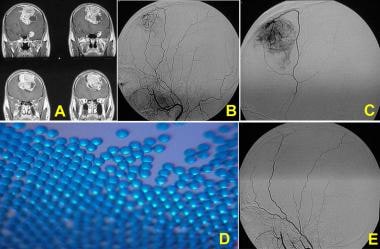 A, Gadolinium-enhanced MRI of a large meningioma. B, External carotid angiogram obtained before embolization. C, Selective catheterization of the feeder branch (ie, the middle meningeal artery). D, Photomicrograph of Bead Block microemboli. E, Image obtained after embolization with polyvinyl alcohol (PVA) particles. The tumor was subsequently surgically resected with minimal blood loss.

Detachable silicone balloons uninflated (A) and inflated (B). Carotid-cavernous sinus fistula before embolization (C) and after embolization (D) with Gold Valve detachable balloons.
Of the endovascular therapies, embolization of aneurysms (see the image below) is one of the principal procedures. Although all patients with ruptured or unruptured aneurysms should be evaluated for endovascular therapy, not all patients are best served with this therapy. Conventional surgical clipping is still a consideration. In selecting appropriate therapy, the referring and interventional physicians should consider the configuration of the aneurysm and its neck, the location and number of the aneurysms, and the patient's preference and overall physical condition (eg, ability to tolerate anesthesia and surgery). The risks and benefits of each therapy should be evaluated on a case-by-case basis. The conclusions and recommendations should then be presented to those patients who are able to give consent, their families, and the referring physician.

Large ruptured aneurysm before embolization (A) and after embolization (B, C) embolization with Guglielmi detachable coils.