Overview
Preferred examination
Angiography is the standard imaging approach for detecting fibromuscular dysplasia/arterial stenoses and aneurysms, though its role is being redefined. The diagnostic and prognostic information available from captopril renography and the increasing availability of magnetic resonance angiography (MRA) have reduced the use of renal arteriography as a diagnostic tool, except in evaluating kidneys with intrarenal branch-artery stenoses and those with complex vascular anatomy, including multiple accessory arteries. Fibromuscular dysplasia is an uncommon angiopathy of uncertain etiology associated with heterogeneous histologic changes that may affect the carotid and vertebral circulation, visceral arteries, and peripheral arteries.

CT angiography (CTA) imaging with maximum intensity projection (MIP) and quantitative measurement of stenosis is an accurate noninvasive technique for diagnosing fibromuscular dysplasia/stenosis of the visceral arteries, regardless of the etiology.
(See the CT images below.)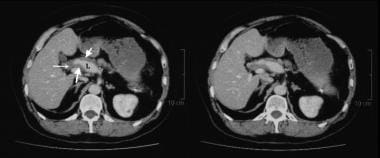 This 52-year-old man presented with pain in the left upper quadrant and was found to have a 3.2-cm aneurysm of the distal splenic artery. During surgery, the aneurysm ruptured, and splenectomy was performed. Histology of the resected splenic artery revealed intimal fibroplasia. Routine 2-year follow-up showed an enlarging aneurysm of the hepatic artery. Contrast-enhanced axial CT images show several narrowings of the common and proper hepatic arteries with intervening aneurysmal dilatation. Note the circumferential, lobulated tissue that is thickening outside the intima. This was assumed to be a manifestation of intimal fibroplasia.

Coronal reconstructions of CT images in the same patient as in the previous image.
Magnetic resonance angiography (MRA) produces excellent contrast-enhanced angiograms without the risk of iodinated compounds and radiation exposure. Unlike contrast-enhanced angiography, MRA has no attendant risk of nephropathy caused by contrast agent or cholesterol-emboli syndrome. MRA provides accurate information about the number of renal arteries, the size of the kidneys, and the presence of anatomic variants. Future developments may shorten MRA imaging times to reduce the problem of claustrophobia while still allowing the test to provide both anatomic and functional information.
(See the magnetic resonance image below.)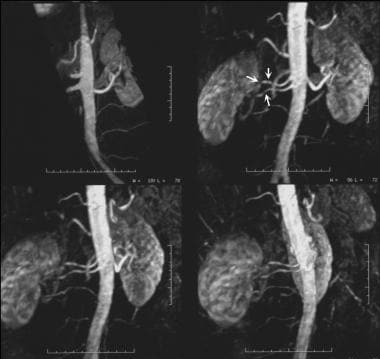 Three-dimensional gadolinium-enhanced magnetic resonance angiograms (MRAs) show medial fibroplasia, which appears as classic string-of-beads sign. This sign is due to multiple stenoses with intervening outpouchings that form a chain. In this case, the lesions involve the main right renal artery and the right accessory renal artery in a 37-year-old man with difficult-to-control hypertension.
The clinical manifestations reflect the arteries involved and most commonly include hypertension caused by renal-artery stenosis (RAS) or strokes from carotid artery disease.
FMD is one of the most important mimics of vasculitis. Although FMD is a pathologic diagnosis, a characteristic angiographic change is the string-of-beads appearance (see the images below) caused by areas of relative stenoses or webs alternating with small fusiform or saccular aneurysms of the artery. The string-of-beads sign is typical of medial fibroplasia, which is only 1 of the types of FMD.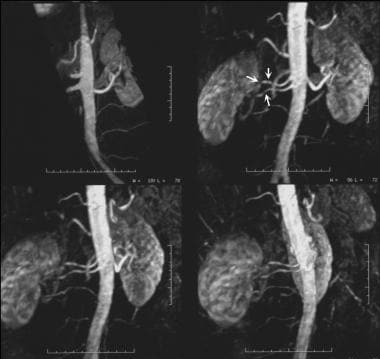 Three-dimensional gadolinium-enhanced magnetic resonance angiograms (MRAs) show medial fibroplasia, which appears as classic string-of-beads sign. This sign is due to multiple stenoses with intervening outpouchings that form a chain. In this case, the lesions involve the main right renal artery and the right accessory renal artery in a 37-year-old man with difficult-to-control hypertension.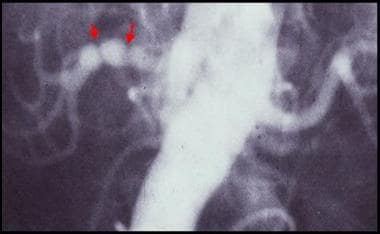 Conventional flush aortogram in a 47-year-old woman with difficult-to-control hypertension shows the characteristic string-of-beads sign of the right renal artery due to medial fibroplasia.
Local and regional preferences differ regarding the use of CTA vs MRA for cross-sectional imaging. However, as a group, radiologists are using MRA in place of contrast-enhanced angiography as the diagnostic modality of choice. With both CTA and MRA, mild FMD or FMD in the accessory arteries may be missed; therefore, it is still likely that contrast-enhanced angiography is the criterion standard.
Data support the superiority of MRA over duplex Doppler ultrasonography (US) in patients with uremia associated with RAS, though the data do not specifically apply to FMD.
As availability increases, MRA will likely become the screening test of choice in the diagnosis of RAS, including FMD.
Beregi et al examined 20 patients with hypertension (mean age, 56 y) and CTA-proven FMD of the renal artery and concluded that helical CTA, especially the combination of transverse sections and MIP reconstructions, can reliably depict renal-artery FMD. They further noted that because some lesions may not be shown, arteriography with pressure measurements is the only technique that can be used to assess the physiologic importance of the dysplasia.

Doppler US can be used to measure the velocity of blood flow. It is a noninvasive technique and has a high sensitivity in expert hands. Color flow Doppler US may demonstrate disorganized flow patterns and a high-velocity flow stream associated with hemodynamically significant stenosis.

Leung et al compared contrast-enhanced MRA with duplex US for the detection of RAS, with catheter angiography as the standard, and found that contrast-enhanced MRA is a useful technique for diagnosing atherosclerotic renovascular disease. According to the authors, it overcomes the major limitations of duplex renal scanning. However, duplex imaging has the advantage of providing hemodynamic information, and it appears to be best suited for the assessment of suspected FMD.

Radionuclide renography with technetium-mercaptoacetyltriglycine (MAG3)–captopril has a high sensitivity and specificity and adds a physiologic element to the diagnosis of RAS. In FMD, a positive captopril renographic finding supports intervention, though hypertension is unlikely to be cured.

Hypertensive urography is of historical interest and is no longer used as a screening technique for RAS. Likewise, plain-film radiography has a limited role in patients presenting acutely as a result of mesenteric ischemia, which is a rare complication of FMD.
Renal arteriography can be performed by using conventional or digital subtraction technique. Angiography is particularly indicated when vascular intervention is contemplated. Carbon dioxide has recently emerged as an alternative angiographic contrast agent for use in combination with digital subtraction angiography (DSA) to avoid the risk of conventional nephrotoxic contrast agents in patients with severe renal insufficiency.
See the sequence of images in a single patient, below.
A 28-year-old man presented with episodic, postprandial abdominal pain, hypertension, ischemic changes in the right toes, and a pulsatile swelling behind the knee. In this ultrasonogram, the superior mesenteric artery has a beaded appearance.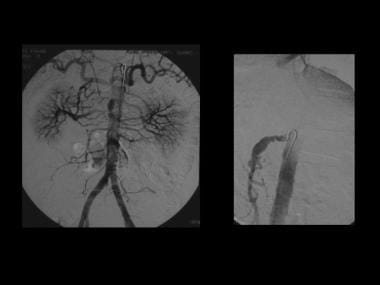 Angiogram of the same patient as in the previous image confirms that the superior mesenteric artery has a beaded appearance.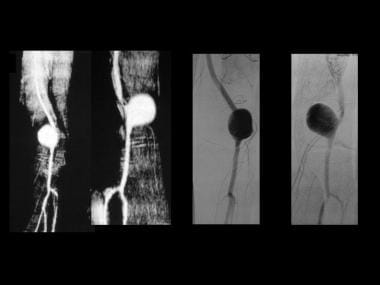 A popliteal artery aneurysm depicted by MRA and angiography (same patient as in the previous image).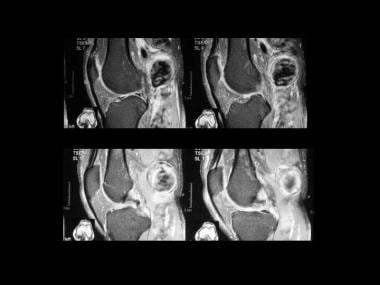 A popliteal artery aneurysm seen on coronal T2-weighted images. The resected popliteal artery aneurysm showed intimal fibroplasia (same patient as in the previous image).
Pathophysiology
Leadbetter and Burkland first reported FMD of a renal artery in 1938 when they removed an ectopic kidney from a 5-year-old boy who presented with sustained hypertension.

FMD may involve any layer of a visceral artery, and it may be classified on the basis of the primary involvement of the arterial wall. The classification system includes intimal, medial, or adventitial fibrosis. The medial variety can be subdivided. In 1967, McCormack et al histologically classified FMD on the basis of the primary site of involvement of the arterial wall.
Their classification of fibrosing lesions of renal arteries included the categories of intimal fibroplasia, medial fibrosis with microaneurysms, subadventitial fibroplasia, and fibromuscular hyperplasia. They coined the term chain of beads to describe radiographic changes in medial fibroplasia of the renal artery. The term has subsequently been modified to string of beads.
Medial fibroplasia is the most common type of FMD and represents 80-95% of cases. The string-of-beads sign is classically seen in medial fibroplasia.
Subadventitial fibroplasia can have a similar radiographic appearance. However, in this variant, the size of the aneurysms does not exceed the diameter of the renal artery. Medial fibroplasias may appear as a single stenosis of a visceral artery, but it is most often seen as multiple stenoses with intervening outpouchings that form a chain. This is radiographically depicted as the string-of-beads sign.
On histologic evaluation, medial fibroplasias can be subdivided into 2 types: a peripheral form and a diffuse form. The peripheral form generally affects the outer media, replacing the smooth muscle with fibrous-appearing tissue. The diffuse form affects the media more extensively than the other form, with replacement of the media with fibrous tissue and medial thinning. The media can be completely absent in some areas, giving rise to aneurysmal dilatation. Although FMD was initially described in the renal arteries, many other visceral arteries are now known to be involved, and multiple visceral artery aneurysms have been reported.

Complete obstruction of the renal artery (20%) leading to total renal infarction has been reported.
Studying potential arterial donors with angiographic evidence of FMD, Cragg et al found that 26% developed hypertension, compared with 6% of age- and sex-matched control subjects.

Hepatic and superior mesenteric involvement occurs infrequently, and sporadic cases of severe intestinal ischemia and HAA rupture have been reported. FMD is a rare cause of abdominal aortic aneurysm.

Angiographic findings in systemic necrotizing vasculitis include 4 basic arterial anomalies: saccular microaneurysms (62%), arterial thrombosis (81%), arterial stenosis (81%), and luminal irregularities (90%). Alterations in the renal vascular flow are also observed in accordance with changes in the cortical medullary differentiation, heterogeneous nephrogram, and prolonged washout. Microaneurysms may regress after immunosuppressive therapy.
There is little progress in the understanding of FMD in understanding the epidemiology, pathogenesis, and outcomes since its first description in 1938. The clinical features, presenting symptoms, and vascular events were reviewed for the first 447 patients enrolled in a national FMD registry from 9 US sites. In this registry, FMD occurred primarily in middle-aged women. Cerebrovascular FMD occurred as frequently as renal FMD. Although a significant proportion of FMD patients may present with a serious vascular event, many present with nonspecific symptoms and a subsequent delay in diagnosis.

Limitations of techniques
With CTA or MRA, the physician may overlook mild cases of FMD. Most false-negative and false-positive results for RAS arise from accessory renal arteries. MRI is expensive, and its availability is limited.
Measurements of the size of RAS on angiography (an important clinical consideration) may be imprecise and do not permit an assessment of the cross-sectional area or, most importantly, the flow through the stenotic segment. Some of these limitations may be overcome by using pressure measurements across the stenosis and by using intravenous US (IVUS). However IVUS has limited availability.
The various histologic types of FMD are difficult to distinguish on angiograms; this difficulty has an important clinical bearing from a prognostic point of view.
Doppler US is operator dependent, time consuming, and cumbersome. Several factors, including anatomic, technical, patient-related, and pathologic factors, can affect Doppler US.
The false-positive and false-negative rates of hypertensive urography are too high for it to be used as a screening test for RAS. Acceptance of radionuclide renography as a primary screening tool for RAS has been hindered by the lack of standardized protocols.