Overview
Embolization is defined as the "therapeutic introduction of various substances into the circulation to occlude vessels, either to arrest or prevent hemorrhaging; to devitalize a structure, tumor, or organ by occluding its blood supply; or to reduce blood flow to an arteriovenous malformation."

Venous malformations are the most common vascular malformation and are generally found in the head and neck area or in the extremities. Accurate diagnosis is necessary to establish cause and determine treatment. The International Society for the Study of Vascular Anomalies has divided vascular malformations into simple and combined types. The simple types include capillary, venous, and lymphatic malformations. Combined types include arteriovenous malformation and arteriovenous fistula. Doppler ultrasound can identify low flow of venous malformations, and MRI can identify lesion margins and invasion into other structures.

Embolization, or embolotherapy, is performed by radiologists who have completed advanced postresidency training (fellowship) in interventional radiology (see the images below).


A lower-extremity venogram (digital subtraction angiogram) in a patient with a venous malformation in the upper calf. The deep veins are patent but appear to be displaced by the vascular malformation.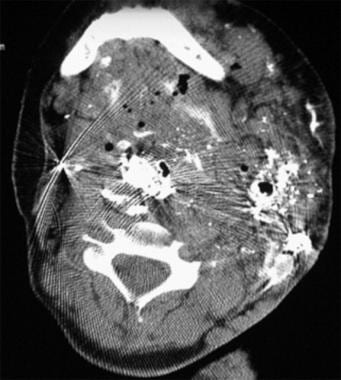 Axial CT image through the upper part of the neck after percutaneous cyanoacrylate embolization. The patient was a young girl with an extensive head and neck venous malformation resulting in significant airway obstruction, which required a tracheostomy.
Embolization may have 3 therapeutic goals:
An adjunctive goal (eg, preoperative, adjunct to chemotherapy or radiation therapy)
A curative goal (eg, definitive treatment such as that performed in cases of aneurysms, arteriovenous fistulae [AVFs], arteriovenous malformations [AVMs], and traumatic bleeding)
A palliative goal (eg, relieving symptoms, such as those of a large AVM, which cannot be cured by using embolotherapy alone)
Medical conditions treated by using embolotherapy can be grouped as follows:
Vascular anomalies (eg, AVM, AVF, venous malformation [VM], lymphatic malformation [LM], and hemangioma)
Hemorrhage (eg, pseudoaneurysms and GI tract, pelvic, posttraumatic, epistaxis, and hemoptysis bleeding)
Other conditions (eg, tumors, varicoceles, and organ ablation)