Overview
Pulmonary hypoplasia is a developmental abnormality of the lung characterized by a decrease in the number of alveoli, cells, and airways, eventually resulting in decreased size and weight of the lungs. Pneumothorax and respiratory distress are common in affected infants. Although pulmonary hypoplasia is occasionally a primary condition, most cases are secondary to other abnormalities that prevent complete pulmonary development. Pulmonary hypoplasia is frequently associated with malformations of the cardiac, genitourinary, gastrointestinal, and musculoskeletal systems. Bronchopulmonary malformations are also associated with this disease.

Preferred examination
Antenatal ultrasonography provides early predictors of pulmonary hypoplasia.

Magnetic resonance imaging (MRI) is used in some centers to assess fetal volume and predict the presence of pulmonary hypoplasia.

After birth, chest radiography shows changes of pulmonary hypoplasia, which is better demonstrated on computed tomography (CT) scans. Any vascular abnormality is also assessed with CT scanning or contrast-enhanced magnetic resonance angiography. (See the following images.)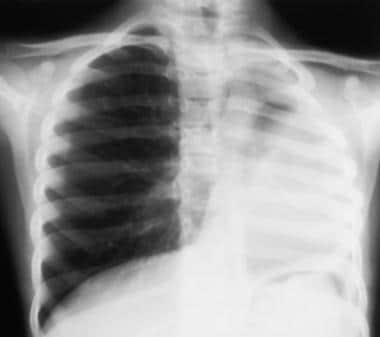 Radiograph showing left pulmonary hypoplasia.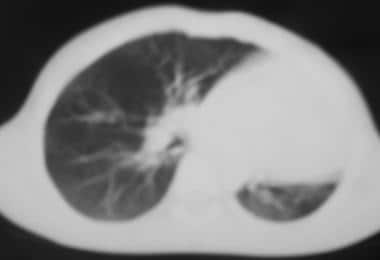 Computed tomography scan showing pulmonary hypoplasia on the left side.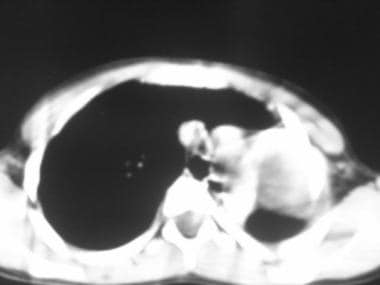 Computed tomography scan (mediastinal window) shows a hypoplastic left lung.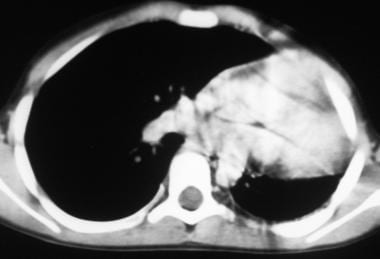 Computed tomography scan (mediastinal window) shows left pulmonary hypoplasia.
Other problems to consider
Atelectasis, persistent pulmonary hypertension, pulmonary agenesis, pulmonary aplasia, and proximal interruption of pulmonary artery should be considered. Unlike agenesis or aplasia, pulmonary hypoplasia results in bronchi and alveoli that are intact. The pulmonary artery is usually small or, sometimes, absent.
In pulmonary agenesis, the lung is absent, as are the bronchi, airways, and pulmonary vasculature. The right and left sides are affected equally, but the prognosis is worse if the right side is involved because of associated severe congenital malformations. The affected side has reduced volume, and patients have homogeneous opacification of the entire lung, with a mediastinal shift to the same side. Compensatory overinflation of the opposite lung and herniation and congenital malformation are associated findings. In pulmonary aplasia, the lung is absent, but a rudimentary blind ending bronchus is present.