Overview
Imaging plays an important role in the prenatal and postnatal diagnosis of anomalies associated with Down syndrome. Most attention in Down syndrome is directed toward imaging to detect gastrointestinal anomalies in the early postnatal period and toward imaging congenital heart disease, which may be present at birth and may remain throughout the patient's lifetime.

Conventional radiography
Conventional radiography remains the mainstay of imaging in the immediate postnatal period and in the older child with suspected congenital heart disease, infection, GI anomalies, or skeletal anomalies (see the images below). Contrast-enhanced studies can be added if and when they are required, as in an evaluation for GI and urinary abnormalities. Moreover, conventional radiography is an essential part of dental practice.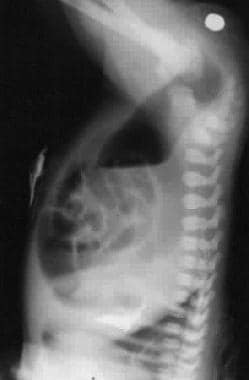 Lateral inverted abdominal radiograph in a baby with Down syndrome who presented with clinical features of intestinal obstruction. A radio-opaque marker was placed on the anal dimple. Image shows an air-fluid level with a short distance between the air-filled rectum and the marker. The features are those of a low, imperforate anus. However, note that that the distance between the rectal air and the marker do not accurately outline the atretic rectum and the anus due to variations in the length of the air column during crying. Crying increases abdominal pressure and causes contraction of the levator ani muscle.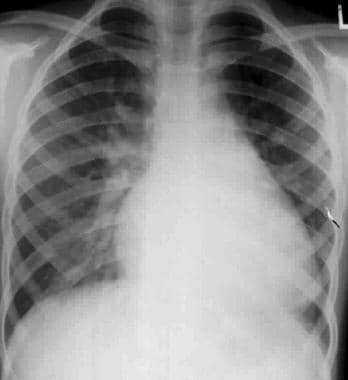 Chest radiograph in a 3-year-old with Down syndrome and a ventricular septal defect. Image shows features of such a defect, namely, cardiomegaly and prominent pulmonary arteries associated with pulmonary plethora.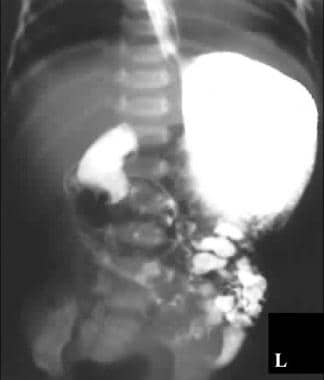 Small-bowel study in a 2-month-old infant with Down syndrome shows features of small bowel malrotation, with the ligament of Treitz in the right upper quadrant and the cecum in the left iliac fossa.
Conventional radiographic findings are nonspecific but can demonstrate chamber enlargement, an abnormal cardiac configuration, and signs of heart failure. However, the results do not permit a specific diagnosis of congenital heart disease.
The transverse ligaments between the atlas and the odontoid processes have increased laxity in 20% of patients of Down syndrome, and this laxity results in atlantoaxial instability. The diagnosis is suggested when radiographs of the lateral cervical spine obtained in flexion and extension show a distance of more than 4.5 mm between the odontoid process of the axis and the anterior arch of the atlas or when atlanto-occipital and rotational instability are present.
Angiography
In patients who require surgical or catheter-based cardiac intervention, angiography is usually considered an essential component of patient assessment. Angiography and/or cardiac catheterization allows clinicians to accurately assess pressure, blood flow, the hemodynamics of any defects, and the anatomy of the pulmonary artery.
In patients older than 30 years and in those in whom past or future surgery involved or will involve the coronary arteries, selective coronary angiography is an essential component of the overall assessment.
Angiocardiography is an invasive procedure. Children undergoing angiocardiography may need a general anesthetic. Cardiac angiography and interventional cardiac catheterization in patients with congenital heart disease pose specific technical challenges, which include the need for a well-equipped cardiac laboratory, experienced operators, biplanar angiographic equipment, and unrestricted procedure time. Moreover, because of the high incidence of cardiac arrhythmias that occur during and after the procedure, facilities and experienced staff should be available to conduct concomitant electrophysiologic studies and radiofrequency ablation as needed. These requirements are met in only few selected centers.
Ultrasonography/echocardiography
Other noninvasive studies, such as ultrasonography, are instrumental not only in the prenatal detection of Down syndrome but also in the antenatal diagnosis of anomalies, which may have a major effect on postnatal care. Transesophageal ultrasonography is becoming an essential tool in cardiac surgery.

Ultrasonography is operator dependent, and acoustic windows may be difficult to obtain in patients who are obese or who have chest wall abnormalities. In addition, the lung may be in the way of the ultrasound beam. Clinicians should not rely on ultrasonography as the primary method of diagnosing Down syndrome because the results can cause the diagnosis to be missed in affected families.
Like transesophageal ultrasonography, intracardiac echocardiography is becoming an important study in cardiac surgery. With advances in echocardiography, the need for conventional cardiac angiography is declining. Current limitations of intracardiac echocardiography include monoplanar imaging and a narrow field of view.

MRI and CT
Cardiac MRI may limit the need for but not obviate standard ventriculography. The nonspecific indications for MRI or CT have been established, though either imaging study could be applied to evaluate suspected atlantoaxial subluxation. Cardiac CT and MRI are also contributing to the diagnosis and classification of congenital heart disease. MRI can also provide functional information regarding the heart.
CT and MRI may be difficult to perform in children without sedation or general anesthesia. Similar principles apply to the occasional adult who may be obstinate. MRI is an expensive tool, and cardiac expertise is not widely available. Furthermore, the presence of ferromagnetic foreign bodies and certain cardiac pacemakers are incompatible with MRI.
Radionuclide studies
Radionuclide studies may be used to measure ejection fractions and to investigate cardiac shunts, though the latter are now most reliably studied by using echocardiography with contrast media. Radionuclide studies have a high sensitivity but low specificity, and they provide limited anatomic information.

Precautions
Tonni et al describe fetal gastroschisis at 12 weeks' gestation associated with Down syndrome to report a clinical antenatal management strategy based on integrating ultrasound and MRI in the evaluation of herniated bowel following early prenatal diagnosis of gastroschisis.
Fetal gastroschisis was documented at 12 weeks at the time of first trimester screening for Down syndrome. Fetal karyotype was performed at 16 weeks and showed a 46,XY karyotype. Ultrasound at 20 weeks diagnosed gastroschisis as an isolated finding. Follow-up scans were planned monthly.
The case report has shown the integrating approach to be clinically useful in planning the timing of delivery (cesarean delivery) and, in turn, has been associated with an easy surgical repair and to a favorable postnatal outcome. The result of amniocentesis was crucial for the parent's decision-making process whether to continue the pregnancy. Moreover, amniotic fluid alpha-fetoprotein levels may be used as an index of small bowel damage when loops of small bowel led uncovered within the amniotic cavity.