Overview
Twin-to-twin transfusion syndrome (TTTS) occurs in monochorionic (MC) twins and is due to arteriovenous anastomosis in the shared placenta. The donor twin is small and anemic. The recipient twin is polycythemic, large, and at risk for high-output cardiac failure. The mortality rate is 40-90%, with both twins at risk.
Ultrasonography remains the cornerstone test in the diagnosis of twin-to-twin transfusion syndrome (TTTS).
Most fetal interventions are currently ultrasonographically guided. Monochorionic (MC) twin gestations are high-risk pregnancies, largely related to the vascular anatomy of the shared placentae and to the presence of intertwin vascular connections. These anastomoses are implicated in TTTS and in co-twin sequelae after the intrauterine death of 1 twin. Obstetric Doppler sonography can be used to assess these high-risk pregnancies and to interrogate the vascular connections in the shared placentae. The information obtained may help inform obstetric management.

After birth, premature infants may need to undergo transcranial ultrasonography, as premature twins are susceptible to intraventricular hemorrhage and periventricular leukomalacia. Echocardiography may depict myocardial dysfunction, myocardial hypertrophy, valvular insufficiency, and/or pericardial effusions in either twin. Renal ultrasonography may depict altered renal echogenicity, which indicates hypoxic-ischemic cortical necrosis. Infants with hydrops may also need to be examined with abdominal sonography to detect ascites due to hydrops.
Conventional radiography has no role in the diagnosis or management of TTTS. A chest radiograph is sometimes required to detect pleural effusions and cardiomegaly in hydrops fetalis. Magnetic resonance imaging (MRI) is potentially useful in preoperative planning. Virtual navigation during fetal surgery is now possible as a result of shortened MRI acquisition times and volume-rendering software. Both Computed tomography (CT) scanning and MRI can be used in neonates to diagnose cerebral complications of TTTS.
See the images below.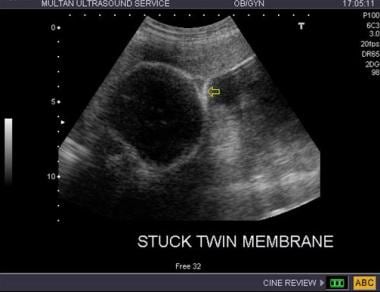 Twin-twin transfusion syndrome. Stuck twin: the arrow points to the membrane surrounding the "stuck" twin; note the absence of liquor in the amniotic cavity of the stuck twin.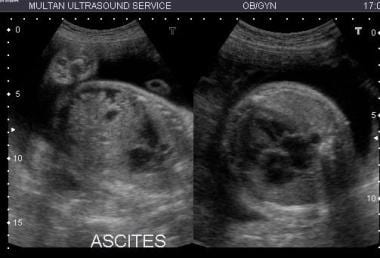 Twin-twin transfusion syndrome. The recipient twin has ascites, and there is some evidence of cardiomegaly with a biventricular component. It is felt that the recipient twin develops hypertension. The presence of cardiomegaly in the recipient is a marker of significant morbidity.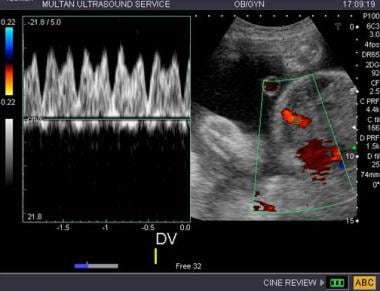 Twin-twin transfusion syndrome. The ductus venosus flow in the recipient twin is still within acceptable limits, though the atrial contraction "a" wave is almost reaching the baseline. Such a flow pattern needs to be monitored closely.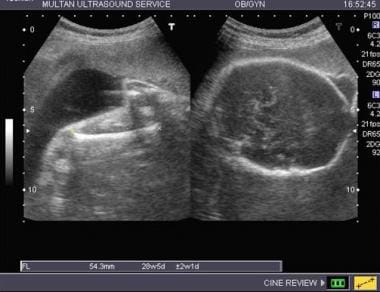 The donor twin with a femur length of 54 mm. Note that the inter-twin membrane is tightly applied against the head, noted at 3 o'clock in the image pane on the right.
Perinatal outcomes improve with serial amniocentesis, with survival rates of 37-83%, though the complication rate from large amniocentesis is 1.5-8%. Ultrasonographic findings include discordance in fetal weight, discordance in the volume of amniotic fluid, fetal hydrops, disparity in the relative size and number of cord vessels, a single placenta with areas of disparity in the echogenicity of the cotyledons supplying the 2 cords, same-sex fetuses, and an inability to visualize the donor's bladder while the recipient's bladder is enlarged.

Vanderbilt and associates studied 262 consecutive laser-treated twin-to-twin transfusion syndrome patients with an objective to identify risk factors for cerebral lesions among survivors of twin-to-twin transfusion syndrome treated with laser surgery. This cohort showed low rates (4-7%) of severe neonatal cerebral lesions, with prematurity being the primary risk factor.

Staging of TTTS
Quintero et al developed a staging classification of TTTS based on clinical and sonographic criteria.
The stages of TTTS defined by using the proposed criteria have prognostic significance. This staging system may allow for a comparison of outcome data of TTTS with different treatment modalities.
TTTS is staged as follows:
Stage I – The bladder in the donor twin is still visible.
Stage II – The bladder in the donor twin is no longer visible, but no critically abnormal findings are observed on Doppler studies.
Stage III – Doppler studies are critically abnormal.
Stage IV – Hydrops is present.
Stage V – The demise of 1 or both twins has occurred.
Severe TTTS is defined as the presence of polyhydramnios (maximum vertical pocket of at least 8 cm) and oligohydramnios (maximum vertical pocket of less than 2 cm). Nonvisualization of the bladder in the donor twin with or without hydrops is noted. The middle cerebral artery, umbilical artery, ductus venosus, and umbilical vein in both fetuses are assessed with pulsed Doppler sonography. Critically abnormal Doppler studies are defined as absent or reversed end-diastolic velocity in the umbilical artery, reversed flow in the ductus venosus, or pulsatile flow in the umbilical vein.