Overview
The prognosis of patients with musculoskeletal tumors has improved markedly because of the advent of new chemotherapeutic drugs and regimens and as a result of advances in imaging and surgical techniques. Limb-salvage operations can currently be performed with better outcomes, while in the past, limbs with tumors were treated only with amputation. Accurate preoperative surgical staging of musculoskeletal tumors is currently possible because imaging techniques provide prognostic information and aid clinicians in choosing the most appropriate treatment option for the patient.

(See the images below.)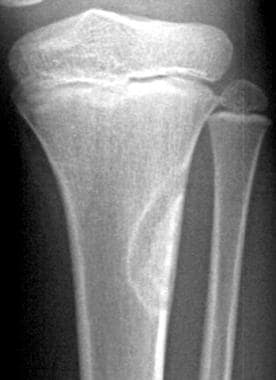 Frontal radiograph in a 9-year-old with trauma to the left knee shows a well-defined, cortically-based lesion with sclerotic margins, situated on the lateral aspect of the left upper tibial metaphysis. The lesion has the typical appearance of a fibrous cortical defect. Enneking stage 0.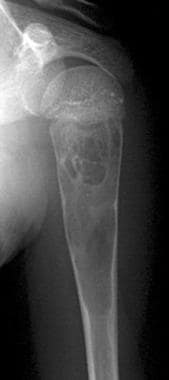 Frontal radiograph in a 10-year-old boy with pain of the left upper limb shows a well-defined, loculated, centrally located lesion in the left humeral metaphysis. Overlying cortical thinning is noted. The lesion has the typical appearance of a unicameral bone cyst. Enneking stage II.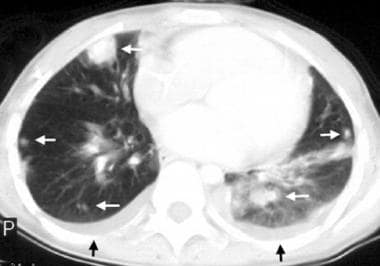 Computed tomography (CT) scan of the lungs shows multiple lung metastases (white arrows) and bilateral pleural effusions (black arrows) in a patient with osteosarcoma of the humerus. Enneking stage III.