Overview
The clavicle derives its name from the Latin word clavicula, or small key, because of its unique curvature. Despite the high frequency of injuries to the clavicle, our understanding of its injuries and function is based on only a modest amount of data. It has long been thought that the inherent reparative capacity of the bone leads to its rapid healing with little more than symptomatic treatment. Deformity has been described as merely a cosmetic concern, because function is satisfactory despite malunion.

Clavicular fractures are classified by their location. The most common injury is a type 1 fracture (seen in the images below), which affects the middle third of the clavicle.
Preferred examination
The preferred method for radiologic evaluation of clavicular fractures varies according to the location of the injury and the need to identify potential associated injuries. In general, radiography is the only modality required, and fractures of the middle third of the clavicle are seen with an isolated anteroposterior (AP) projection centered on the midshaft of the clavicle. If clinical suspicion is high and if the AP view does not reveal a fracture, a 30° cephalic view can be helpful. On the converse, radiographs are extremely difficult to interpret when injuries to the medial clavicle and the sternoclavicular (SC) joint are being evaluated, even when both sides are included or oblique views are used. Computed tomography (CT) scanning is currently the best technique to evaluate these injuries. It provides true orthogonal views, which are unobtainable with plain radiography.

Finally, a single AP radiograph often suffices for diagnosing distal clavicular fractures and injuries to the acromioclavicular (AC) joint. However, certain clinicians prefer to obtain comparison views of the opposite shoulder or stress images. Some believe that the value of stress, or weighted, images is controversial. Use of these images has essentially been abandoned in current practice. A specialized Zanca view may help to visualize the joint by eliminating overlying structures.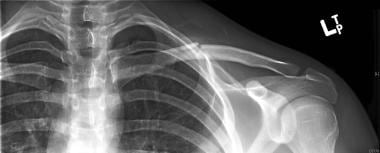 Type 1 clavicular fracture (middle third).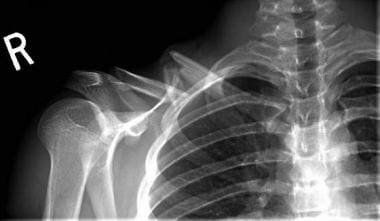 Type 1 comminuted clavicular fracture with skin tenting.
Type 2 fractures (demonstrated in the image below) involve the lateral third of the clavicle, distal to the coracoclavicular ligament. These can be further subdivided into fractures with or without disruption of the ligament itself.

Type 2 clavicular fracture (lateral third).
The least common injury, type 3 (seen in the image below), is a fracture of the proximal third of the clavicle.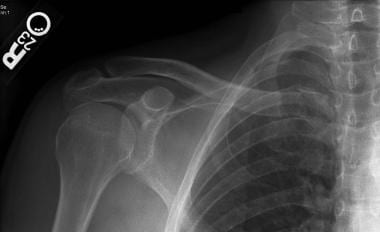 Type 3 clavicular fracture (medial third).
Content.