Practice Essentials
Synovial sarcoma constitutes 8-10% of all sarcomas and usually involves the extremities (as demonstrated in the images below), especially the lower extremities around the knees. Synovial sarcoma is frequently misdiagnosed as a benign condition because of its often small size, slow growth, and well-defined appearance. This malignancy is driven by a translocation between SS18 and SSX 1, 2, or 4 (hybrid transcription factor SS18:SSX). Approximately 1,000 cases a year are diagnosed n the United States, most commonly between 15 and 30 years of age.

As with all sarcomas, magnetic resonance imaging (MRI) is the modality of choice because of its excellent tissue contrast and ability to depict the lesion in multiple planes. MRI is useful for evaluating the extent of the tumor and its involvement with adjacent soft-tissue structures. For instance, MRI is helpful in the differentiation of tumor from muscle tissue and in depicting the involvement of neurovascular structures, tendons, fascial/fat planes, and bone marrow. MRI is also helpful for the differentiation of recurrent soft-tissue tumors from postsurgical or postirradiation changes. Computed tomography (CT) scanning can be used in lieu of MRI in patients who have contraindications to MRI (eg, claustrophobia, pacemakers, aneurysm clips). As with MRI, CT scanning can be useful for determining the gross anatomic extent of the tumor, and this modality is also especially useful for depicting calcifications, bone invasion, or periosteal reaction.

Although MRI has proven to be valuable for the detection and staging of soft-tissue tumors, MRI signal intensity characteristics are usually nonspecific for a histologic diagnosis, with some exceptions (eg, lipomas, some liposarcomas, pigmented villonodular synovitis). Although certain signs can suggest synovial sarcoma in the differential diagnosis, MRI findings are by no means pathognomonic, and histologic analysis of the involved tissue is usually required for definitive diagnosis.
(18)F-fluorodeoxyglucose positron emission tomography (FDG-PET) is useful for risk assessment in several types of sarcomas.
In a study by Lisle et al, (18)F-FDG-PET-derived maximum standard uptake value (SUVmax) ranged from 1.2 to 13.0 (median, 4.35). According to the study findings, pretherapy tumor SUV(max) predicted overall survival and progression-free survival. Patients who had an SUVmax greater than 4.35 were shown to have a decreased disease-free survival and were therefore at high risk for local recurrence and metastatic disease.

(See the images below.)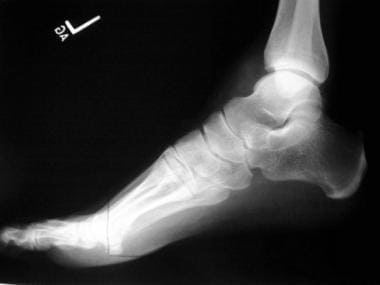 Lateral radiograph of the foot in a 60-year-old man who presented with a mass on the dorsum of his left foot. The radiograph shows a soft-tissue mass that is anterior to the talus and without obvious underlying bone erosion. Subtle faint calcifications are seen within the mass.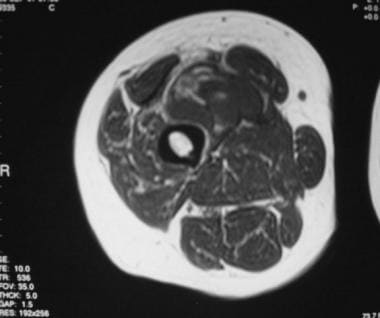 Axial T1-weighted magnetic resonance image of the thigh in a 45-year-old man who presented with a large, right midthigh mass. The anterior mass is well circumscribed, with mostly homogeneous isointensity relative to the muscle. Scattered, small, hyperintense foci probably represent hemorrhage. The fat plane between the mass and the femur is preserved.
Synovial sarcoma tumors can appear small, especially those in the hands or head and neck regions,
where they come to medical attention earlier. Often, the small size, well-defined margins, and sometimes homogeneous appearance of synovial sarcoma can lead to misdiagnosis as a benign lesion. Berquist et al found that synovial sarcoma was the malignant soft-tissue sarcoma most frequently misdiagnosed as benign.
Small, superficial, solid lesions should be approached as a possible sarcoma unless strong signs prove otherwise.

Biopsy guidance
The choice of the imaging modality for biopsy guidance depends on the availability of the equipment, the expertise of the radiologist, and the characteristics of the lesion. CT scanning guidance is optimal for the biopsy of small lesions or those lesions that are near neurovascular bundles or other critical structures. Fluoroscopy is a real-time imaging modality that can be used for the biopsy of larger lesions that are easily seen on 2-dimensional radiographs. Ultrasonography can be used in select cases in which the lesion is more superficial and easily visible on real-time images.

The advantages of ultrasonography over CT scanning include the following: (1) continuous real-time visualization of the needle, (2) the ability to assess regions of viable tissue by using color-flow Doppler imaging, (3) the lack of ionizing radiation, (4) the availability of ultrasound scanners, (5) the reduced procedural time, and (6) overall cost-effectiveness. In some cases in which the tumor is not easily seen on CT scans or in which visualization of the tumor in several planes is desired, MRI-guided biopsy can be performed.