Practice Essentials
Osteomyelitis is an infection of bone and bone marrow. It may be subdivided into acute, subacute, and chronic stages. Chronic osteomyelitis may appear as such at the initial presentation; not all patients show progression through the 3 phases. Rarely, a sclerotic nonpurulent form of osteomyelitis occurs; this is termed Garrès sclerosing osteomyelitis. Other related disorders are chronic recurrent multifocal osteomyelitis,
tuberculous osteomyelitis, synovitis, acne, pustulosis, hyperostosis, and osteitis (SAPHO) syndrome.

See the images of osteomyelitis below.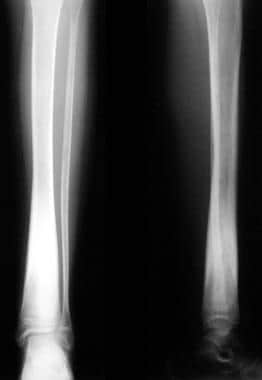 Osteomyelitis, chronic. Sclerosing osteomyelitis of the lower tibia. Note the bone expansion and marked sclerosis.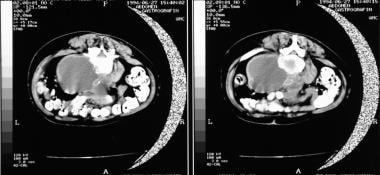 Osteomyelitis, chronic. CT scans show vertebral osteomyelitis associated with a psoas abscess.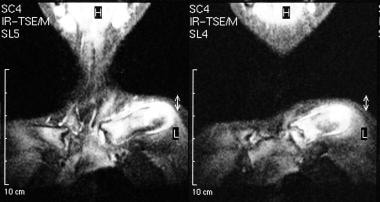 Osteomyelitis, chronic. Short-tau inversion recovery (STIR) MRIs show bone marrow edema of the clavicle and periclavicular fluid (pus).
Chronic osteomyelitis is a severe, persistent, and sometimes incapacitating infection of bone and bone marrow.
It is often a recurring condition because it is difficult to treat definitively. This disease may result from the following:
Inadequate treatment of acute osteomyelitis
A hematogenous type of osteomyelitis
Trauma
Iatrogenic causes such as joint replacements and the internal fixation of fractures
Compound fractures
Infection with organisms, such as Mycobacterium tuberculosis and Treponema species (syphilis)
Contiguous spread from soft tissues, as may occur with diabetic ulcers or ulcers associated with peripheral vascular disease
Cierny and Mader proposed an anatomic classification of chronic osteomyelitis:
Type 1 — Endosteal or medullary lesion
Type 2 — Superficial osteomyelitis limited to the surface
Type 3 — Localized, well-marked legion with sequestration and cavity formation
Type 4 — Diffuse osteomyelitis lesions
Preferred examination
Radiologic assessment of chronic osteomyelitis is performed for the following reasons: (1) to evaluate bone involvement (eg, the extent of active intramedullary infection or abscess superimposed on areas of necrosis, sequestrum and fibrosis) and (2) to identify soft tissue involvement (areas of cellulitis, abscess, and sinus tracts).
Plain radiographs are usually obtained initially. Ultrasonography may readily depict soft tissue involvement, but it provides only limited information about bone changes.

Because of its high sensitivity in the detection of bone marrow changes, MRI may provide detailed information regarding the extent and activity of the process by allowing the detection of the intramedullary site of infection and its complications. MRI may also be used to distinguish soft tissue involvement, allowing differential diagnosis.
With scintigraphy, other conditions not involving bone marrow, such as cellulitis and myositis, may cause errors; scintigraphy may be indicated for the assessment of local disturbances in vascular perfusion that are common in cases of chronic osteomyelitis.

Limitations of techniques
Although plain radiographs may provide important clues for diagnosis (eg, demonstration of bone remodeling, sclerosis, and thickening), the radiographic impression is often equivocal and relies heavily on clinical findings.
CT may depict intramedullary and soft tissue gas, sequestra, sinus tracts, and foreign bodies. However, CT scanning is insufficient for the assessment of the activity of the process.
MRI has limited availability, it is relatively expensive, and it is contraindicated in patients with certain implant devices and metallic clips. In addition, MRI is not tolerated by all patients with claustrophobia or morbid obesity, and young children may require sedation. Good MRIs require patient cooperation because patient motion degrades the images.