Practice Essentials
Multiple myeloma is the most common primary malignant neoplasm of the skeletal system. The disease is a malignancy of plasma cells. Clinical definitions of the various myeloma subtypes have been updated, as have the imaging definitions of what constitutes bone marrow disease and individual bony involvement.
The etiology of multiple myeloma is the monoclonal proliferation of plasma B cells, with resultant marrow infiltration and increase of a single immunoglobulin and its fragments in the serum and urine. Electrophoretic analysis shows increased levels of immunoglobulins in the blood as well as light chains (Bence-Jones protein) in the urine. Radiologically, multiple destructive lytic lesions of the skeleton, as well as severe demineralization, characterize multiple myeloma. A focal lytic lesion must be 5 mm or greater in size to be considered a true abnormality by the latest International Myeloma Working Group (IMWG) criteria.

The marrow infiltration process may involve any bone, but the predominant sites include the vertebral column, ribs, skull, pelvis, and femora. Although the osseous structures may appear radiographically normal or simply osteopenic, the classic appearance is of multiple, discrete, small, lytic lesions. Occasionally, a single lytic lesion is discovered and is termed a plasmacytoma (solitary myeloma). Patients with a single focus of disease often progress to multiple sites of myelomatous involvement.

Preferred examination
The preferred initial imaging examination for the diagnosis and staging of myeloma (according to the 2014 IMWG consensus statement) remains the skeletal survey.
Patients suspected of having multiple myeloma based on bone marrow aspirate results or hypergammaglobulinemia should undergo a radiographic skeletal survey. Conventionally, this skeletal survey consists of a lateral radiograph of the skull, anteroposterior (AP) and lateral views of the spine, and AP views of the humeri, ribs, pelvis, and femora. Inclusion of at least these bones is important for both diagnosis and staging. CT and MRI are considered most effective for making the diagnosis.
MRI is the gold-standard imaging modality for detection of bone marrow involvement and the preferred imaging technique to rule out spinal cord compression in patients with multiple myeloma, whereas PET/CT provides valuable prognostic data and aids in assessment of response to therapy.

Shortt et al compared FDG PET, whole body MRI, and bone marrow aspiration and biopsy in 24 patients (13 women, 11 men; mean age, 67.1 years; range, 44-83 years) with multiple myeloma proven by bone marrow biopsy. Whole body MRI had a higher sensitivity and specificity than PET, and the positive predictive value of whole body MRI was 88%. When used in combination and with concordant findings, PET and whole body MRI had specificity and positive predictive values of 100%.

Dimopoulos et al (writing for the International Myeloma Working Group) reviewed the literature of all imaging modalities used in multiple myeloma and provided recommendations for each modality. Conventional radiography, according to the authors, was determined to be the criterion standard for staging newly diagnosed cases and in cases of relapse. MRI can provide information that is complementary to a skeletal survey and was recommended for use in patients with normal radiographic images and in all patients with an apparently solitary plasmacytoma of bone.

According to Dimopoulos et al, urgent MRI (or CT, if MRI is not available) is the diagnostic procedure of choice to assess suspected spinal cord compression. Standard 99mTc bone scintigraphy should play no role in the routine staging of myeloma, and sequential dual-energy radiographic absorptiometry (DXA) scans are not recommended, according to the authors. PET or MIBI imaging are also not recommended for routine use, according to the study findings, although both techniques may be useful in selected cases that warrant clarification of previous imaging findings.

Agool et al studied somatostatin receptor scintigraphy (SRS) in 29 myeloma patients and compared the results with radiographic findings. A positive SRS was demonstrated in 44% of 9 newly diagnosed patients; 83% of the 18 relapsed patients; and both of the patients with plasmacytoma. In 40% of the patients, the SRS findings corresponded with radiographic abnormalities, but in 60% of relapsed patients, SRS uptake was demonstrated in areas without new radiographic abnormalities.

Focused examinations of newly painful bones are of value for assessment of impending pathologic fracture. Correlation with all other available imaging studies should be done to help determine the risk of pathologic fracture.
The International Myeloma Working Group guidelines for the standard investigative workup in patients with suspected multiple myeloma include the following
:
Serum and urine assessment for monoclonal protein.
Serum free light chain assay.
Bone marrow aspiration and/or biopsy.
Serum beta
2-microglobulin, albumin, serum immunoglobulins, and lactate dehydrogenase measurement.
Standard metaphase cytogenetics.
Fluorescence in situ hybridization.
MRI, FDG PET, or low-dose whole body CT for better detection of bone and extramedullary disease.
Limitations of techniques
The skeletal survey has limitations. Most importantly, a large number of patients diagnosed with asymptomatic myeloma may have radiographically occult myeloma deposits. At least 30% cancellous bone loss is required to visualize an intramedullary destructive process, such as myeloma, with radiographs and no extramedullary disease can be shown. The value in relapsing disease is limited because lesions persist post treatment, which restricts the capacity to distinguish between old, inactive skeletal lesions and new, active ones.
In addition, myeloma is a disease of older patients; it can present with diffuse demineralization, which may be indistinguishable from the pattern found in patients with simple senile osteoporosis.
MRI is an additional imaging examination to be used in patients with myeloma. MRI has the advantage of rapidity and sensitivity for the presence of disease; however, specificity is limited. Whole body imaging is preferred, but if this is not possible, at least an MRI examination of the spine should be done, because radiographically occult lesions or extramedullary lesions may be found that can change the stage and influence the need for therapeutic intervention. Extramedullary disease has been detected in as many as 50% of patients and is an independent predictor of a poorer prognosis.

(See the images below displaying different areas of the body affected by multiple myeloma.)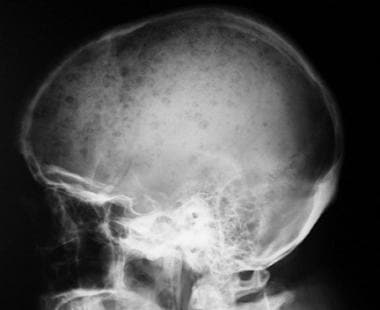 Lateral radiograph of the skull. This image demonstrates numerous lytic lesions, which are typical for the appearance of widespread myeloma.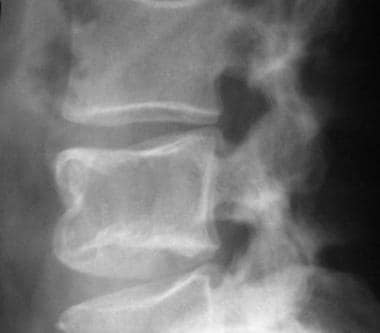 Lateral radiograph of the lumbar spine. This image shows deformity of the L4 vertebral body that resulted from a plasmacytoma.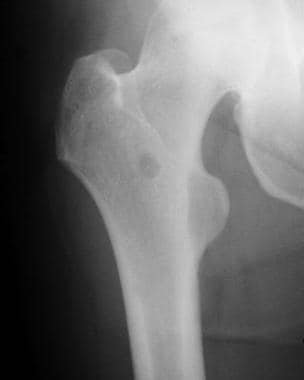 Radiograph of the right femur. This image demonstrates the typical appearance of a single myeloma lesion as a well-circumscribed lucency in the intertrochanteric region. Smaller lesions are seen at the greater trochanter.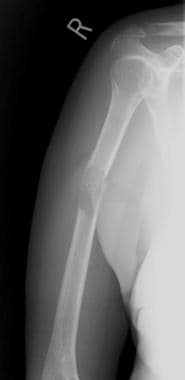 Radiograph of the right humerus. This image demonstrates a destructive lesion of the diaphysis. Pathologic fracture is seen.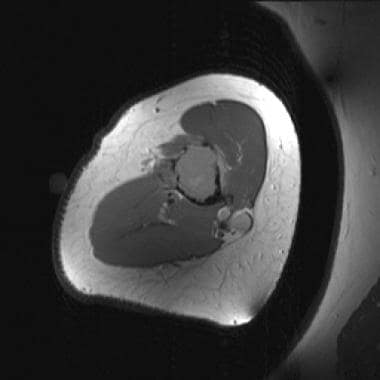 A T1-weighted magnetic resonance image of the humerus. This image demonstrates a predominantly hypointense to isointense myelomatous lesion in the medullary space of the diaphysis. The lesion extends through the anterior aspect of the cortex.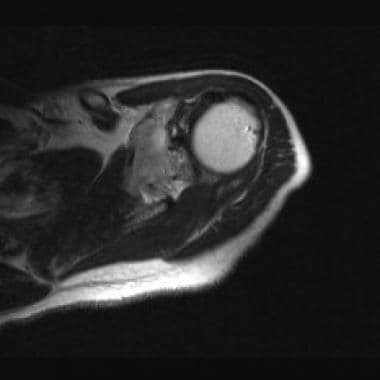 A T1-weighted magnetic resonance image of the shoulder. This image shows the full extent of myelomatous involvement within the glenoid and coracoid process.
Staging
Morbidity and mortality in myeloma patients are directly related to the stage of disease at initial diagnosis. Durie and Salmon proposed the initial clinical staging system for multiple myeloma. The system is now called the Durie/Salmon PLUS system because additional information from advanced imaging modalities has been added. Radiologists should use the revised system (outlined below) to accurately stage these patients.

Stage IA – Normal skeletal survey or single lesion ≥5mm
Stage IB – Five focal lesions or mild diffuse spine disease
Stage IIA/B – Five to 20 focal lesions or moderately diffuse spine disease
Stage IIIA/B – More than 20 focal lesions or severe diffuse spine disease
Subclasses A and B (A = normal renal function, B = abnormal renal function)
Mild, moderate, and diffuse spine disease is established by MR imaging. Moderate diffuse disease is defined as vertebral body signal intensity brighter than adjacent disc on a T1-weighted sequence. Severe diffuse disease is defined as vertebral body signal intensity less than or equal to the adjacent disc on a T1-weighted sequence. Mild disease may manifest as a "salt and pepper" pattern or minimal infiltration.