Practice Essentials
Bone infarct refers to ischemic death of the cellular elements of the bone and marrow. A considerable lack of uniformity exists in the use of terminology for bone infarct. At present, the term osteonecrosis is accepted and used widely. In general, bone infarct refers to lesions occurring in the metaphysis and diaphysis of bone. Lesions in the epiphysis are called avascular necrosis (AVN).

Osteonecrosis can be idiopathic or secondary to a number of conditions that reduce blood supply to the bone; such conditions include an intraluminal abnormality, an extrinsic compression, or a combination of both. CT scans, MRIs, and bone scans play a significant role in diagnosing the disease at an early stage and thereby reducing the number and/or severity of complications and morbidity associated with the disease. See the images below.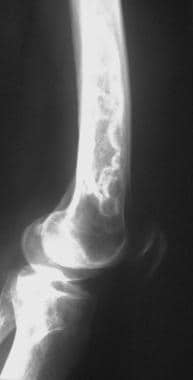 Lateral view of the knee in a deep-sea diver shows dysbaric osteonecrosis in the diaphysis of the femur and tibia. Note the irregular calcific deposits with a shell-like pattern, which is typical of a bone infarct.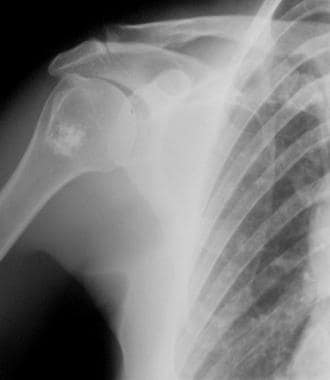 Plain radiograph in a middle-aged man with shoulder discomfort demonstrates an irregularly calcified bone infarct in the diametaphysis of the right humerus.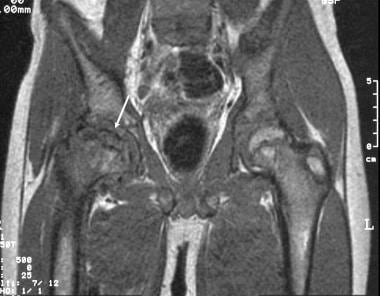 Coronal T1-weighted MRI in a 12-year-old boy with early Legg-Calvé-Perthes disease demonstrates slight irregularity of the right femoral capital epiphysis with abnormal signal intensity. The left hip appears normal.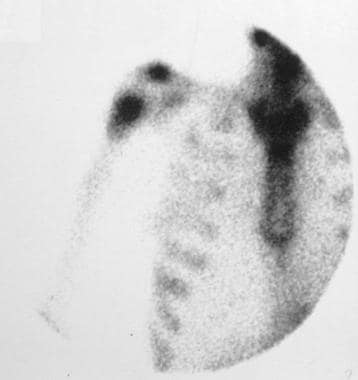 Radioisotopic bone scan of the right humerus in a patient with pancreatitis shows a hot lesion, the result of revascularization, which is a part of the reparative process.
Preferred examination
Plain radiography is not sensitive in the detection of bone infarction. However, plain radiography has a role in the differential diagnosis. Radionuclide imaging and MRI are much more sensitive than plain radiography and may show changes caused by altered hemodynamics early in the course of disease. CT scanning is complementary to the other techniques, but it is not as sensitive as radionuclide imaging or MRI. CT scans may demonstrate subtle trabecular irregularity with bone necrosis when plain radiographic findings are normal.
Ultrasonography may be useful in differentiating bone infarction from osteomyelitis in patients with sickle cell disease.

For osteonecrosis of the femoral head, MRI has become the imaging modality of choice because of its high sensitivity and specificity. Radionuclide bone scans are less sensitive and specific than MRI but can be used to detect inflammatory activity if MRI is contraindicated.
In patients with spontaneous osteonecrosis of the knee, diagnosis can be difficult because of the time before typical changes appear. MRI may provide an earlier diagnosis than other modalities.

The American College of Radiology has published Appropriateness Criteria for osteonecrosis of the hip (Legg-Calve-Perthes disease), including the following
:
The initial imaging evaluation of suspected hip osteonecrosis is done using radiography.
MRI is the most sensitive and specific imaging modality for diagnosis of osteonecrosis of the hip.
The clinical significance of hip osteonecrosis is dependent on its potential for articular collapse.
The likelihood of articular collapse is significantly increased with involvement of greater than 30-50% of the femoral head area, which is optimally evaluated by MRI, often in the sagittal plane.
Contrast-enhanced MRI may be needed to detect early osteonecrosis of the hip in pediatric patients, revealing hypoperfusion.
In patients with a contraindication for MRI, use of either CT or bone scintigraphy with SPECT (single-photon emission CT) are alternative radiologic methods of assessment.
Imaging helps guide treatment, which may include core decompression, osteotomy, and, ultimately, need for joint replacement.
Limitations of techniques
No radiologic findings are specific for bone infarction. A variety of pathologies may mimic bone infarction, including stress fractures, infections, inflammations, and metabolic and neoplastic processes. A bone infarct may mimic a bone tumor on imaging. The limitations apply to all imaging modalities, including plain radiography, radionuclide studies, CT, and MRI. However, when the global picture is considered, including the history, clinical findings, and course of events, the diagnosis can be achieved with the help of imaging in most patients.

Staging
Steinberg has classified the radiologic appearance into 6 stages, as follows
:
Stage 0: normal findings are demonstrated.
Stage I: the appearance may vary from normal to subtle trabecular mottling, but an isotopic bone scan or MRI shows abnormal bone.
Stage II: stage IIa – focal radiopacity is associated with osteopenia; stage IIb – radiopacity is associated with osteoporosis and an early crescent sign.
Stage III: stage IIIa – an established crescent sign is associated with cyst formation; stage IIIb – mild alteration in the configuration of the femoral head is caused by a subchondral fracture, but the joint space is maintained.
Stage IV: marked collapse of the femoral head is demonstrated with an associated acetabular abnormality.
Stage V: joint space narrowing is demonstrated with changes of secondary osteoarthrosis.
A second classification system is the Association Research Circulation Osseous (ARCO) staging system.