Practice Essentials
Imaging is the primary investigative modality for glomus tumors of the head and neck (paragangliomas). A combination of contrast-enhanced computed tomography (CT) scanning, magnetic resonance imaging (MRI), and angiography is ideal for proper diagnosis and localization of the tumors. Lesions show a characteristic signature on the images, which is based on its location.

Glomus tumors are displayed in the images below.
Glomus jugulare tumor. Computed tomography scan demonstrates a permeative destructive skull-base mass with involvement of the mastoid air cells. Reprinted with permission. Copyright Springer-Verlag.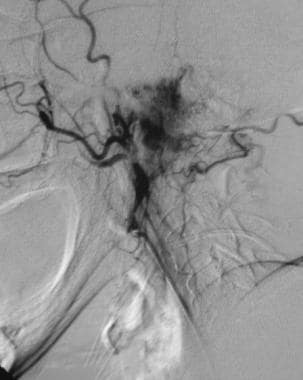 Glomus jugulare tumor. Selective external carotid angiogram demonstrates a vascular skull-base mass. Reprinted with permission. Copyright Springer-Verlag.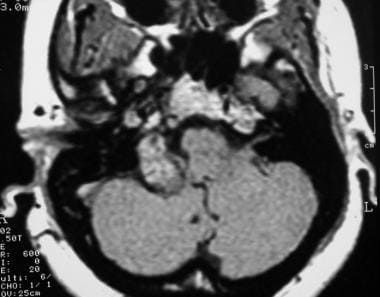 Glomus jugulare tumor. Axial contrast-enhanced T1-weighted magnetic resonance image shows an enhancing right skull-base mass. Reprinted with permission. Copyright Springer-Verlag.
See 10 Patients with Neck Masses: Identifying Malignant versus Benign, a Critical Images slideshow, to help identify and manage several types of masses.
Currently, MRI is frequently the imaging study of choice for primary diagnosis, followed by contrast-enhanced CT imaging. Angiography remains of paramount importance if the diagnosis is obscure or if embolization is contemplated.

Glomus tumors (paragangliomas) represent 0.6% of neoplasms of the head and neck and 0.03% of all neoplasms; they are the most common tumors of the inner ear and the second most common tumors of the temporal bone after schwannomas. About 80% of all glomus tumors are carotid body tumors or glomus jugulare tumors.

Haller introduced glomus tumors of the head and neck into the medical record in 1762 when he described a mass at the carotid bifurcation that had a glomus body–like structure. In 1950, Mulligan renamed this type of neoplasm as a chemodectoma to reflect its origins from chemoreceptor cells. In 1974, Glenner and Grimley renamed the tumor paraganglioma on the basis of its anatomic and physiologic characteristics. They also created a classification method based on the location, innervation, and microscopic appearance of the tumors.

Anatomy
Glomus tumors of the head and neck are associated with 4 primary locations, the jugular bulb, middle ear cavity, vagus nerve, and carotid body. They are highly vascular, locally invasive, slow-growing tumors that frequently involve critical neurovascular structures.

Tumors in the jugular bulb region are commonly called glomus jugulare tumors
; they arise in the adventitia of the dome of the jugular bulb. This is the most common type of glomus tumor of the head and neck.

Tumors in the area of the middle ear cavity are commonly called glomus tympanicum tumors(see the image below)
; they arise from the glomus bodies that run with the tympanic branch of the glossopharyngeal nerve. Although glomus tympanicum tumors are the most common primary neoplasms of the middle ear, these tumors are the rarest of head and neck glomus tumors.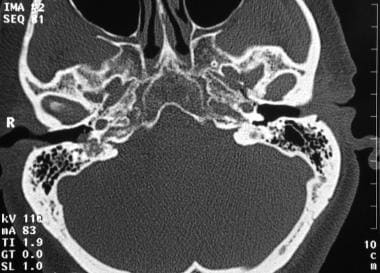 Glomus tympanicum tumor. Axial computed tomography image shows a small vascular mass along the right tympanic membrane. Note the adjacent opacified mastoid air cells. Reprinted with permission. Copyright Springer-Verlag.
Tumors in region of the vagus nerve are commonly called glomus vagale tumors because of their usual close association with the vagus nerve (see the image below).
Specifically, they arise infratemporally along the course of the cervical vagus nerve.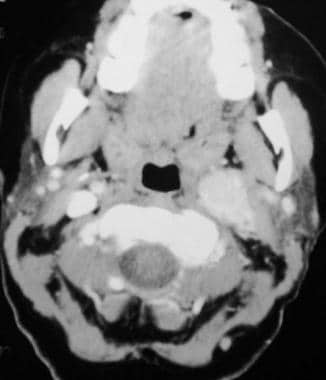 Glomus vagale tumor. Contrast-enhanced computed tomography scan demonstrating a large vascular mass along the course of the left internal carotid artery and jugular vein above the level of the carotid bifurcation. Reprinted with permission. Copyright Springer-Verlag.
Carotid body glomus tumors, also called carotid body tumors, occur at the bifurcation of the common carotid artery and arise from the tissue of the normal carotid body (see the image below).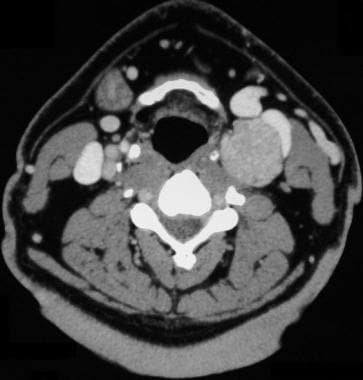 Carotid body tumor. Computed tomography scan demonstrates an enhancing carotid bifurcation mass. Reprinted with permission. Copyright Springer-Verlag.
Although glomus tumors usually appear as solitary lesions at 1 site, multiple lesions at multiple sites are not uncommon (see the image below). Because they are parts of the neuroendocrine system, these tumors are highly vascularized. Clusters of tumor cells (type I cells interspersed with type II cells), called zellballen, are surrounded by a dense network of capillary caliber blood vessels.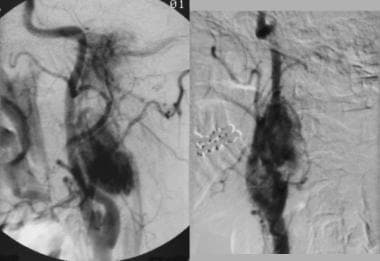 Multiple glomus tumors. Angiogram obtained in a female patient with bilateral carotid body tumors, bilateral glomus vagale tumors, and left glomus jugulare tumors with corresponding angiographically enhancing masses. Reprinted with permission. Copyright Springer-Verlag.
Limitations of techniques
CT imaging is excellent at demonstrating cervical masses along the course of the carotid artery, but findings of skull-base soft-tissue details can be limited. However, CT imaging is superb for demonstrating characteristic bony destructive skull-base changes. CT scanning is also best in the diagnosis of glomus tumors when a satisfactory bolus of contrast material is administered. If peak tumor opacification is missed at CT scanning, the mass can be misconstrued for a nonenhancing schwannoma or nodal lesion.

MRI can demonstrate soft-tissue masses and their relationships to adjacent structures well in multiple imaging planes. This capability is particularly helpful in skull-base imaging, in which both extracranial and intracranial components can be evaluated. MRIs can fail to depict enhancement if the contrast agent bolus is inadequate. MRI is inherently limited in its ability to show subtle areas of bony destruction, which may be important for proper diagnosis.

Angiography is typically reserved for patients who are undergoing preoperative evaluation or for cases in which the presence of neovascularity can help in focusing the differential diagnosis. Angiography is a minimally invasive test and, therefore, not the imaging study of choice. Rarely, diagnostic angiography can show soft-tissue neovascularity in other types of abnormalities, such as those encountered with hypervascular lymphadenopathy or nodular fasciitis. These tumors can have profound neovascularity that mimics that of glomus tumors.

Radiologic intervention
Embolization is a common technique used as the lone treatment option or as a precursor to surgical excision. As a result of the highly vascular nature of these neoplasms, embolization is an effective technique that is aimed at starving the lesion of its blood supply and inducing necrosis. This is the primary and, at times, the only treatment option for glomus jugulare tumors because of the difficulty in excising many of the tumors. In combination with surgical excision, embolization is often used to reduce blood loss, and it has been proven to be highly effective.

In bilateral lesions, especially of the vagale type, embolization is often required as the sole course of treatment for 1 of the lesions, in tandem with surgical excision of the other. This approach is used because of the proximity of the lesion to the vagus nerve and the occasionally inevitable perioperative damage to the nerve during excision.
As a result of their inherent neovascularity, catheter-directed embolization is appropriate in the treatment of chemodectomas, particularly if surgical removal is contemplated. The use of microcatheters allows precise delivery of embolic agents into masses and embolization of multiple, small, feeding trunks. Although glomus tumors may arise from multiple arterial territories, embolization is typically limited to the feeders of the external carotid branch artery.
In the author's practice, glomus tumor embolization is performed in a preoperative setting. Nevertheless, some authors suggest that embolization alone may be beneficial in the treatment of these tumors.
Special concerns
Whenever external carotid embolization is performed, care must be taken to avoid inadvertent extracranial-intracranial embolization and the subsequent risk of stroke. Occult occipital-vertebral connections may be present or open, or they may become apparent on angiograms, only after partial embolization is performed.
Because pterygopalatine–internal carotid collaterals, as well as middle meningeal–middle cerebral communications, may exist, these should be recognized before embolization. In addition, the ophthalmic artery should be identified before external carotid embolization, and care should be taken to identify any existing ethmoidal-ophthalmic arterial communications.