Overview
In 1840, Rayer first described the association between renal vein thrombosis (RVT) and nephrotic syndrome. Earlier reports, from postmortem examinations, had correctly cited infectious suppuration, malignancy, and trauma as likely causes of RVT.
However, since Rayer's time—as increased awareness and better radiographic techniques have helped physicians gain a greater understanding of the etiology, characteristics, and treatment of RVT—nephrotic syndrome has been identified as the most frequent cause. Radiologic characteristics of RVT are demonstrated in the images below.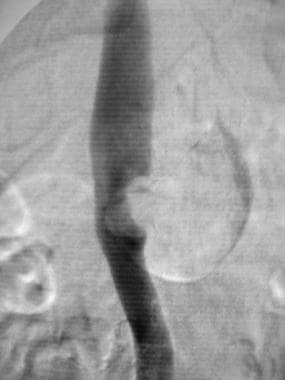 Inferior cavography demonstrates thrombus extending from the left renal vein into the inferior vena cava.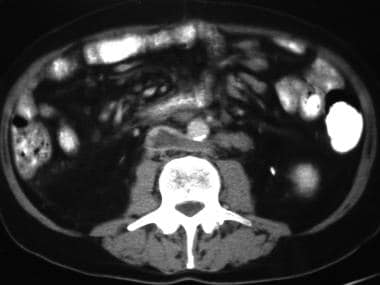 CT reveals thrombus extending from the left renal vein into the inferior vena cava. Note that the left renal vein is retroaortic.
On the basis of early descriptions, researchers initially believed that RVT always produced such acute symptoms as flank pain, edema, and a lumbar mass. However, the classic presentations of the condition—nephrotic syndrome and lower abdominal and flank pain in adults and renal failure and a painful, palpable mass in infants—are only 2 extremes of RVT's clinical spectrum.
Currently, most patients with RVT present only with nephrotic syndrome in the absence of other symptoms. In addition, although the incidence of RVT is relatively high, most patients remain asymptomatic for it, and spontaneous recovery occurs more frequently than is suggested clinically.