Practice Essentials
Urolithiasis is a common disease, estimated to affect 11% of men and 7% of women in their lifetime. More than 1 million patients with suspected urolithiasis present to an emergency department (ED) each year in the United States.
Ureterolithiasis causes severe unilateral colicky flank pain, and patients usually present within hours of onset. The pain may radiate from the flank anteromedially toward the groin into the genitals and may be accompanied by nausea, vomiting, and hematuria.
Passage of a urinary stone is the single most common cause of acute ureteral obstruction and affects as many as 12% of the population. The pain may be some of the most severe pain that humans experience, and complications of stone disease may result in severe infection, renal failure, or, in rare cases, death.

Preferred examination
The goals of imaging of urinary calculi are to determine the presence of stones witin the urinary tract, evaluate for complications, estimate the likelihood of stone passage, confirm stone passage, assess the stone burden, and evaluate disease activity.
Computed tomography (CT) imaging is now performed in more than 70% of patients receiving a diagnosis of ureterolithiasis. Often, conventional radiography is initially used to screen for stones, bowel abnormalities, or free intra-abdominal air. Radiographs can also be used to monitor the passage of visible stones.
When CT is available, it is now considered the examination of choice for the detection and localization of urinary stones. Almost all studies conducted to date show that IVU provides no additional clinically important information after Noncontrast computed tomography (NCCT) is performed. As a result of the higher radiation dose of CT, conventional or digital radiography should be used to monitor the passage of stones if radiographic follow-up studies are indicated and if the stone is visible on conventional radiographs.

Because of the higher radiation dose with CT, conventional or digital radiography should be used to monitor the passage of stones if radiographic follow-up is believed to be indicated and if the stone is visible on conventional radiographs. Pregnant or pediatric patients may be imaged with US first to avoid radiation exposure. The rare false-negative finding is usually due to reader error or a protease-inhibitor CT-lucent stone. False-positive results are usually due to phleboliths adjacent to the ureter. In some cases, intravenous contrast material may be needed to opacify the ureter.
Intravenous urography (IVU) (excretory urography) provides important physiologic information regarding the degree of obstruction. It is the traditional examination for the assessment of urinary stone disease. The radiation dose is generally smaller than that of CT, but it is of the same order of magnitude. Intravenous contrast is required, with resultant risks of an allergic reaction or nephrotoxicity. IVU is less sensitive than CT, especially for small or nonobstructing stones.
(Images of stone disease are provided below.)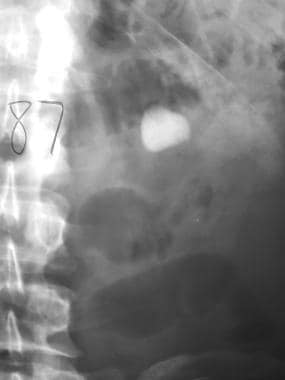 Scout intravenous urogram shows a smooth, dense, round calculus in the left kidney.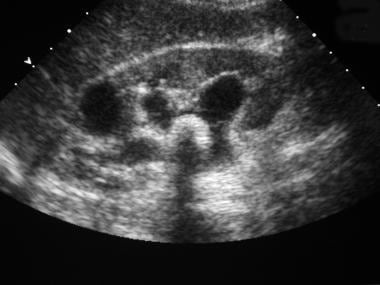 Renal sonogram demonstrates an echogenic shadowing calculus in the renal collecting system with hydronephrosis.
Contrast-enhanced CT scan demonstrates an opaque staghorn calculus filling the left renal collecting system.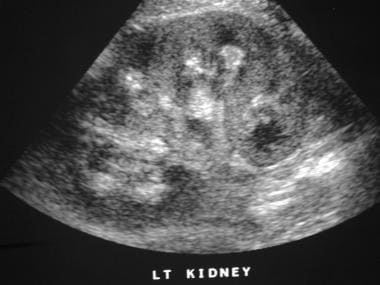 Renal longitudinal sonogram in a patient with nephrocalcinosis shows diffuse echogenic shadowing calcifications in the renal pyramids.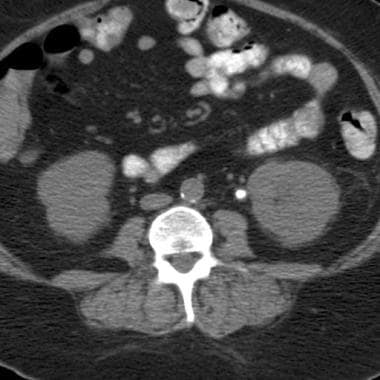 Nonenhanced CT image shows an obstructing left proximal ureteral calculus with a slight soft-tissue rim around the stone (ie, rim sign).
Ultrasonography (US) use for initial evaluation of suspected urinary calculi is common outside the United States.
US is useful in young or pregnant patients
and in patients allergic to iodinated contrast material. US is also helpful in problem solving. Hydronephrosis, an indirect sign of an obstructing stone, can be identified on ultrasound by providers with various levels of training and may correlate with stone size.

US has limited sensitivity for smaller stones, and does not depict the ureters well. It should be used mainly in patients who are young, those who are pregnant, or those undergoing multiple examinations (eg, patients with spine injury).
Guidelines
The ACR guidelines for evaluation of acute onset flank pain with suspicion of urolithiasis include the following
:
Noncontrast computed tomography (NCCT) is the most accurate technique for evaluating flank pain.
Low-dose NCCT should be performed when evaluating for renal or ureteral stones.
If there is uncertainty about whether a calcific density represents a ureteral stone or a phlebolith, intravenous contrast material can be administered and excretory-phase images obtained for definitive diagnosis.
In pregnant patients with flank pain, ultrasonography is the best initial study.
Abdominal radiography combined with ultrasonography may be able to diagnose most clinically significant stones and should be considered, especially in young patients and those with known stone disease.
MRI could be considered to evaluate for hydronephrosis, although it is less accurate for the direct visualization of renal and ureteral stones.
The European Association of Urology (EAU) guidelines recommend that ultrasonography be used as the primary diagnostic imaging tool. The EAU notes that ultrasonography can identify stones located in the kidney and pyeloureteral and vesicoureteric junctions but that it frequently fails to detect ureteral calculi. The upper urinary tract is usually dilated in patients with ureteral stones. For all stones, US has a sensitivity of 19-93% and a specificity of 84-100%. Following thet initial ultrasound assessment, the EAU recommends that NCCT be performed to confirm stone diagnosis in patients with acute flank pain.

Other key recommendations of the EAU include the following
:
If NCCT is indicated in patients with BMI < 30 kg/m
2, a low-dose technique should be performed.
A contrast study is recommended if stone removal is planned and the anatomy of the collecting system needs to be assessed; enhanced CT is preferable because it enables 3D reconstruction of the collecting system. Intravenous urography may also be used.
For evaluation of pregnant women, ultrasonography is the imaging modality of choice; MRI may be used as a second-line imaging modality with low-dose CT restricted to select cases.
The STONE Score
The STONE score is a clinical prediction score for uncomplicated symptomatic stone that has been retrospectively derived and prospectively validated. Five factors are included, with points ranging from 0-3 for sex, timing (duration of pain from onset), origin (or race), nausea (or vomiting), and erythrocytes (presence of hematuria). A total score of 0 to 5 points is categorized as low risk (about 10%), 6 to 9 as moderate risk (about 50%), and 10 to 13 as high risk (about 90%).

In an external validation, the sensitivity and specificity of a high score were 53% and 87%, with a 1.2% probability of important alternative diagnosis (upper 95% confidence interval [CI] of 3.6%).
Thus, the STONE score alone cannot rule in or rule out stones or exclude clinically important diagnoses. However, as further studies are conducted, it has the potential to be used as part of an algorithm for suspected urolithiasis that could reliably identify patients highly likely to have urolithiasis and may allow patients to be safely managed without imaging, or imaged with other approaches such as ultrasonography or reduced dose CT.