Practice Essentials
Embryologic derivation of the collecting system of the urinary tract occurs from the fetal mesonephros. As a result of this development, tumors of the renal collecting system have cell origins different from those of the renal parenchyma. These tumors are classified on the basis of their respective mesodermal or epithelial tissue origin. Primary neoplasms of the renal collecting system represent 10% of renal tumors, of which approximately 80% are malignant. Most are transitional cell carcinomas (TCCs), which are also called urothelial carcinomas. Bladder TCCs are 50 times more common than renal pelvic tumors. Often, TCCs are multiple, involving any part or all of the collecting system. The tumors are traditionally classified into papillary and nonpapillary types. Nonpapillary tumors are considered malignant.
Preferred examination
Intravenous urography (IVU) is a common diagnostic test in patients with hematuria, although the early detection of small urothelial tumors may be difficult. A meticulous IVU technique is required.
Retrograde pyelography is useful when the kidney cannot be visualized by means of IVU or when IVU cannot be performed because of renal disease or an adverse response to the contrast agent. Retrograde pyelography also has the advantage of being able to be combined with various biopsy techniques.

Computed tomography (CT) scanning is becoming increasingly sensitive for the staging of early transitional cell carcinoma (TCC). Developments such as virtual cystoscopy and postmicturition scanning should improve the overall accuracy of staging by the use of CT. Multidetector-row CT scanning with postprocessing image manipulation (contour imaging) is increasingly coming to challenge IVU.
On CT scans, a hyperattenuating TCC may be confused with a blood clot, particularly in the early stages of the disease. Also, inhomogeneous renal fatty attenuation of any cause in a patient with undiagnosed early-stage TCC may hinder accurate diagnosis.

Magnetic resonance imaging (MRI) has the advantages of high intrinsic soft tissue contrast, direct multiplanar capability, and the availability of nontoxic, renally excreted contrast agents. MRI appears to be at least as useful as CT in the evaluation of perivesical fat involvement, and it may be superior to CT in the detection of invasion of the adjacent organs.
However, MRI cannot depict well the superficial invasion by TCC of the upper urinary tract.
MRI is expensive and has limited availability. False-positive diagnoses have been reported. In staging bladder TCC, tumor extension is overstaged according to the TNM classification in 7.5% of patients; it is understaged in 32.5% of patients.
CT and MRI have been shown to perform better than cystography in the diagnosis of tumors in the bladder diverticula that are not depicted on cystograms because of obstruction at the diverticular orifice.
Ultrasonography is inaccurate for diagnosing early TCC; it is useful in the diagnosis of obstructive uropathy.
Ureteric lesions are particularly difficult to visualize unless they cause hydronephrosis and hydroureter. Other limitations of ultrasonography are that it is inaccurate in the staging of bladder TCC, particularly Ta and T1 tumors, and in the detection of pelvic lymph node involvement. On sonograms, calculi may be confused with high-grade TCCs, which can be densely echogenic. No sonographic features are specific for TCC, and many filling defects within the renal collecting system and bladder have a nonspecific appearance. It is also difficult to discern nondilated ureters on ultrasonography.
Isotope renography is an extremely sensitive means of assessing relative renal function and obstructive uropathy before surgery. Isotope bone scanning is a useful technique in the investigation of skeletal metastases.

Plain radiographic findings, such as calcifications (which has a wide differential diagnosis), are not specific in the diagnosis of urothelial tumors, and they usually contribute little to the diagnosis. Filling defects in the renal collecting system and the bladder, as seen with IVU, CT, and retrograde pyelography, are present in a number of other pathologies. These findings are not specific to TCC.
Hydronephrosis on preoperative axial CT at the time of diagnosis of upper-tract urothelial carcinoma is associated with advanced-stage cancer and is a predictor of poorer outcomes. Hydronephrosis can be a valuable prognostic tool for preoperative planning and counseling regarding disease outcomes.

(See the images below.)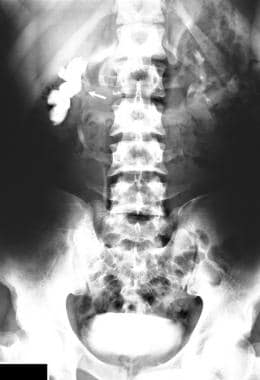 A 21-year old man presented with a history of intermittent hematuria of 1-month duration. Three months previously, he had been assaulted and kicked in the right loin. A 30-minute intravenous urogram shows a moderate right hydronephrosis without filling of the renal pelvis, although some contrast material has passed into the upper ureter. Note also a polypoid intraluminal filling defect within the left side of the bladder (arrow).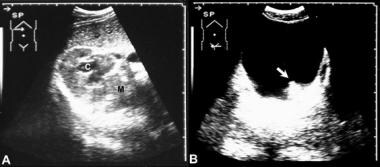 Left, transverse sonogram of the right kidney in the same patient as in the previous image shows a centrally placed solid mass within the renal pelvis with low-level echoes and with proximal hydronephrosis. Right, transverse sonogram through the bladder shows a polypoid filling defect in the bladder.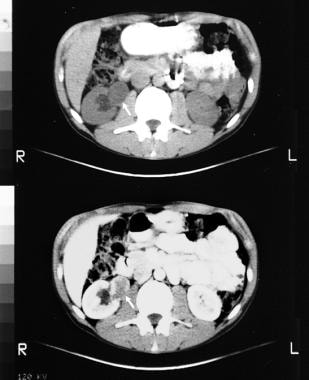 Nonenhanced (top) and enhanced (bottom) CT scans through the kidneys show a mass in the right renal pelvis. The histologic diagnosis was a right renal pelvis neurofibroma and a bladder transitional cell carcinoma.