Practice Essentials
Although kidney transplantation has become a mainstay in the long-term management of many patients with renal failure, the procedure can be associated with complications such as neurologic, immunologic, infectious, vascular, and urologic. Although a kidney biopsy may be required in some cases, noninvasive imaging should be attempted first, to identify clinical situations that can be corrected by radiologic or surgical intervention. A sonographic survey of a recently transplanted kidney offers a noninvasive means by which to identify postoperative hemorrhage, urinary leaks, and early signs of posttransplant rejection. Color Doppler ultrasound is often the first imaging modality to be applied to identify transplant renal artery stenosis (TRAS).





According to the American College of Radiology Appropriateness Criteria for Renal Transplant Dysfunction, duplex Doppler ultrasound is the first-line imaging evaluation to assess renal transplant dysfunction; renal scintigraphy using MAG3 serves a complementary role by quantitatively assessing the 3 sequential phases of renal transplant function; and although ultrasonography, CT angiography, and MR angiography can be used to noninvasively diagnose renal artery stenosis (RAS), angiography remains the diagnostic reference standard and is utilized to guide intervention.


The need for renal transplantation has grown as the number of patients with diabetes has increased in the American population. The obesity epidemic in the United States and in many other developed regions represents and expanding threat of chronic kidney disease (CKD). Strategies to delay or prevent progression of diabetic nephropathy have decreased the rate of persons with diabetes who develop end-stage renal disease (ESRD); however, for those with ESRD attributed to diabetes, kidney transplantation affords better survival and rehabilitation than either hemodialysis or peritoneal dialysis.


Preferred examination
The most common imaging procedure in the renal transplant recipient is ultrasonography.
Immediate complications related to surgery can be demonstrated. US enables suitable localization prior to biopsy in most patients. Duplex US also provides important information concerning the vascular status of the graft in cases of acute rejection. Delayed complications related to the renal transplant (eg, lymphocele)may occur, which can compromise the drainage from the renal pelvis or may compress the renal transplant.

Ultrasound is the most frequent imaging method used in the postoperative period and for long-term follow-up. It is widely available, and the relatively low cost and high degree of safety of ultrasound allow for serial examinations, which may be necessary during the postoperative period.

Concurrent with sonographic studies, radionuclide studies are frequently performed. The nuclear studies provide valuable information concerning functional status during the immediate postoperative period and during episodes of rejection. Correlation between renal sonographic and nuclear medicine findings helps to differentiate between purely functional disease, such as acute tubular necrosis or rejection, and abnormal fluid collections, such as hematomas, abscesses, and lymphoceles.
Ploussard et al studied the use of systematic aortofemoral color Doppler ultrasound (DUS) in recipients of a first renal transplantation and found that of 84 patients presenting with a normal preoperative physical arterial examination, 12 (14.3%) had an abnormal DUS, revealing atherosclerosis but not stenosis. Of the 16 patients who had had an abnormal examination, 10 (62.5%) also had abnormal findings on DUS, including 4 cases of iliac stenosis, 3 of whom required surgical procedure modification because of right iliac artery stenosis.

CT and MRI studies of the abdomen and pelvis offer similar information.
In most cases, CT is preferred because CT-guided aspiration and drainage procedures may obviate surgical interventions. Angiographic study of the transplant may involve CT angiography, MR angiography, or intra-arterial catheter angiography if therapeutic procedures are to be performed. In general, the examination with the least risk should be selected for the diagnostic survey of the renal transplant.
The assessment of potential complications may require the application of a variety of imaging techniques. Multislice CT offers a relatively fast examination with high resolution; however, some applications require the use of IV contrast, which may be contraindicated in some renal transplants that are in rejection or have decreased renal function.
MRI is offers high resolution with excellent tissue differentiation but is expensive for routine use and is motion sensitive. The use of contrast agents based upon gadolinium is contraindicated in cases of renal transplant failure. Recent advances in time-of-flight imaging have allowed satisfactory imaging of renal vessels without the use of IV contrast agents.

The donor evaluation is most commonly done with MRI(A) (magnetic resonance angiography) and CT(A) (computed tomographic angiography).
See the images below displaying complications associated with kidney transplantation.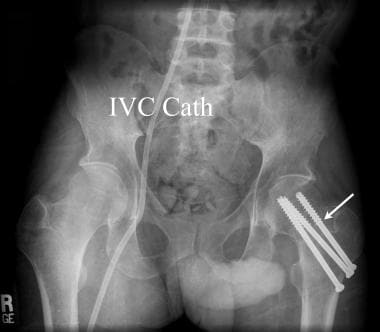 Anteroposterior pelvic radiograph of a renal transplant candidate. Prior to receiving a renal transplant the patient with chronic renal disease must undertake hemodialysis. While most patients are treated using an upper extremity forearm graft, at times indwelling central venous catheters may be necessary (IVC Cath). Metabolic bone disease is very common in the chronically ill pretransplantation patient. A pathological fracture of the left femoral neck was treated in this renal transplant candidate with cannulated femoral neck pins (white arrow).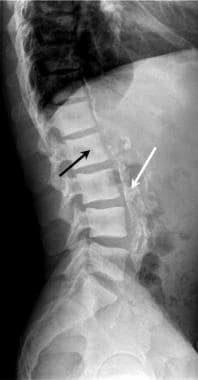 Lateral radiograph of the lumbar spine in renal failure. The effects of chronic renal failure are often seen in renal transplant candidates prior to successful renal transplantation. Note the dense vertebral bodies (black arrow) due to renal osteodystrophy. The aorta and all major arterial branches are densely calcified (white arrow) in this renal transplant candidate.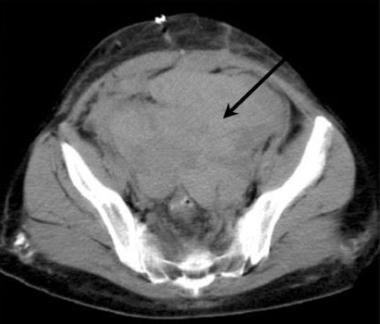 Axial CT of the pelvis in a potential renal transplant patient. A previous CT of the pelvis had demonstrated a large ovarian cyst, which prevented renal transplantation. Immediately after the surgical removal of an ovarian cyst from the left pelvis, a large hematoma (arrow) prevents planned renal transplantation. Planning the surgical preparation of a recipient site long before the scheduled renal transplantation is important.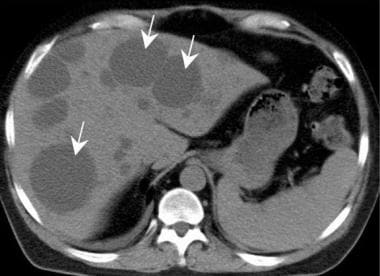 Polycystic liver disease (arrows) may complicate surgical management by enlarging the intra-abdominal contents. Liver failure rarely occurs but the cysts may bleed, causing pain.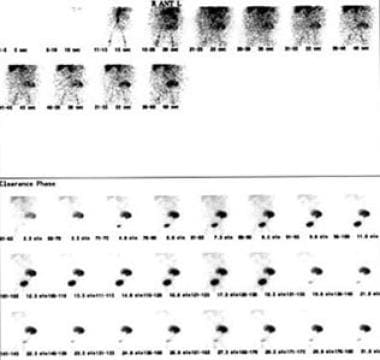 In cases of mild renal failure following renal transplantation, the primary considerations are acute renal rejection versus renal obstruction. The renal scan in this patient demonstrates renal arterial flow to the transplant with no signs of renal obstruction. The delayed and decreased renal function is consistent with mild renal rejection, which was proven by renal biopsy.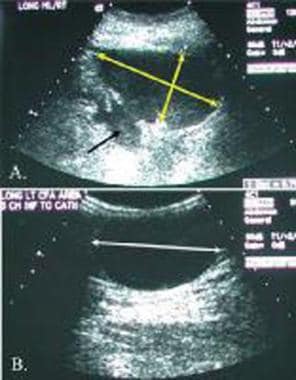 Following a renal transplant, decreased renal function with limited urinary output was noted. The sonography of the transplant site and the pelvis demonstrates a large hypoechoic mass (double yellow arrows) anterior to the transplant (black arrow). B. The hypoechoic mass extended downward into the anterior thigh (double white arrow). The primary diagnostic considerations should include a hematoma versus a urinary leak.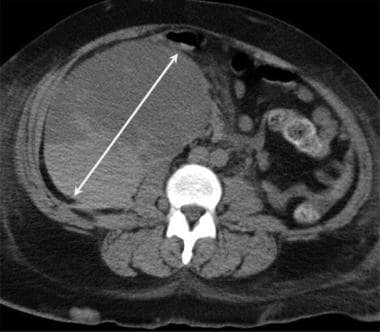 Axial CT of the pelvis demonstrates a large hematoma (double arrow), which developed during the postoperative period following renal transplantation.
Perioperative complications occur in 15-20% of renal transplants. Most initial complications can be corrected if detected promptly. The radiologist should help to select the most effective imaging methods for evaluating the many problems encountered in renal transplantation. Ultrasonography is a safe, rapid, and portable means to first detect most surgical emergencies.

Although a full discussion of the potential infections in renal transplant patients is beyond the scope of this discussion, a careful review of chest radiographs, abdominal and pelvic sonograms, and CT scans must include a consideration of unusual fungal, protozoan, and bacterial infections.

After the first few hours, a clinical milestone is the production of urine by the renal transplant. Poor function of the renal transplant may be the result of acute tubular necrosis (ATN). ATN is related to "warm" renal ischemia. Both the severity and duration of ATN is worse in cadaveric transplants. Because of the sensitivity of the injured renal transplant, nuclear medicine examinations are most commonly used to study ATN and to differentiate other causes of poor renal function in the immediate posttransplantation period.
Nuclear medicine scanning and flow studies remain the primary means for evaluating vascular supply to the transplant after surgery. The main advantage of nuclear medicine scans is that they demonstrate the pathophysiology involved. Developments in Doppler US and MRI show promise in improving the quality of renal vascular imaging without the use of potentially nephrotoxic intravenous (IV) contrast materials.
CT scanning and CT-guided interventions remain an important means for examining the preoperative renal donor candidate and for evaluating the complications that develop in patients who undergo renal transplants. The complementary nature of nuclear medicine studies and US in the imaging evaluation of hydronephrosis, renal artery stenosis, flank pain, renal masses, pyelonephritis, and kidney transplant was confirmed in the author's test group.
MRI of the abdomen has evolved into an excellent alternative means for the diagnosis of most renal transplantation complications and for the examination of the living related donor. The contrast agents used for MRI are nontoxic to the transplanted kidney, and MRI often can be used to assess renal function, vascular supply, and postoperative complications. However, MRI remains expensive and may be contraindicated in certain patients. Whenever 2 or more diagnostic techniques are used in the diagnosis of renal transplantation, comparison between the techniques is often very useful. Comparison of recent, current studies with remote, prior examinations is critical. New fluid collections are of greater significance than are slowly resolving fluid collections.
Limitations of techniques
Conventional radiographs provide a limited amount of useful information about the complex clinical presentations of renal transplantation. Often, chest radiographic findings are nonspecific because chronic interstitial pulmonary disease is difficult to differentiate, whereas abdominal radiographs may fail to illustrate fluid collections.
Ultrasound is safe, portable when necessary, and free from radiation. Generally, it should be the first cross-sectional examination in renal transplantation; however, sonograms may fail to differentiate gas from calcifications, and bowel gas may obscure important findings.
CT is not limited by bowel gas; however, the use of IV iodinated contrast material must be limited in many cases.
Radionuclide studies offer important functional information, but the findings are often nonspecific, and the images have relatively poor spatial resolution.
Abdominal and pelvic MRI is valuable. Some patients object to the MRI experience, and others have direct contraindications, such as cardiac pacemakers or cerebral aneurysm clips.
Although Doppler ultrasound and scintigraphy with captopril, when the patient is hypertensive, are helpful, both tests have limitations.
Differentials
Assessment and Management of the Renal Transplant Patient
Infections After Solid Organ Transplantation
Nutritional Requirements of Adults Before Transplantation
Posttransplant Lymphoproliferative Disease
Intervention
Interventional radiology plays an important role in the care and treatment of renal transplant recipients. Historically, catheter angiography has been performed to evaluate the anatomy of the renal arterial and venous systems of potential renal donors. To lower costs and reduce risk, CTA or MRA has largely replaced conventional DSA in the preoperative phase of renal transplantation. However, image-guided interventional techniques play a vital role in the relief of mechanical urinary obstruction, drainage of abscess and cystic fluid collections, and aspiration biopsy of neoplastic and infectious processes.
Patient education
For patient education information, see the Kidneys and Urinary System Center, as well as Kidney Transplant.