Overview
Imaging is essential to managing emphysematous pyelonephritis —a life-threatening, fulminant, necrotizing upper urinary tract infection associated with gas within the kidney—if an early diagnosis is to be made and a potentially devastating outcome is to be avoided.

Some confusion exists regarding terminology for conditions involving renal gas. The term emphysematous pyelonephritis should be reserved for renal tract infections with intraparenchymal renal gas. Gas confined to the renal pelvis should be called emphysematous pyelitis, and gas confined to the perinephric space should be called perinephric emphysema.

Emphysematous pyelonephritis is rare, but the frequency is higher in patients who are immunocompromised, especially patients with diabetes, who account for 87-97% of patients (see the images below).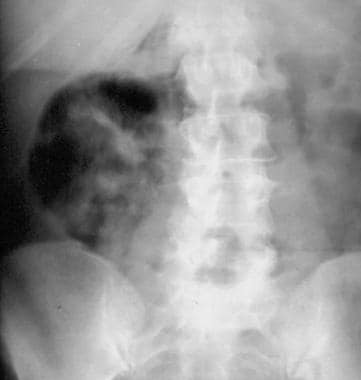 In a 58-year-old woman with diabetes, emergency intravenous pyelography (IVP) was requested for an evaluation of flank pain. After this scout image was obtained, however, a lateral radiograph was taken, the IVP was canceled, and computed tomography scanning was performed. This anteroposterior (AP) scout image shows striated intrarenal gas (within medullary rays) and perinephric gas.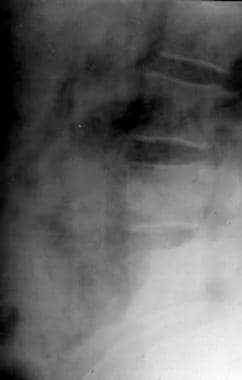 Lateral radiograph in a 58-year-old woman with diabetes and flank pain demonstrates that gas is present within the kidney, overlying the spine.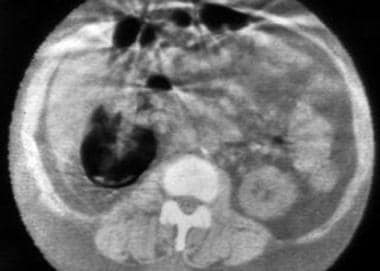 Computed tomography scan in a 58-year-old woman with diabetes and flank pain depicts intrarenal gas very well. The contralateral kidney looks normal.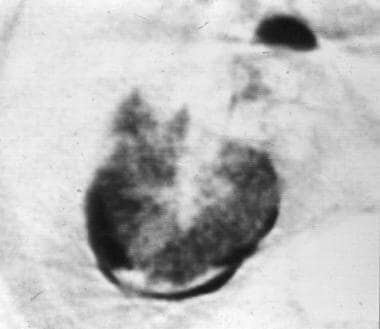 Magnified computed tomography scan obtained with a lung window setting better reveals the striated intrarenal gas and subcapsular gas in the posterior aspect in a 58-year-old woman with diabetes and flank pain.
Lu and associates conducted a study to determine the clinical characteristics and prognostic factors of patients with emphysematous pyelonephritis. The study concluded that (1) low albumin levels, (2) an initial presentation of shock, (3) bacteremia, (4) indications for hemodialysis, or (5) polymicrobial infection represent prognostic factors for mortality in patients with emphysematous pyelonephritis. Any 2 or more of these of these prognostic factors carried a high risk of mortality, and these patients should be considered for more aggressive management.

Preferred examination
Plain abdominal radiography is the initial examination of choice in emphysematous pyelonephritis because this modality better depicts air in the renal collecting system and it is much more specific than ultrasonography. In practice, however, ultrasonography may be the initial examination performed. (See the image below.)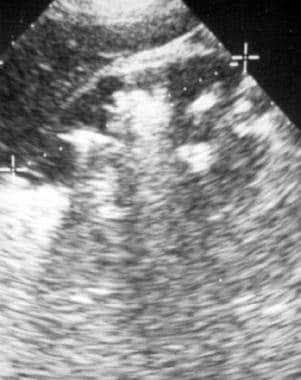 Ultrasonogram of the right kidney in a 52-year-old woman with emphysematous pyelonephritis demonstrates echogenic gas within the collecting system and posterior cortex of the right kidney. The involvement of the posterior cortex is partly obscured by shadowing from the gas in the collecting system.
CT scan findings are diagnostic of the presence of air within the renal tract, and CT images also elegantly depict the renal and perirenal anatomy and the spread of infection to the perinephric tissues.

Renal function is depressed or even absent on the affected side in emphysematous pyelonephritis, and radionuclide study is an excellent modality for assessing differential function when nephrectomy is contemplated. Scintigraphy has been used to evaluate responses to antimicrobial therapy. Intravenous urography may be necessary if renal intervention is contemplated.
Limitations of techniques
Plain radiographs are good for depicting air within the renal collecting system, but nonspecificity is a problem because of the superimposition of gas from the bowel. Moreover, gas in the retroperitoneum and gas within a renal or perinephric abscess may mimic emphysematous pyelonephritis.
Similarly, ultrasonography is limited because gas within the kidney and/or renal pelvis mimics renal calculi and produces artifact due to reverberation echoes and shadowing.
CT scans do not always depict other causes of intrarenal air, such as reflux of air from the bladder and bronchorenal, enterorenal, or cutaneorenal fistulae. These may occur with xanthogranulomatous pyelonephritis and focal renal abscesses.

Radionuclide studies are nonspecific; therefore, they have a limited role in the evaluation of emphysematous pyelonephritis. In addition, radionuclide imaging suffers from a lack of availability. However, it does not result in false-positive or false-negative diagnoses.
Magnetic resonance imaging (MRI) is not the modality of choice in the diagnosis of emphysematous pyelonephritis. MRI findings are a signal void on T1- and T2-weighted images. However, signal voids on MRI scans may occur with renal calculi or rapidly flowing blood, creating false-positive results. Perinephric and intraparenchymal fluid collections are demonstrated well on MRI.

Differential diagnosis
Emphysema is part of the differential diagnosis of emphysematous pyelonephritis. Other conditions to be considered include the following:
Retroperitoneal perforation of an abdominal viscus
Psoas abscess secondary to gas-forming organisms
Reflux of air from the bladder
Bronchorenal, enterorenal, or cutaneorenal fistulae – As may occur with xanthogranulomatous pyelonephritis
Air in a focal renal abscess – Not life threatening
Gas in the renal parenchyma may be seen in conditions other than emphysematous pyelonephritis on CT scanning. Intraparenchymal renal gas may be seen following urologic intervention such as that for a nephrostomy insertion or may result from a fistulous communication between the gastrointestinal tract and the renal collecting system. These situations do not represent clinical emergencies and are not life-threatening, as in emphysematous pyelonephritis. With the increasing use of abdominal CT scanning, radiologists, especially in the emergency setting, should be aware of this comparatively rare finding and should be familiar with its differential diagnosis.
Emphysematous pyelonephritis has been described as a presenting feature of a urinary bladder adenocarcinoma in a middle-aged, nondiabetic patient.