Practice Essentials
Adrenal cortical adenoma is a common benign tumor arising from the cortex of the adrenal gland. It commonly occurs in adults, but it can be found in persons of any age. The prevalence of adrenal adenoma increases with age; the frequency of unsuspected adenoma is 0.14% in patients aged 20–29 years and 7% in those older than 70 years.
Adrenal cortical adenomas are not considered to have the potential for malignant transformation.
(See the images below.)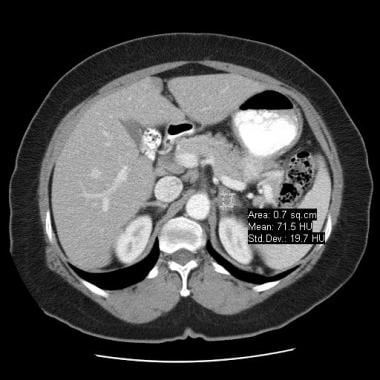 Homogeneously enhancing ovoid mass is seen in the left adrenal gland.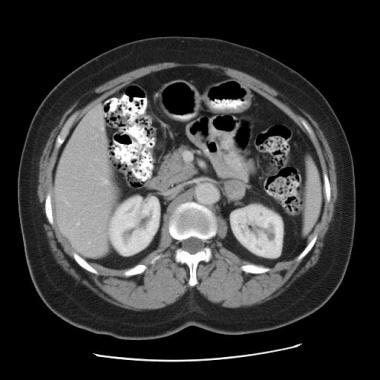 Contrast-enhanced CT scan demonstrates a homogeneously enhancing ovoid mass in the left adrenal gland. As in this case, attenuation measurements of adrenal masses on contrast-enhanced CT scans are frequently nondiagnostic.
Adrenal cortical adenoma can be diagnosed with a high degree of accuracy: the specificity of imaging studies ranges from 95-99%, and the sensitivity is greater than 90%. These impressive percentages are a result of the relatively high prevalence of adrenal adenomas in the general population and the extensive radiologic research with imaging methods, primarily CT and MRI.
The adrenal gland is the fourth most common site of metastasis, and adrenal metastases may be found in as many as 25% of patients with known primary lesions. Therefore, radiologists frequently face the task of determining whether an adrenal mass is benign or malignant. The question can directly affect the clinical management of the case. For instance, the workup for an otherwise resectable lung cancer may reveal the presence of an adrenal mass and suggest the possibility of metastatic disease.
Preferred examination
The modalities of choice in the evaluation of an adrenal mass are computed tomography (CT) scanning, magnetic resonance imaging (MRI), and positron emission tomography (PET) scanning.
Note that on CT scans and MRIs, the appearance of intracytoplasmic lipid is different from that of macroscopic fat, as in the case of a myelolipoma.
Plain radiography and ultrasonography are less sensitive and have been used less frequently since the advent of CT scanning and MRI. Ultrasonography has a role in the evaluation of a potential adrenal incidentaloma (AI) in infants, but no appearance is specific for benign adrenal adenoma.
How should the radiologist proceed in evaluating an incidental small adrenal mass? Two important questions must be answered:
First, does the patient have a hormonal or biochemical abnormality that may be caused by an enlarged adrenal gland? If this is the case, the lesion should be surgically removed regardless of the imaging features.
Second, does the patient have a known malignancy? In the absence of a known malignancy, the probability that a small, well-circumscribed adrenal mass is malignant is nearly zero. The characterization of an adrenal mass is critical in patients with a known malignancy, in whom the diagnosis of an adrenal metastasis precludes curative surgery.
CT without intravenous contrast enhancement should be the initial study. If the adrenal mass is less than 10 Hounsfield units (HU), a diagnosis of adrenal adenoma can be made. If the adrenal mass is more than 10 HU, CT with intravenously administered contrast material should follow. An adenoma can be predicted with an absolute enhancement washout of 60% or more and/or with a relative enhancement washout of 40% or more on contrast-enhanced CT. Adenomas also demonstrate signal loss in opposed-phased MR imaging. If an adrenal adenoma cannot be predicted using these criteria, an evaluation should be done for characteristics that may suggest a pathology such as adrenal cyst or myelolipoma.

18F-fluorodeoxyglucose (18F-FDG) PET/CT has the potential to differentiate between benign and malignant lesions based on the amount of radiopharmaceutical uptake; malignant lesions generally have greater uptake.
If a pheochromocytoma is suspected, 18F-dihydroxyphenylalanine (18F-DOPA) or 123I-metaiodobenzylguanidine (123I-MIBG) can be considered in addition to CT and MR.

A delay in CT imaging can potentially diminish the efficiency of the CT schedule, result in multiple examinations, and expose the patient to ionizing radiation. MRI examination may enable diagnosis without exposing the patient to ionizing radiation; however, MRI may not be as available as CT and can be more expensive.
Some studies have shown that the accuracy of imaging modalities for adenoma may be lower than generally reported because of false positives and negatives. CT sensitivity for large adenoma and cortical carcinoma are influenced by size or location; however, use of larger regions of interest may help minimize decreased CT sensitivity.

Endovascular adrenal vein sampling can be useful in distinguishing bilateral adrenal hyperplasia from a unilateral functional aldosteronoma.