Candida Esophagitis
Infection with Candida species is the most common type of infectious esophagitis. Major predisposing factors include antibiotic use, radiation therapy or chemotherapy, hematologic malignancies, and acquired immunodeficiency syndrome (AIDS). A compromised immune system may be the most important risk factor for the development of infectious esophagitis, and HIV or AIDS and solid organ transplant patients are particularly at risk.
Other conditions associated with an increased incidence of Candida esophagitis include esophageal stasis, alcoholism, malnutrition, and advanced age. Occasionally, Candida esophagitis can occur in otherwise healthy individuals with no underlying esophageal or systemic disease.

In one study, the prevalence of Candida esophagitis was 11.2% in HIV-infected patients and 2.9% in non-HIV-infected patients.

For excellent patient education resources, visit eMedicineHealth's Infections Center. Also, see eMedicineHealth's patient education article Candidiasis (Yeast Infection).
Radiographic findings
Because Candida esophagitis is primarily a mucosal disease, it often is difficult to recognize with single-contrast esophagography. In contrast, double-contrast esophagography has a sensitivity of 90% in detecting the condition. On double-contrast studies, Candida esophagitis initially is manifested by discrete plaquelike lesions in the esophagus. Usually, the plaques are oriented longitudinally, appearing en face as linear or irregular filling defects with normal intervening mucosa (see the image below). The plaques may be localized or diffuse and usually are located in the upper or mid esophagus. Some patients may have multiple tiny plaques, which produce a finely granular or nodular appearance of the mucosa.
Diagnosis of infectious esophagitis often hinges on endoscopic visualization and histopathologic analysis.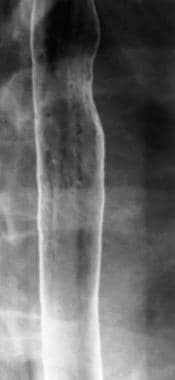 Infectious esophagitis. Candida esophagitis. Double-contrast esophagram shows linear plaquelike lesions in the esophagus, with normal intervening mucosa.
In advanced Candida esophagitis, the esophagus may have a grossly irregular or shaggy appearance as a result of innumerable plaques and pseudomembranes, with trapping of barium between the lesions (see the image below). This appearance is most commonly seen in patients with AIDS; therefore, the presence of a shaggy esophagus should suggest the possibility of AIDS in patients who are not yet known to be positive for the human immunodeficiency virus (HIV). Some of the plaques and pseudomembranes may eventually be sloughed off, producing 1 or more areas of ulceration on a background of diffuse plaque formation. Occasionally, barium may also dissect beneath the pseudomembranes, resulting in an intramural dissection tract or double-barrel esophagus.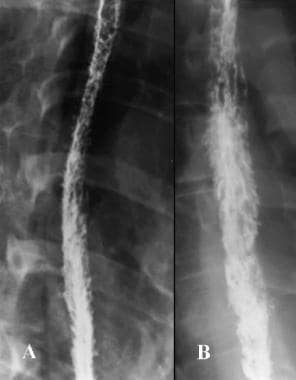 Infectious esophagitis. Two examples of advanced Candida esophagitis demonstrate a shaggy esophagus. In both images, the double-contrast esophagram shows a grossly irregular esophageal contour due to innumerable plaques and pseudomembranes, with the trapping of barium between lesions. Patients with this fulminant form of esophageal candidiasis are almost always found to have AIDS.
Candida esophagitis is usually self-limiting, and most patients have a marked response to treatment with antifungal agents. However, necrotic mucosal debris and fungal mycelia in the esophagus occasionally form a mycetoma (ie, fungus ball) that causes obstruction. In other patients, severe Candida esophagitis may lead to development of strictures, which are typically long, smooth, tapered areas of narrowing.
In patients with chronic stasis, such as those with advanced achalasia or scleroderma involving the esophagus, superimposed Candida esophagitis may manifest as tiny nodules, polypoid folds, or a lacy appearance in the esophagus. Other patients with scleroderma or achalasia may have a foamy esophagus with innumerable bubbles layering out in the barium column as a result of a yeast form of the infection (see the image below). Other rare complications of esophageal candidiasis include perforation, tracheobronchial fistulas, and aortoesophageal fistulas.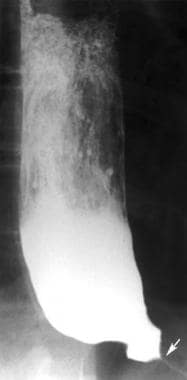 Infectious esophagitis. Candida esophagitis with a foamy esophagus. This patient has a dilated esophagus with beaklike narrowing (arrow) at the gastroesophageal junction as a result of long-standing achalasia. Innumerable tiny bubbles are layering out in the barium column due to infection by the yeast form of candidiasis.
False postives/negatives
Glycogenic acanthosis, reflux esophagitis, herpes esophagitis, and superficial spreading carcinoma may produce findings similar to those seen in Candida esophagitis. However, patients with glycogenic acanthosis are almost always older individuals who have no esophageal symptoms, and the mucosal nodules of glycogenic acanthosis tend to have a more rounded appearance, whereas the plaques of candidiasis are more linear. Reflux esophagitis may also manifest as a nodular mucosa, but the nodules tend to be more poorly defined than those in candidiasis, and they are always contiguous with the gastroesophageal junction.
Occasionally, herpes esophagitis manifests as multiple plaquelike lesions in the esophagus, but this infection is more commonly associated with small, superficial ulcers (see Herpes Esophagitis, below). Superficial, spreading carcinoma may also manifest as a nodular mucosa, but the nodules tend to have poorly defined borders, producing a confluent area of disease. Undissolved, effervescent particles and debris in the esophagus can be mistaken for the plaques of candidiasis. Thus, if infectious esophagitis is suggested clinically, a double-contrast study should initially be performed without the use of effervescent granules.