Overview
Preferred examination
In small-bowel obstruction imaging, certain radiologic investigations can be used to confirm the diagnosis and severity of the obstruction, but not its etiology.
Others are aimed at determining the cause of obstructions.

Conventional plain radiography (see the images below) is the investigation of choice for patients with suspected small-bowel obstructions. This study should always be performed first.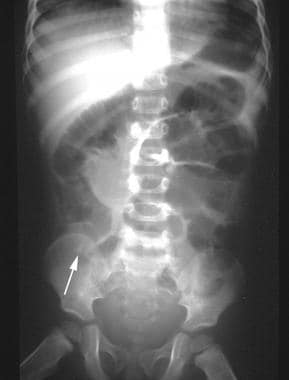 Plain abdominal radiograph in a 6-year-old boy who presented with vomiting and acute pain in the right iliac fossa. The loops of the small bowel are dilated, and associated with small calcific nodules in the right iliac fossa are seen. These findings are suggestive of appendicoliths. At laparotomy, an appendiceal mass was found; this caused the small-bowel obstruction.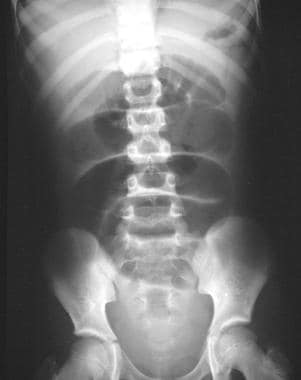 Plain abdominal radiograph in a 9-year-old patient with a past history of appendicitis complicated by peritonitis who presented with abdominal pain and vomiting. The clinical diagnosis was small-bowel obstruction resulting from adhesions. This radiograph shows markedly distended loops of small bowel, with effacement of the valvulae in the mid abdomen. The child recovered with conservative treatment.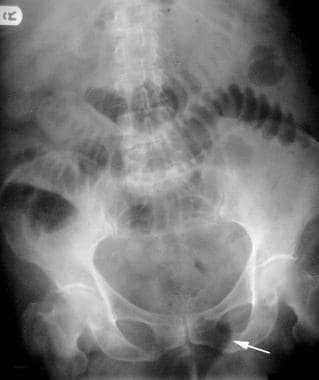 This plain abdominal radiograph of a 55-year-old woman presenting with features of intestinal obstruction shows dilated loops of the small bowel associated with thickened edematous valvulae conniventes and a strangulated left inguinal hernia (arrow).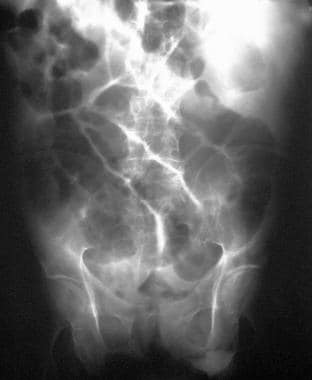 Plain abdominal radiograph of the abdomen in a 72-year-old man with a history of intermittent abdominal pain over several years that settled spontaneously. On this occasion, his pain was severe. The abdominal radiograph shows dilated loops of small bowel, but the concentration of several loops of small bowel in the right hypochondrium should be noted as this finding is suggestive of malrotation. At surgery, a midgut volvulus caused by malrotation was found. The patient's age is unusual for those presenting with a midgut volvulus.
The unique capabilities of CT scanning (see the images below) make it an important diagnostic tool when a specific clinical answer is sought. Studies have shown the superiority of CT scanning in revealing not only the site of the obstruction but also its cause. CT scans may demonstrate signs of ischemia as well.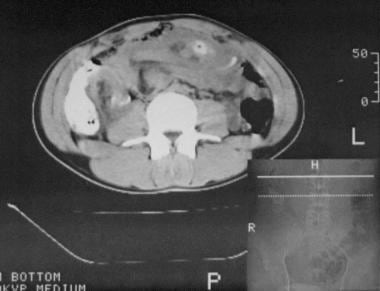 A nonenhanced CT scan of the abdomen in a 16-year-old male adolescent with cystic fibrosis who presented with intermittent colicky epigastric pain of 6 weeks' duration. The scan shows a complex mass of concentric rings of alternating low- and high-attenuating layers surrounding a very high attenuation center caused by intraluminal Gastrografin. At laparotomy, a chronic jejunojejunal intussusception was found.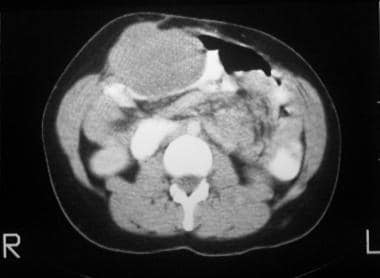 A CT scan of a 36-year-old woman with Gardner syndrome presented with features of small-bowel obstruction. The axial contrast-enhanced CT scan through the midabdomen shows an extrinsic mass compressing a loop of small bowel. At laparotomy, a desmoid tumor of the mesentery was found; this caused the small-bowel obstruction.
Atri et al studied 99 adult patients who underwent 105 nonenhanced CTs and enhanced CTs and found that the 2 procedures had comparable accuracy in diagnosing mechanical small-bowel obstruction and that they can be interpreted by reviewers of varying expertise. Mechanical obstruction was present in 56% (59/105). The average sensitivity, specificity, negative predictive value, positive predictive value, and accuracy for NECT were 88.1%, 77%, 83.0%, 83%, and 83%, with no significant difference between 3 reviewers (abdominal radiologist, abdominal fellow, second-year radiology resident). The corresponding numbers for ECT were 87.6%, 75%, 82.6%, 82.1%, and 82%.

O'Daly et al conducted a retrospective review of 88 patients who had acute adhesional small-bowel obstruction and underwent CT, and 58 (66%) were managed conservatively and 30 (34%) underwent surgery. Peritoneal fluid detected on a CT scan (n = 37) was associated more frequently with surgery than conservative management (46% versus 29%). Peritoneal fluid detected on a CT scan was identified as an independent predictor of surgical intervention. According to study findings, such patients are 3 times more likely to require surgery.

Delabrousse et al evaluated the CT findings of 67 patients with small-bowel obstruction to identify characteristics of small-bowel obstruction caused by adhesive bands and that caused by matted adhesions. Closed-loop patterns and a whirl sign were seen only in patients with adhesive bands, and the beak sign and fat notch sign were present more often in patients with adhesive bands. Bowel ischemia and bowel necrosis were also more frequent findings with adhesive bands than with matted adhesions. In patients with matted lesions, the small-bowel feces sign was more frequently seen, and there was a higher rate of accidental bowel perforation.

The relative value of performing conventional small-bowel contrast enema studies versus CT scans in a known or suspected small-bowel obstruction remains underdetermined. Small-bowel enema is preferable to CT scanning when the obstruction is intermittent or incomplete, and it may be of particular value under these circumstances if the plain radiographic findings are normal.
Although ultrasonography (see the image below) has no specific role in the diagnosis of an acute small-bowel obstruction, the technique is widely used in the investigation of acute abdominal pain. The radiologist must be aware of the sonographic appearance of small-bowel obstructions. Sonograms help not only in the diagnosis of an obstruction but also in defining the cause. The sonographic findings differentiate an adynamic ileus from a mechanical obstruction by depicting peristalsis. Ultrasonography has particular advantages in the diagnosis of neonatal small-bowel obstructions.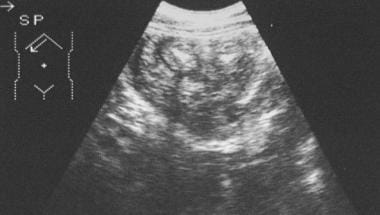 Abdominal sonogram in a 16-year-old male adolescent with cystic fibrosis who presented with intermittent colicky epigastric pain of 6 weeks' duration. The sonogram shows a complex mass of concentric rings of alternating hypoechoic and hyperechoic layers surrounding a highly reflective center. The mass was located in the epigastrium.
Radionuclide-labeled white blood cell scanning has no specific role in the diagnosis of acute small-bowel obstruction; however, the technique is sensitive and specific in the diagnosis of some of the causes of chronic and incomplete obstruction, such as Crohn disease. Similarly, a specific diagnosis of a carcinoid of the gastrointestinal tract associated with an incomplete obstruction may be achieved by performing imaging with a radionuclide-labeled somatostatin analogue. (See the image below.)
Technetium-99m hexamethylpropyleneamine oxime (99mTc HMPAO)–labeled white blood cell scan in a 63-year-old woman who presented with features of recurrent attacks of small-bowel obstruction. The scan shows active uptake of the radionuclide in the terminal ileum and the cecum/ascending colon indicative of an active inflammatory process. The patient was treated for active Crohn disease.
The diagnosis of small-bowel obstruction has been achieved by using magnetic resonance imaging (MRI) with T1-weighted sequences combined with antiperistaltic agents and retrograde insufflation. Similar results have been achieved by using subsecond rapid acquisition with relaxation enhancement (RARE) imaging for the delineation of bowel obstruction. Virtual small-bowel imaging is theoretically possible with a spiral CT scanner, but it should be noted that any digital imaging technique enables virtual-reality processing.
Description and classification
Small-bowel obstructions can result from a variety of causes. In parts of Europe, the term "ileus" is applied both to a mechanical small-bowel obstruction and to atony of the bowel related to abdominal surgery or peritonitis; however, in most English-speaking countries, the term "obstruction" is used for a mechanical bowel blockage arising from a structural abnormality that presents a physical barrier to the progression of gut contents. The term "ileus" is reserved for the paralytic or functional variety of gastric obstruction.

Mechanical small-bowel obstruction can be classified into 3 main groups, according to the cause of the intestinal obstruction, as follows:
Intraluminal (eg, foreign bodies, bezoars, food bolus)
Obstruction resulting from lesions in the bowel wall (eg, tumors, Crohn disease)
Extrinsic (eg, adhesions, hernias, volvulus)
Anatomy
The distal part of the duodenum (the jejunum, ileum, and colon proximal to the splenic flexure) develops from the embryologic midgut. A normal small-bowel is approximately 3-6 m in length, although the exact length is often difficult to assess because the small-bowel can become considerably elongated or foreshortened in life. In most individuals, the jejunal loops lie in the left hypochondrium, and the ileum lies in the pelvic midline. The terminal ileum is the narrowest part of the small-bowel, and peristalsis may be weaker in this segment than in more proximal segments. The valvulae conniventes are more prominent in the jejunum than in the ileum.
The intramural width of the small-bowel may be measured by taking plain abdominal radiographs of a gas-filled lumen. An intramural width of 3 cm is considered abnormal and may indicate obstruction or ileus. This measurement is reduced to 2.5 cm on computed tomography (CT) scans. In most healthy adults, the small-bowel contains little gas, and only 1 or 2 nondistended gas-filled loops may be seen in the small-bowel; however, in the supine position, the duodenum cannot maintain an efficient water trap, and air may pass into the jejunum from the stomach. This is a common observation in patients undergoing intravenous urography who are supine during the procedure. In young children, gas-filled small-bowel loops are common normal findings; however, distention of these loops by gas or fluid should be regarded as abnormal.
The depiction of the small-bowel on sonograms is improved when the small-bowel is filled with water. A water-filled small-bowel may occur normally, particularly after meals or the ingestion of a large volume of fluid. Sonography shows fluid-filled tubes lined by an echogenic mucosa that is thrown into folds or valvulae. These folds may lend a ribbed appearance to the inner wall of the bowel. The normal bowel wall is 3-5 mm thick, and normal loops of bowel are yielding and easily deformed during examination. The configuration of the loops may be altered as a result of peristalsis and distention with fluid and air. Progressive pathologic distention makes the bowel more tubular, with a loss of sharp angles between consecutive loops.
Limitations of techniques
The sensitivity of plain radiographic findings in the diagnosis of small-bowel obstruction is approximately 50-66%. When little or no gas is present in the small-bowel, a diagnosis of small-bowel obstruction may be overlooked, especially if the condition is proximal. Barium studies should be avoided in patients with suspected perforations or complete small-bowel obstruction.
CT scans have poor sensitivity for low-grade, partial, or incomplete obstruction.
Although sonographic findings may suggest a diagnosis and etiology of small-bowel obstruction, the exact sensitivity of sonography is not known. In addition, bowel gas and obesity poses problems, and the technique remains operator dependent.
Radionuclide findings do not help with a specific diagnosis in bowel obstruction.
MRI is expensive and not universally available. The extent to which MRI will be used clinically in the future depends not only on the availability of an appropriate scanner but also on the overall sensitivity of the procedure compared with time-honored, simple methods, such as plain radiography. The sensitivity of MRI has yet to be established.
The requirement for nasogastric intubation and enteroclysis prior to CT scanning or MRI for virtual small-bowel imaging makes virtual imaging invasive and time consuming.
Medical/legal pitfalls
The most serious consequences of small-bowel obstruction are strangulation with ischemia, necrosis, perforation, peritonitis, and death. The prevalence of strangulated small-bowel obstruction is 5-42% of all patients. Expeditiously investigate clinical suspected strangulation because a delay may be lethal.
The use of barium suspensions for enteroclysis or retrograde examination may cause inspissation of the small bowel and convert a partial obstruction to a complete obstruction; therefore, if CT is available, CT scans should be obtained as an alternative to conventional contrast-enhanced studies.
The presence of a closed-loop obstruction and features of ischemia can be missed, even on CT scans. If an obvious discrepancy exists between CT and clinical findings in patients with obstruction, urgent surgery is mandatory.