Practice Essentials
Portal hypertension (PH) represents an increase of the hydrostatic pressure within the portal vein or its tributaries. It is defined as an increase in the pressure gradient between the portal vein and hepatic veins or the inferior vena cava (IVC). Most patients with PH have intrinsic liver disease. The most common cause of portal hypertension is cirrhosis, with portal hypertension developing as a result of a progressive increase in resistance to portal vein blood flow.

In PH, blood that normally flows through the liver is diverted into systemic veins because of increased resistance to portal venous flow. This diversion of portal venous blood occurs via exiting portosystemic communications (eg, the left gastric vein) and the opening of embryonic channels (eg, paraumbilical veins). The most common portosystemic anastomosis is via the left gastric-gastroesophageal route; it occurs in 80-90% of patients and gives rise to lower esophageal and gastric varices.

Normal portal venous pressure ranges from 5 to 10 mm Hg. Portal hypertension has 2 components: the intrahepatic obstruction of portal blood flow and the transmitted venous pressure from the hepatic vein. Clinically significant portal hypertension (CSPH) is considered a hepatic venous pressure gradient (HVPG) ≥10 mm Hg, and severe portal hypertension is ≥12 mm Hg.

Hematemesis resulting from bleeding esophageal varices is the most common presentation in patients with PH, although some patients seek medical help because of decompensated liver disease. Findings from duplex ultrasonography (US) and color Doppler imaging (CDI), MRI, CT, and endoscopy may support the diagnosis of PH.
Preferred examination
In portal hypertension imaging, ultrasound techniques such as duplex ultrasonography or spectral Doppler imaging and color Doppler imaging or power Doppler imaging are the modalities of choice, because they are noninvasive, rapid, and highly sensitive and specific. In patients with known cirrhosis, Doppler ultrasound has a specificity greater than 80% for CSPH. Spectral and color Doppler can detect specific portosystemic collateral pathways such as recanalized paraumbilical vein, splenorenal collaterals, and dilated left and short gastric veins.
Microbubble contrast agents have improved detectability of peripheral blood flow

Studies have also demonstrated four-dimensional flow MRI (4-D flow MRI) as promising in evaluating the splanchnic system with high spatial resolution.

Plain radiographs are not often obtained in cases of portal hypertension, but because most hospitalized patients undergo chest radiography, radiologists need to be aware of abnormalities that may be found in patients with PH. The appearance of calcification in the distribution of the portal vein on a plain abdominal radiograph may indicate PH. An upper GI tract barium series is often performed for the detection of esophageal varices.
(See the images below.)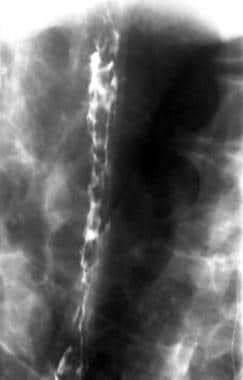 Barium swallow in the left lateral decubitus position shows multiple mucosal nodules in the mid to lower esophagus. In a patient with cirrhosis, these are suggestive of esophageal varices.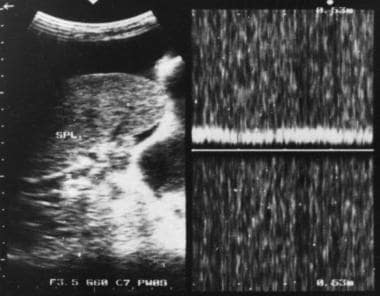 Doppler sonogram at the splenic hilum reveals hepatofugal venous flow in a patient with portal hypertension.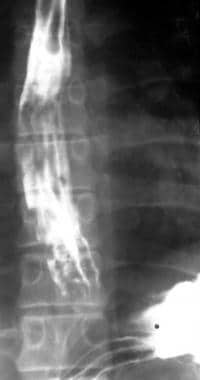 Barium swallow in a 56-year-old man with known cirrhosis who had a recent episode of hematemesis shows thickened mucosal folds and multiple polypoid filling defects at the lower end of the esophagus. These are suggestive of varices.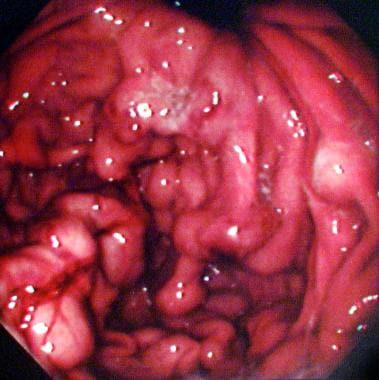 Endoscopic findings in a 47-year-old man with a history of polycythemia rubra vera who had a recent episode of hematemesis. Endoscopy showed a normal esophagus, but multiple polypoid submucosal lesions were seen in the fundus and body of the stomach). The final diagnosis was left-sided portal hypertension secondary to splenic vein thrombosis.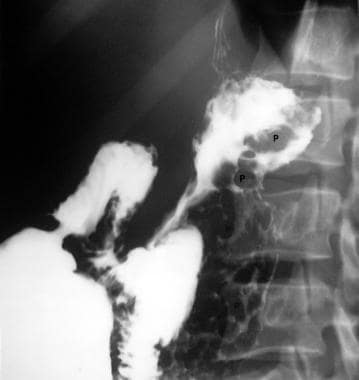 Part of an upper gastrointestinal tract barium series (same patient as in the previous image) shows multiple polypoid filling defects within the fundus of the stomach. The final diagnosis was a left-sided portal hypertension secondary to splenic vein thrombosis.
Angiographic techniques such as splenosportography (SP), transhepatic portography, transumbilical catheterization, transjugular catheterization, wedge hepatic venography, and arterial portography are invasive. However, they are much more specific for the evaluation of PH hypertension; they are indicated when definitive surgery or radiologic intervention is contemplated.
The use of angiographic techniques is declining because noninvasive imaging techniques such as US, CT, computed tomographic angiography (CTA), and magnetic resonance angiography (MRA) are available and improving in specificity and sensitivity.

Splenoportography and transumbilical catheterization are rarely performed. Arterial portography (indirect portography) and wedge hepatic venography with manometry is indicated before surgical portacaval shunt placement.
Carbon dioxide wedge hepatic venography is the most commonly used method for visualizing the portal vein before portal vein puncture for a transjugular intrahepatic portosystemic shunt (TIPS) procedure. TIPS is a radiology-guided creation of a shunt between the portal and hepatic veins in the liver by use of a percutaneous transjugular approach. Because of its proven safety and effectiveness, TIPS has largely replaced surgical decompressive shunt procedures.

Transient elastography (TE) is a relatively new sonographic technique used as a noninvasive method to study portal hypertension in chronic liver disease, with variable results. TE has shown sensitivity in estimating the absence of liver fibrosis or the presence of high-degree liver fibrosis. Shear-wave elastography (SWE) has also been studied.

Shi et al in a meta-analysis studied the performance of TE for detection of significant portal hypertension, esophageal varices, and large esophageal varices. The analysis revealed that TE could be used as a good screening tool for significant portal hypertension but had only moderate diagnostic utility for the prediction of esophageal varices or large esophageal varices.

Idiopathic portal hypertension (IPH) is frequently misdiagnosed as cryptogenic cirrhosis. Seijo et al studied 39 patients retrospectively to determine whether hepatic vein catheterization and liver stiffness measurements can differentiate IPH from noncirrhotic portal vein thrombosis. Patients with IPH frequently have hepatic vein-to-vein communications, despite signs of portal hypertension, and lower mean hepatic venous pressure gradient and liver stiffness values much lower than the cut-off for clinical significant portal hypertension in those with cirrhosis. Thus, when these signs occur, it is obligatory that IPH is ruled out.

Limitations of techniques
Plain radiographs are usually not indicated for patients with portal hypertension. Most plain radiographs are obtained for other reasons, and signs of PH are detected incidentally. Therefore, plain radiographs are of limited value.
Duplex US is a sensitive technique for the detection of PH in addition to other important features. When respiratory variation in the size of the portal, splenic, and superior mesenteric veins does not occur or when it is less than 20%, PH may be diagnosed with a sensitivity of 80% and a specificity of 100%.
In cases involving bleeding varices that are unresponsive to endoscopic sclerotherapy or when intractable ascites are present, a TIPS procedure is indicated. TIPS is performed after portal vein patency is documented at duplex US.