Practice Essentials
Cystic lesions of the pancreas are common, and 80-90% of these lesions are pseudocysts or retention cysts. Cystic neoplasms of the pancreas are less common, accounting for about 10-15% of all cystic pancreatic lesions. True cysts of the pancreas are rare. The two most common cystic neoplasms of the pancreas are serous cystadenoma and mucinous cystic neoplasms. Serous cystadenoma is more common than mucinous cystic neoplasm, with a ratio of about 2:1. Intraductal papillary mucinous tumor (IPMT) is a more recently discovered cystic neoplasm that may be a variant of the mucinous cystic neoplasm. The important point to remember is that serous cystadenoma is benign, whereas the biologic behavior of mucinous cystic neoplasm and IPMT ranges from benign to malignant. Therefore, distinguishing these entities is of the utmost importance.

Pancreatic serous cystadenomas are commonly found in women 60 years of age or older (approximatley 75% of cases). In a study of 2622 patients with serous cystadenomas, 74% were women with a mean age of 58 years.
The lesions are generally small (mean diameter, 31 mm), but giant pancreatic serous cystadenomas (≥10 cm) have been found.
They can be categorized as microcystic, honeycomb, oligocystic, and solid, based on appearances on imaging.

Serous cystadenomas are benign tumors that rarely transform into malignancies; surgery is generally indicated only for large serous cystadenomas.

Preferred examination
Ultrasonography can be used to detect, and sometimes to characterize, the features of this tumor, especially when the classic features are present. In comparison, CT is superior in lesion depiction and characterization, and it is the preferred imaging modality in the initial workup of pancreatic lesions. However, the first test performed is usually ultrasonography, because the typical presenting symptom is abdominal pain and/or nausea.

Endoscopic ultrasonography allows high-resolution evaluation of cyst morphology. Endoscopic ultrasonography with fine-needle aspiration (EUS-FNA) can provide additional information, diagnose malignancy, and monitor changes to pancreatic cysts. It can help identify those lesions that will necessitate resection.

MRI can be a useful problem-solving adjunct in select cases. For example, when an evaluation of the ducts is needed, magnetic resonance cholangiopancreatography (MRCP) can be useful.
Findings from plain radiography and upper GI series are nondiagnostic, except the finding of a classic sunburst central calcification, which is suggestive.
(See the images below.)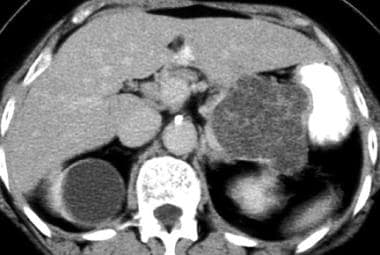 Serous cystadenoma on a contrast-enhanced CT scan. Note the Swiss cheese–like enhancement and gentle external lobulation.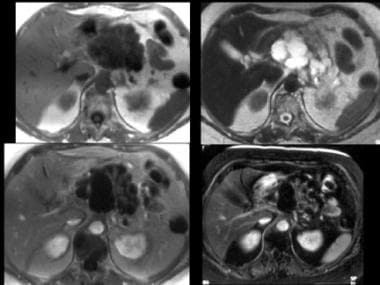 MRIs of serous cystadenoma. Top left, T1-weighted image; top right, T2-weighted image; bottom left, T1-weighted gadolinium-enhanced image; bottom right, fat-suppressed T1-weighted gadolinium-enhanced image. The mass is externally lobulated and hypointense on the T1-weighted image and hyperintense on the T2-weighted image, with septal enhancement and, atypically, some larger cysts. Image courtesy of Arnold C. Friedman, MD, FACR.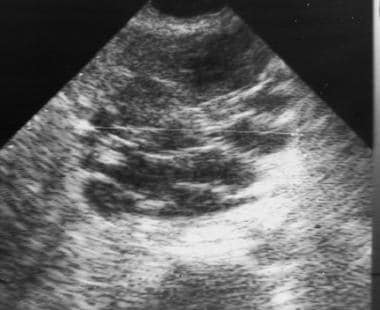 Sonogram of serous cystadenoma. The large mass in the head of the pancreas is externally lobulated, with some cystic-appearing regions, some solid-appearing regions, and increased through transmission. Image courtesy of Arnold C Friedman, MD, FACR.
Because of the significant overlap in the imaging findings of mucinous and serous pancreatic tumors, these tumors should be followed up with surveillance computed tomography (CT) scanning to assess interval growth if aspiration is not performed.
The diagnosis of a serous cystadenoma should be made with caution unless the lesion has all of the typical findings. If a mucinous cystic lesion is incorrectly diagnosed as a serous cystadenoma and if surveillance CT or magnetic resonance imaging (MRI) scan is not performed, grave consequences could result.

Diagnosis
The main differential diagnoses include mucinous cystic neoplasm, IPMT, pseudocyst, focal pancreatitis, and adenocarcinoma.
The diagnosis of pancreatitis and pseudocyst is generally straightforward, especially in a clinical setting of chronic alcoholism with a history of pancreatitis. If the tumor is large enough, symptoms related to mass effects may predominate. Smaller tumors may be discovered incidentally on abdominal ultrasonogram or CT scan.
Imaging findings are usually confirmatory in difficult cases. Adenocarcinoma is most commonly solid and, therefore, infrequently confused with cystic neoplasms. The other entities can have imaging features that are highly suggestive of one entity rather than another. Communication with the pancreatic duct strongly suggests mucinous cystic neoplasm or IPMT instead of serous cystadenoma.
A central stellate scar with calcification and a grapelike cluster of cysts and external lobulation strongly suggests serous cystadenoma. However, the imaging features of these entities can overlap considerably; therefore, an analysis of the percutaneous cells and cystic fluid is often required for diagnosis. In fact, approximately 10% of all serous cystadenomas have cystic components larger than 2 cm and cannot be distinguished from mucinous cystic neoplasms.
Limitations of techniques
When stellate calcification or the classic CT scan features of central sunburst are present in a multilocular cystic mass in an older woman, some institutions accept this as a clearly benign finding. In one series, however, CT scanning was useful in depicting the lesions, but it was not useful in differentiating benign and malignant tumors, serous and mucinous tumors, or pseudocysts and neoplasms.