Practice Essentials
Duodenal ulcers (DUs) affect nearly 10% of the adult population at some point in life,
and these lesions account for two thirds of all peptic ulcers, which are defined as mucosal breaks of 3 mm or greater; gastric ulcers account for the rest. Unlike gastric ulcers, which may be malignant in about 5% of cases,
duodenal ulcers are almost invariably benign; therefore, treatment with antisecretory drugs can be commenced after radiologic diagnosis, without endoscopy being performed beforehand.
Images of duodenal ulcers are provided below.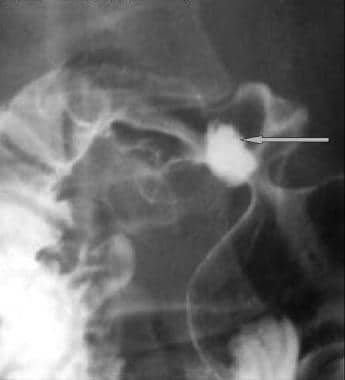 Double-contrast upper gastrointestinal series. Posterior wall duodenal ulcer.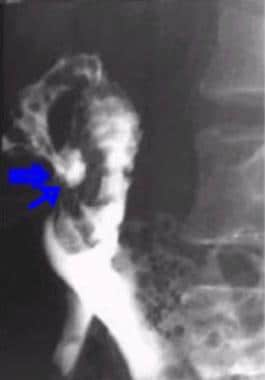 Lateral view of a posterior wall ulcer in the same patient as in the previous image.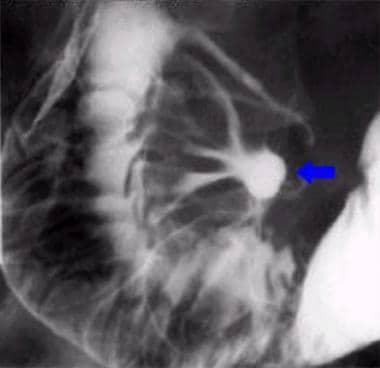 Double-contrast upper gastrointestinal series. Anterior wall ulcer in a duodenal cap.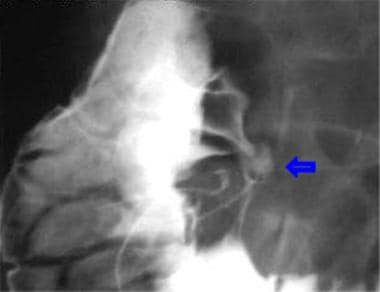 Lateral view of an anterior wall duodenal ulcer in the same patient as in the previous image.
Preferred examination
Endoscopy has become the diagnostic procedure of choice for patients with suspected duodenal ulcer. However, endoscopy is more invasive and costly than double-contrast barium study. Double-contrast examinations of the upper gastrointestinal tract remain a useful alternative to endoscopy but have a lower sensitivity, especially in the detection of small duodenal ulcers.
Endoscopy with biopsy has a sensitivity of as high as 95%, but small ulcers in the base of the duodenal bulb may be missed. In the presence of gastric outlet or proximal duodenal obstruction, the endoscope may be unable to pass through the stenosis, and the full extent and cause of the obstruction may not be defined.
Single-contrast barium studies may cause as many as 40% of small ulcers to be missed, but double-contrast barium images depict as many as 95% of ulcers larger than 10 mm
; these results are comparable to those of endoscopy. However, the sensitivity of double-contrast barium examination decreases with smaller ulcers and recurrent ulcers in a deformed duodenal bulb; therefore, this modality is not reliable in the detection of duodenitis or duodenal erosions. Barium studies have a disadvantage because biopsy specimens cannot be obtained to test for Helicobacter pylori infection or to evaluate a suspicious lesion.

The differential diagnosis includes a calculous c holecystitis, acute c holecystitis, cholelithiasis, Crohn disease, gastric ulcer, gastroesophageal reflux, upper gastrointestinal bleeding, acute and c hronic p ancreatitis, G astrointestinal tuberculosis, and Zollinger-Ellison syndrome.
Failure to diagnose duodenal ulceration and the complications of duodenal ulceration (eg, hemorrhage, gastric outlet obstruction, and perforation) are special concerns.
Esophagogastroduodenoscopy, in one study, showed that complicated duodenal ulcer disease was accompanied by a significantly higher detection rate of erosive esophagitis (20%), gastritis (52%), duodenitis (25%), multiple ulcers (28%), and larger ulcer sizes.

Radiologic intervention
Transcatheter embolization may be used to treat bleeding duodenal ulcers.
Terminal muscular-branch vessel embolization is more effective than gastroduodenal artery embolization in the initial and long-term control of bleeding. Terminal vessels may be occluded with 6-cyanoacrylate, but duodenal stenosis is a late complication in one quarter of all patients.
In a study of 29 patients with massive bleeding from duodenal ulcer disease, 26 patients achieved immediate hemostasis, and technical success rate reached 90%. No hemostasis was observed in 27 patients within 30 days after emergency transcatheter arterial embolization, and clinical success rate was 93%.

Fluoroscopically guided balloon (15 or 20 mm in diameter) dilatation may be used for benign duodenal strictures caused by peptic ulcers, Crohn disease, or postoperative adhesion.
Duodenal perforation may occur, necessitating emergency surgery.