Overview
Recurrent pyogenic cholangitis is a disease defined by multiple instances of bacterial biliary tract infection, intrahepatic and extrahepatic biliary pigment stone formation, hepatic abscesses, and dilatation and stricturing of the intrahepatic and extrahepatic bile duct.

Digby published the first detailed English-language report of recurrent pyogenic cholangitis in 1930. He described a syndrome consisting of recurring episodes of suppurative cholangitis accompanied by biliary dilatation and pigment stones in the Chinese populace.
Because recurrent pyogenic cholangitis is endemic to areas of Asia, the terms Oriental cholangitis and Oriental cholangiohepatitis were once commonly used to refer to this syndrome. Recurrent pyogenic cholangitis is being recognized with increasing frequency in Western nations. However, even in these locations, it remains predominantly a disease of Asian immigrants.
The initial screening radiologic study of choice is abdominal ultrasonography. It is highly sensitive for ductal stones and ductal dilatation, and it may be helpful in localizing hepatic abscesses or other complications. All patients should undergo abdominal computed tomography (CT) scanning with contrast enhancement. CT scanning allows full assessment of the extent of disease.

(See the images below.)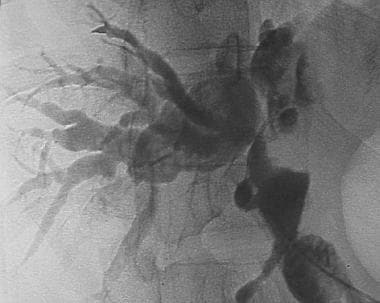 Cholangiogram demonstrates disease in extrahepatic and right intrahepatic biliary tree in patient with recurrent pyogenic cholangitis (RPC).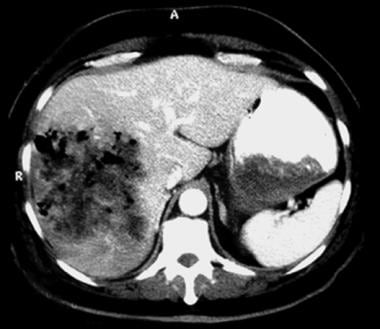 CT scan of pyogenic liver abscess. Image courtesy of Greg Everson, MD.
Although ultrasonography is an excellent screening test, it is operator dependent and may not demonstrate the full extent of disease. For example, intrahepatic ductal strictures and hepatic lobar atrophy can be missed. CT scanning demonstrates the features of anatomic disease, such as the extent of ductal involvement, the status of the hepatic lobes, and the presence or absence of associated abscesses. On CT scans, isoattenuating features, such as noncalcified stones and biliary sludge, can be missed.