Practice Essentials
Primary sclerosing cholangitis (PSC) is a chronic, progressive, inflammatory disease characterized by fibrosis of the bile ducts. The cause is unknown, but a hypersensitivity reaction is implicated. Patients present with abnormalities of liver function tests and progressive intermittent obstructive jaundice, which may be associated with fever chills, night sweats, pain, and itching. The antimitochondrial antibody is present in about 95% of cases.
A liver biopsy, magnetic resonance cholangiopancreatography (MRCP), and endoscopic retrograde cholangiopancreatography (ERCP) can help achieve diagnosis.

Approximately 75% of patients with PSC have inflammatory bowel disease (IBD), primarily ulcerative colitis. Median survival of patients who do not receive a liver transplant is 12-15 years after diagnosis.

Prevalence of PSC is 0 to 16.2 /100,000 persons and usually occurs in young and middle-aged men, with typical age at onset of 30-40 years.

The term primary is used to distinguish this condition from bile duct strictures that are secondary to bile duct injury, cholelithiasis, ischemia, and chemical injury.

(The radiologic characteristics of PSC are demonstrated in the images below.)
Preferred examination
The American Association for the Study of Liver Diseases and the European Association of the Study of the Liver have both recommended magnetic resonance cholangiopancreatography (MRCP) as the first-line modality for imaging bile duct abnormalities in PSC. The advantages of MRCP are that it is noninvasive and does not require contrast media or ionizing radiation. However, MRCP may have limited accuracy in early PSC.
Therefore, ERCP remains the mainstay for accurate diagnosis of ERCP through analysis of the hepatobiliary tree because of its higher sensitivity.
When there is still clinical suspicion with negative or nondiagnostic findings on MRCP, ERCP should be performed. ERCP can also be used for therapy with balloon dilatation or stenting.

ERCP is invasive and can potentially cause ascending cholangitis.

Ultrasonography (US) is the initial examination modality of choice in patients presenting with jaundice and right upper quadrant pain. The liver may demonstrate nonspecific abnormalities on US, which infrequently leads to definitive diagnosis. The primary role of US is in helping clinicians make the diagnosis of other bile duct mechanical obstructions, such as gallstones and neoplasia.
Endoscopic ultrasound may be used for diagnosing extrahepatic PSC.

Computed tomography (CT) scans also demonstrate nonspecific changes. Indistinguishable features may occur with cholangiocarcinoma and other forms of cholangitis. Intra-abdominal lymphadenopathy, suggesting cholangiocarcinoma, may be detected by CT.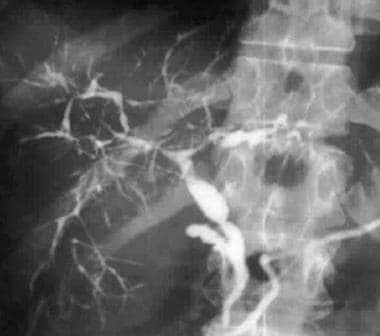 Endoscopic retrograde cholangiopancreatography performed in a patient with abnormal liver function test results shows multiple intrahepatic bile duct strictures and beading.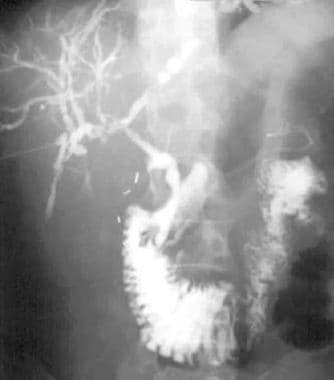 Percutaneous transhepatic cholangiogram shows dilatation, stricturing, and beading of the intrahepatic bile ducts. Note the surgical clips from a previous cholecystectomy.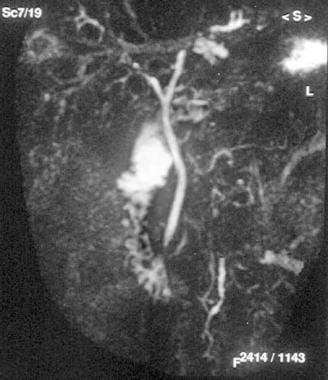 Magnetic resonance cholangiopancreatography shows a normal-sized common bile duct, but strictures of both the left and right ducts are noted as well as a dilated proximal left hepatic duct.
Content.