Overview
Cavernous hemangioma is the most common primary liver tumor; its occurrence in the general population ranges from 0.4-20%, as reported by Karhunen in an autopsy series. Cavernous hemangiomas arise from the endothelial cells that line the blood vessels and consist of multiple, large vascular channels lined by a single layer of endothelial cells and supported by collagenous walls. These tumors are frequently asymptomatic and incidentally discovered at imaging, surgery, or autopsy. Hemangiomas are uncommon in cirrhotic livers; the fibrotic process in cirrhotic liver may prohibit their development.
The radiologic characteristics of hemangiomas are demonstrated in the images below.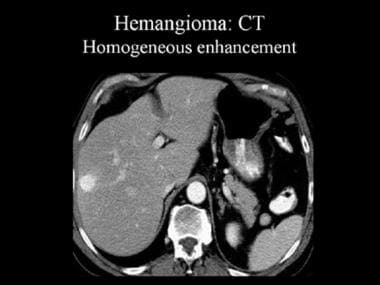 Contrast-enhanced computed tomography (CT) scan that was obtained during the arterial-dominant phase. This image demonstrates a hemangioma with homogeneous and intense contrast enhancement.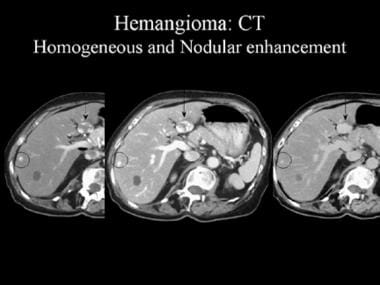 Contrast-enhanced computed tomography (CT) scan. These images reveal the pathognomonic features of a hemangioma, namely, peripheral nodular enhancement and progressive centripetal fill-in (arrow). The smaller, peripheral lesion (circled) shows homogeneous enhancement.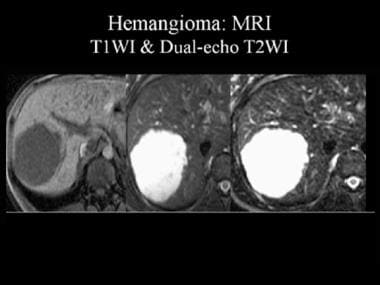 Magnetic resonance image (MRI) of a hemangioma. The lesion appears as a hypointense mass on T1-weighted MRIs (T1WI) and as a hyperintense mass on dual-echo T2-weighted MRIs (T2WI). Note that the signal intensity of the lesion is similar to that of the adjacent cerebrospinal fluid.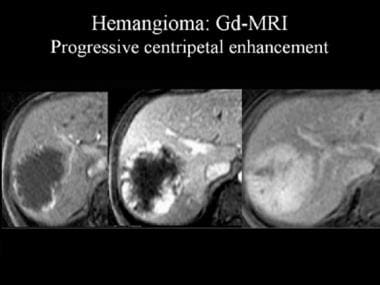 Dynamic gadolinium (Gd)-enhanced magnetic resonance images (MRIs). These images demonstrate the progressive, centripetal contrast enhancement in a hemangioma.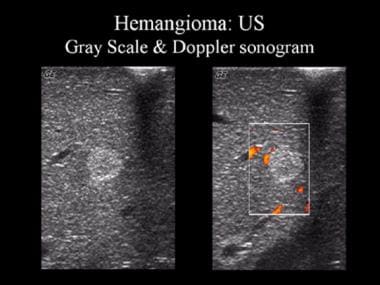 Gray-scale and Doppler ultrasonographic (US) images. These sonograms show a well-defined, uniformly hyperechoic liver mass with peripheral feeder vessels that are characteristic of a hemangioma.
Usually, cavernous hemangiomas occur as solitary lesions; however, they may be multiple in as many as 50% of patients.
No lobar predilection exists, and the tumors may be associated with focal nodular hyperplasia.
Hemangiomas typically measure less than 5 cm; those larger than 4-5 cm are sometimes called giant hemangiomas.

Preferred examination
Most hemangiomas are incidentally detected on imaging studies. Ultrasonography is a cost-effective imaging modality for the diagnosis of a hemangioma. However, computed tomography (CT) scanning and/or magnetic resonance imaging (MRI) may be required to specifically diagnose a hemangioma.
Ultrasonography is a heavily operator-dependent technique; its performance depends on the expertise and experience of the ultrasonographer. In addition, the acquisition of satisfactory images in obese patients is technically difficult. Contrast-enhanced CT scanning is relatively contraindicated in patients who have renal insufficiency and in those who have a previous history of hypersensitivity to iodinated contrast agents; thus, MRI may be the preferred modality of choice in the characterization of hemangiomas in such patients. Angiography is an invasive method that is used for the characterization of liver hemangiomas; this imaging modality is associated with low, but definite, risks of morbidity and mortality.

Kobayashi et al found a sensitivity of 79% and a specificity of 100% for the diagnosis of hepatic hemangioma using contrast-enhanced ultrasonography (CEUS) with Levovist. Liver-specific findings were affected by taking early-phase ultrasonograms or changing the posture of the patient.