Overview
Caroli disease is a nonobstructive dilatation of the intrahepatic bile ducts, which was first described in 1958 by the French physician Jacques Caroli. This is a rare congenital disorder that classically causes saccular ductal dilatation, which usually is segmental. Caroli disease is associated with recurrent bacterial cholangitis and stone formation.
(See the images below.)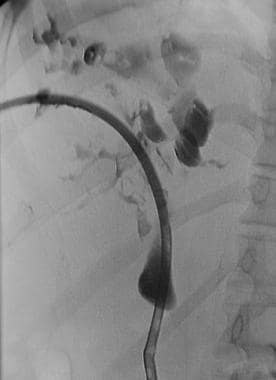 Percutaneous transhepatic cholangiographic image of Caroli disease. During catheter placement, contrast material previously injected outlines the irregular, dilated saccular ductal branches.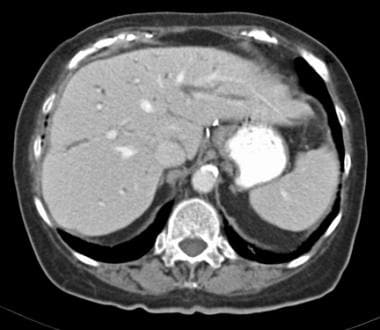 Caroli disease. CT image in a patient with biliary dilatation.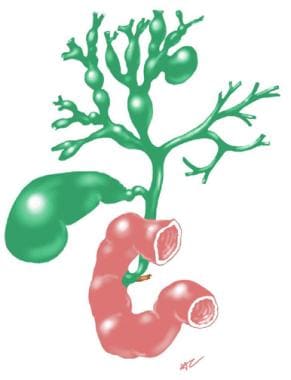 Drawing shows the main right hepatic duct and the multiple segmental branch dilatations related to Caroli disease. Note the saccular dilatations that can occur, involving the right lobe of liver in this case.
Caroli disease also is known as communicating cavernous ectasia or congenital cystic dilatation of the intrahepatic biliary tree. It is distinct from other diseases that cause ductal dilatation caused by obstruction. It is not one of the many choledochal cyst derivatives.
Preferred examination
Imaging studies play a major role in the diagnosis of Caroli disease.
Ultrasonography is widely available and is often used first in the diagnosis of any process involving the liver; therefore, it is commonly performed early in the workup of patients with Caroli disease. Demonstration of the continuity of the cystic lesions with the bile ducts is paramount in diagnosis.
Nuclear scintigraphy also may be performed in the initial workup and can be valuable in excluding obstructive causes for intrahepatic duct dilatation that are depicted on cross-sectional images.
Computed tomography (CT) scanning is excellent for screening patients, and magnetic resonance imaging (MRI) can aid in the diagnosis of Caroli disease. Also, MR cholangiopancreatography (MRCP) can be performed, and images show ductal anatomy well, with additional techniques.
Endoscopic retrograde cholangiopancreatography (ERCP, shown below) can be performed in patients with Caroli disease and can aid in diagnosis. Biliary interventions also can be performed, but the intrahepatic ducts can be difficult to access.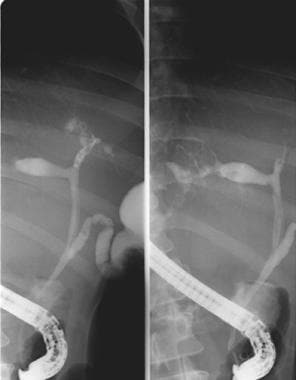 Caroli disease. Endoscopic retrograde cholangiopancreatographic images obtained during stone removal from the hepatic ducts. The patient is prone.
Percutaneous transhepatic cholangiography (PTC) is a more invasive technique that can allow direct visualization of the biliary tree and then therapy with transcutaneous interventions. Drainage catheters may be placed to divert bile. Stones can be removed, or balloon sphincter dilatation can be performed. (See the images below.)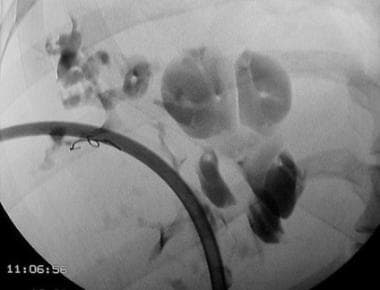 Caroli disease. Contrast-enhanced percutaneous transhepatic cholangiographic image shows the dilated ducts in the left lobe of the liver.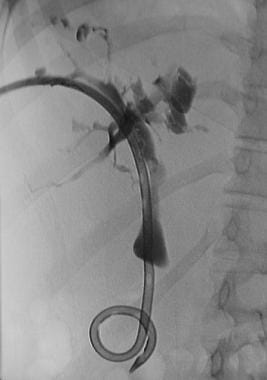 Caroli disease. Image obtained after percutaneous transhepatic cholangiography shows the percutaneous biliary drainage tube in place.
Laboratory examinations also are important and include bilirubin level analysis and liver function testing. Elevated white blood cell counts indicate infection, possibly cholangitis. Cultures of the blood, if findings are positive, support a diagnosis of sepsis.
Biopsy of solid liver masses may be performed to aid in the diagnosis of cholangiocarcinoma. Congenital hepatic fibrosis must be diagnosed at histologic examination; this diagnosis can help exclude cirrhosis.
Limitations of techniques
Ultrasonography can be limited by air in the adjacent bowel.
The many reasons for false-positive scintigraphic results are well known, and if biliary obstruction from a complicating factor is present, nuclear scans may be nondiagnostic.
Artifact can affect CT scans. Not all patients can receive iodinated intravenous (IV) contrast.
ERCP and PTC are invasive. ERCP cannot be performed if a gastric outlet obstruction or a previous surgical anastomosis (eg, gastrojejunostomy) cannot be crossed. PTC can be difficult if the peripheral ducts are not dilated, or PTC may be contraindicated if the patient has a severe allergy to radiographic contrast media or an uncorrected coagulopathy.
MRI and MRCP can be hampered by artifact, as well as by such patient factors as claustrophobia or excessive weight.
Intervention
The most common, and often the first, interventional radiologic procedure is PTC, which reveals dilated segmental intrahepatic biliary radicles.
Drainage procedures with ERCP or PTC are important, and sphincterotomy can aid biliary drainage and stone removal or subsequent passage and may decrease bouts of cholangitis. ERCP reveals dilated segmental intrahepatic biliary radicles.
With PTC or ERCP, the diagnosis can be made with a high degree of confidence when the large intrahepatic branches have focal or segmental involvement with cystic outpouchings in which the contrast medium collects. False-positive findings are rare with these techniques, and false-negative findings are related to poor filling in the dilated ducts (especially possible with ERCP).
Caroli disease may be adequately treated by resection, but transplantation may be required in patients with hepatic fibrosis.