Practice Essentials
The appendix is a blind-ending tubular structure arising from the cecum. Appendicitis results from an acute inflammation of the appendix and creates the most common abdominal surgical emergency. Acute appendicitis is a common gastrointestinal disease affecting 5.7–57/per 100.000 individuals each year, with the highest incidence in children and adolescents. Imaging studies in patients with a clinical suspicion of acute appendicitis can reduce the negative appendectomy rate, which has been reported to be as high as 15%.

A color Doppler ultrasonogram of appendicitis is shown below.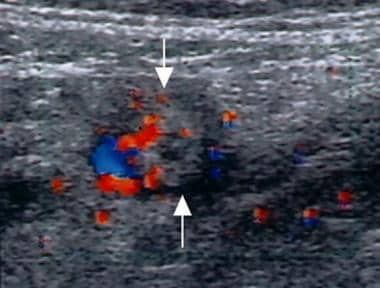 Suppurative appendicitis; transverse view, color Doppler ultrasound image. Circumferential colors are observed in the wall of the inflamed appendix (arrows), a strong indicator of acute appendicitis.
A diagnosis of acute appendicitis is usually made on the basis of a patient's clinical history in conjunction with physical examination and laboratory studies. Because the surgical aim is to operate early—before appendiceal rupture and peritonitis develop—patients who present with typical findings undergo immediate surgery without radiologic evaluation. However, such imaging is advisable in patients with atypical symptoms, which can occur in infants and small children, the elderly, and young women (see the image below).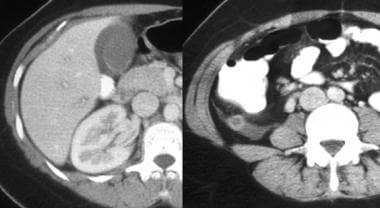 Atypical presentation of appendicitis in a young woman; computed tomography scan. The patient presented with an elevated white blood cell count and right upper quadrant pain. Left, there is pericholecystic fluid and free fluid in the right paracolic gutter, which is caused by retrocecal appendicitis. Right, the appendix, observed in axial section, has an increased diameter and an enhancing thickened wall.
See Appendicitis: Avoiding Pitfalls in Diagnosis, a Critical Images slideshow, to help make an accurate diagnosis.
Preferred examination
Controversy exists as to whether imaging is required in patients with the classic history and physical findings of acute appendicitis. Opinion varies as to whether these modalities should be performed in all patients with suggested appendicitis or if radiology should be reserved for select patients with atypical or confusing clinical presentations.
Appropriateness criteria have been published by the American College of Radiology (ACR) for right lower quadrant pain suggestive of appendicitis. In the appropriateness criteria, ratings of 7 to 9 are considered "usually appropriate." Computed tomography of the abdomen and pelvis with intravenous contrast is rated 8, and CT of the abdomen and pelvis without contrast is rated 7.
.
Ratings of 4 to 6 indicate that studies "may be appropriate." Right lower quadrant ultrasound with graded compression is rated 6, and abdominal radiographs (for excluding free air or obstruction) are rated 5. Magnetic resonance imaging is rated 4. Ratings of 1 to 3 indicate that studies "are usually not appropriate." Barium enema and technetium-99m white cell scanning are rated 3.

According to the ACR, computed tomography is the most accurate imaging study for evaluating suspected acute appendicitis and alternative etiologies of right lower quadrant pain. In children, ultrasound is the preferred initial examination, because it is nearly as accurate as CT for the diagnosis of acute appendicitis in this population without use of ionizing radiation. In pregnant women, ultrasound is preferred initially, with MRI as a second imaging examination in inconclusive cases.
In a retrospective review of MRI in 42 pregnant patients for detection of acute appendicitis, accuracy was 88.1%, sensitivity 60%, specificity 91.9%, positive predictive value 50%, and negative predictive value 94.4%.

Multidetector computed tomography scanning and graded-compression Doppler ultrasonography are powerful imaging methods that substantially improve diagnostic accuracy in patients with clinically equivocal appendicitis.
Continuous improvements in imaging technology, technique, and interpretation that have been achieved over the past 15 years have substantially increased the accuracy of imaging methods. US and CT scanning have gained acceptance as the primary imaging techniques for acute appendicitis by virtue of their ability to directly image the appendix, adjacent fat, and gut.

Graded-compression US of the right lower quadrant (RLQ) has been shown to be a useful examination because of this technique's safety and high accuracy (approximately 90%) in the diagnosis of acute appendicitis. Advantages of US include lack of radiation exposure, noninvasiveness, short acquisition time, and the potential for diagnosis of other causes of abdominal pain, particularly in the subset of patients who are women of childbearing age. Several authors suggest that US should be the first imaging method used in pregnant women and pediatric patients because x-ray exposure is especially undesirable in these groups.
Contrast-enhanced, thin-section (0.5 mm) CT scanning has become the preferred imaging technique in the diagnosis of acute appendicitis and its complications, with a high diagnostic accuracy of 95-98%. The literature suggests that limited helical CT scanning with rectal contrast is a highly accurate, time-efficient, cost-effective way to evaluate adult patients with equivocal presentations for appendicitis. CT scanning is particularly preferred in patients in whom appendiceal perforation is suspected, because the diagnostic accuracy remains high and because CT scanning is useful for characterizing periappendiceal inflammatory masses. Ultrasonography has been found to be highly specific but nonsensitive for perforated appendicitis.

Other advanced radiologic examinations, such as magnetic resonance imaging (MRI), scintigraphy, and color Doppler US, have been used in the diagnosis of acute appendicitis, with a diagnostic accuracy of approximately 91-95%.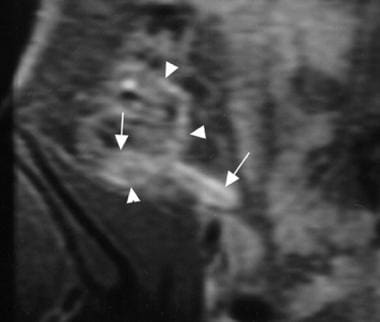 Acute suppurative appendicitis in a 15-year-old boy; contrast-enhanced, fat-suppressed, T1-weighted, spin-echo coronal magnetic resonance image. A markedly enhanced and thickened inflamed appendix (arrows) with pericecal enhancement due to the extent of inflammation is shown.
Periappendiceal abscess; contrast-enhanced, fat-suppressed, T1-weighted, spin-echo coronal magnetic resonance image. Fluid collections (long arrows) and a markedly enhanced pericecal area (short arrows) are shown. b = bladder; c = cecum.
Acute suppurative appendicitis in a 27-year-old woman; scintigraphy study. Pathologic accumulation of technetium-99m human immunoglobulin on the right iliac fossa is observed at 4 hours.
Advantages of MRI include better visualization of abnormal appendices and adjacent inflammatory processes, visualization of the appendix in an atypical location, delineation of pathology, operator independence, and ease of examination of patients who are obese. MRI, similarly to enhanced CT scanning, can demonstrate the extent of inflammatory infiltration.

The decision to obtain US or CT scan studies depends on institutional preference and the available user expertise, although patient age, sex, and body habitus are important influencing factors. US and CT scanning have similar diagnostic value for detecting an alternative diagnosis in a patient in whom acute appendicitis is suspected.

In a meta-analysis of 6 prospective studies, CT demonstrated superior sensitivity (91%) and specificity (90%) over ultrasonography (sensitivity 78%; specificity, 83%).

Delaying surgery to complete a radiologic investigation for appendicitis was found not to increase the rate of perforation or complications but did decrease the rate of negative appendectomies. The rate of negative appendectomy decreased significantly with CT compared to clinical evaluation only (9.3% vs 5%). Ultrasonography alone, however, did not result in a rate decrease.

Limitations of techniques
Abdominal radiographs are normal in many patients with acute appendicitis and should not be obtained routinely. An appendicolith is the most specific sign on plain radiographic films, but it is observed in only 10% of patients with appendicitis. Disadvantages of barium enema include a high incidence of nondiagnostic examinations, radiation exposure, insufficient sensitivity, and invasiveness.
A significant disadvantage of US is that it is operator dependent. Intestinal peristalsis, pulsations of the iliac artery (when it is close to the appendix), deep respiration in noncooperative patients, and difficulty maintaining the probe at the same location for a long time are disadvantages of color Doppler US in detecting increased vascularity of the appendix.
Disadvantages of CT scanning include radiation exposure, the potential for anaphylactoid reaction if intravenous (IV) contrast is used, lengthy preparation time if oral contrast is used, and patient discomfort if rectal contrast is used.
Disadvantages of MRI include high cost, use of IV contrast, the requirement that patients fully cooperate, difficulty with patients who are claustrophobic, the inability to observe an appendicolith in the lumen (an important finding in acute appendicitis), and the inability to differentiate between gas and an appendicolith in the perforation site.
Disadvantages of radionuclide scanning include long acquisition times (approximately 5 h) and the lack of availability of this modality.
For patient education information, see eMedicineHealth's Digestive Disorders Center, as well as Appendicitis, Abdominal Pain in Adults, and Abdominal Pain in Children.