Practice Essentials
Lymphoma is a descriptive term for malignancy of lymphoreticular cells of specific lineage (T cells, B cells, and histiocytes), in which the malignant lymphocytes crowd the normal, healthy cells in bone marrow and cause the lymph nodes to enlarge (see the images below). This disease is divided into Hodgkin disease (HD) and non-Hodgkin lymphoma (NHL). Non-Hodgkin lymphomas account for 90% of all lymphomas, while HD constitutes the remaining 10%.
The thorax is involved in 85% of all cases of HD and 45% of all cases of NHL.
Unlike HD, NHL has many subtypes. Diffuse large B-cell lymphoma (DLBCL) is the most common subtype, representing 25-30% of all lymphomas. DLBCL tends to be aggressive and often involves the lung. Extranodal marginal zone lymphoma (EMZL) of mucosa-associated lymphoid tissue (MALT) is another subtype that commonly affects the lung.
The patient's prognosis and treatment vary according to the type of NHL.
Preferred examination
The primary investigation of suspected lung and mediastinal pathology is standard chest radiography. After a mediastinal lesion is identified on a conventional radiograph, CT scanning is the preferred modality for further evaluation of the middle and anterior mediastinum. MRI is preferred when neural involvement is suspected, and then imaging is generally limited to the spine.

Abdominal disease is demonstrable on ultrasonograms. However, CT scanning is commonly used to show the presence and extent of disease. Visceral involvement may be diffuse or focal, with multiple nodules or sometimes a large, solitary mass present. If symptoms indicate osseous involvement, conventional radiographs may depict areas of destruction, periosteal new-bone formation, and a sclerotic lesion (in some cases). Vertebral lesions are best evaluated with MRI, particularly when vertebral collapse has occurred. MRI provides elegant demonstration of surrounding soft tissue involvement and intraspinal disease if present. MRI has a role in select cases for follow-up and for differentiation of fibrosis from disease, but if the signal intensity remains high, differentiation may be impossible, and positron emission tomography (PET) is better. In cases of central nervous system (CNS) involvement, MRI is preferred and should be used for evaluation. MRI is a valuable tool in the setting of a residual mass after treatment, giving clinically useful information for prognosis.
Similarly, testicular ultrasonography (US) can be performed if it is clinically applicable.

Isotope studies with gallium are rarely used. Gallium-67 (67Ga) scintigraphy has a sensitivity of 85% for high-grade NHL. Its sensitivity for low-grade NHL is poor. Ga-67 scintigraphy can be used to monitor responses to treatment. Where available, fluorodeoxyglucose (FDG)-PET scanning is increasingly used to image and stage malignancy. Compared with cross-sectional morphologic imaging, FDG-PET has several advantages. FDG-PET depends on metabolic abnormalities in cancer tissue and not on size criteria, as CT scanning does. It also provides a complete body survey, which is important in evaluating a multifocal disease process such as NHL. FDG-PET provides superior lesion contrast, allowing for easy detection, and the tomograms enable good anatomic localization. Whole-body FDG-PET followed by conventional imaging techniques of areas of abnormal radionuclide uptake is more cost-effective than are conventional staging methods. PET/CT has increasingly been used in staging NHL, although its availability remains limited.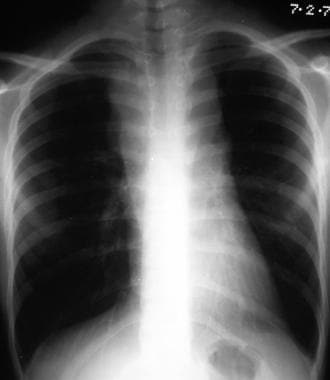 Posteroanterior (PA) chest radiograph in a man with thoracic non-Hodgkin lymphoma (NHL) shows mediastinal widening due to grossly enlarged right paratracheal and left paratracheal nodes.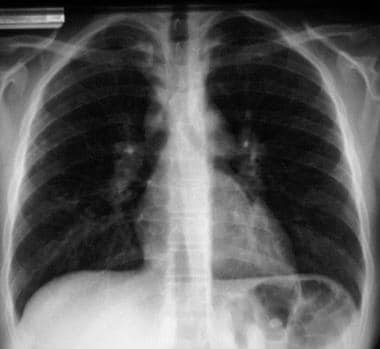 Posteroanterior (PA) chest radiograph in a 16-year-old male adolescent with thoracic non-Hodgkin lymphoma (NHL) shows subtle enlargement of the lower paratracheal lymph nodes.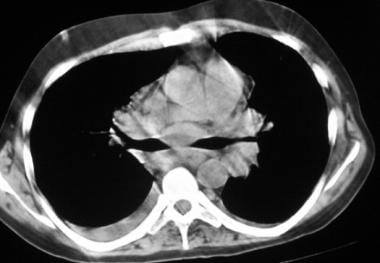 Nonenhanced CT scan through the mediastinum at the level of the carina shows enlarged tracheobronchial and subcarinal nodes. Note the small bilateral pleural effusion.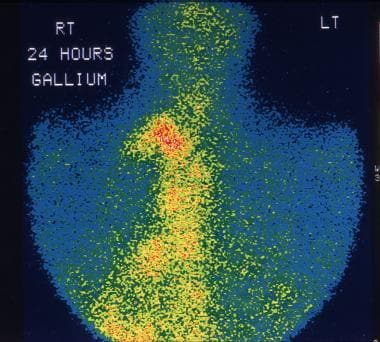 This 28-year-old man was being evaluated for fever of unknown origin. Gallium-67 study shows extensive uptake in the mediastinal lymph nodes due to non-Hodgkin lymphoma (NHL).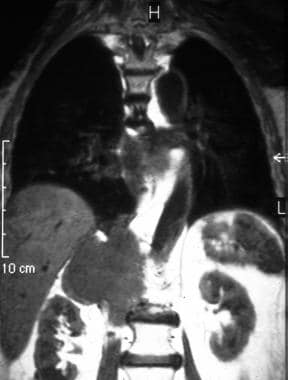 T1-weighted coronal MRIs of the thorax in a 55-year-old woman with lower dorsal pain (same patient as in the previous image). Note the signal-intensity changes in the body of D12; these are associated with a right-sided, large, paravertebral soft-tissue mass involving the psoas muscle. Biopsy confirmed non-Hodgkin lymphoma (NHL).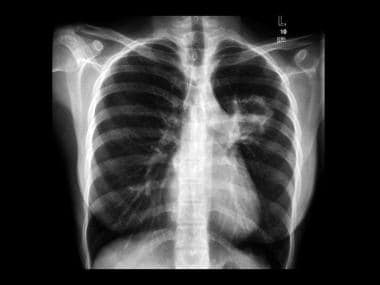 A PA chest radiograph in a 28-year-old woman who presented with weight loss, showing a cavitating lesion (mimicking tuberculosis) in the left midzone adjacent to the left hilum. Histology confirmed a large-cell NHL.
Classification of NHL
NHL tumors include the following:
Low-grade NHL tumors
Small lymphocytic tumors (lymphocytic and well-differentiated in the Rappaport classification)
Follicular predominantly small cleaved-cell (nodular, poorly differentiated lymphocytes) tumors
Follicular mixed and large cleaved-cell (nodular, [mixed] lymphocytic and histiocytic) tumors
Intermediate-grade NHL tumors
Follicular predominantly large-cell (nodular, histiocytic) tumors
Diffuse small cleaved cell (diffuse, poorly differentiated, lymphocytic) tumors
Diffuse (mixed) large- and small-cell (diffuse, [mixed] lymphocytic and histiocytic) tumors
Diffuse large-cell (diffuse, histiocytic) tumors
High-grade NHL tumors
Large-cell, immunoblastic (diffuse, histiocytic) tumors
Lymphoblastic (lymphoblastic lymphoma) tumors
Small noncleaved (undifferentiated Burkitt and non-Burkitt) tumors
Miscellaneous NHL tumors
Composite
Mycosis fungoides
Histiocytic
Unclassified
Follicular tumors are less aggressive and more widespread than are other tumors. Follicular tumors have a higher relapse rate and may undergo transformation into a more aggressive histology, whereas diffuse tumors are more aggressive and localized and have lower relapse rate. Most mediastinal tumors are of the diffuse and poorly differentiated lymphocytic type. Although this type is localized at presentation, its presence implies disseminated disease.
Staging of lymphomas
Lymphomas are staged by using the Ann Arbor system, as follows:
Stage I – The tumor involves only 1 lymph node region, organ, or other site
Stage II – The tumor involves 2 or more lymph node regions on the same side of the diaphragm, an organ and lymph nodes in the same half of the body, or another site and lymph nodes in the same half
Stage III – The tumor involves lymph node regions and/or the spleen (and on both sides of the diaphragm): Stage III (1) – the tumors are above the renal vessels; Stage III (2) – the tumors are in the lower abdomen.
Stage IV – The tumor is extranodal, with diffuse involvement of nonlymphatic organs or tissues (eg, bone, marrow, lung, liver): Stage IV A – constitutional symptoms are absent; Stage IV B – constitutional symptoms are present
Limitations of techniques
The appearances of a mediastinal mass on chest radiographs are nonspecific, with a wide differential diagnosis, and the differentiation of benign and malignant lesions may not be possible. Subtle bone erosions can be missed on conventional radiographs. Underlying masses with pleural and pericardial effusions may not be detected. Fat attenuation in benign lesions may be obscured with tumor hemorrhage or rupture, and a false diagnosis of malignant lesion can be made. A standard PA chest radiograph may be difficult to obtain in ill patients and in young children with mediastinal magnification obscuring anterior mediastinal masses, as shown on anteroposterior (AP) radiographs.
Although CT scanning is the examination of choice in the assessment of mediastinal masses, at best, the findings only suggest the diagnosis of NHL. A tissue diagnosis is required. CT scanning can be invasive, and young patients may require sedation or a general anesthetic. In addition, CT scanning is expensive and exposes the patient to radiation. Moreover, patients may be allergic to iodinated contrast medium, which must be used with caution in persons with renal failure.
MRI provides better contrast resolution than do other studies, but biopsy is often required for a definitive diagnosis.
MRI is expensive and not universally available, and patients with claustrophobia and young children may need sedation or general anesthesia. MRI cannot be used with certain types of metallic implants or clips, with cardiac pacemakers, or with ferromagnetic foreign bodies. Image-guided biopsy may require more expensive, MRI-compatible equipment.
US is operator dependent, and access to the anterior mediastinum may be difficult because of the thoracic bony cage and lungs. US cannot be used to evaluate the lungs.
Although radionuclide scans are more tissue specific than are other studies, it has a potential for false-positive results, and uptake may occur in a variety of normal, inflammatory, and neoplastic tissues.
FDG-PET is expensive, currently has limited availability, and requires prolonged acquisition times. Sites with normal physiologic activity may contribute to false results, although this appears to be less of a problem than it is with 67Ga imaging. Persistent FDG uptake in a residual mass should prompt strong consideration of additional therapy, although occasionally, uptake may be related to thymic hyperplasia or a histiocytic reaction.
Intervention
Image-guided biopsy (with US, conventional radiography, or CT scanning) conducted using fine-needle aspiration (FNA) or core-needle techniques is considered safe and is increasingly used in preference to a surgical biopsy. Interpretation of FNA results needs an expert cytopathologic opinion. Differentiation of various types of mediastinal tumors, such as thymomas, lymphomas, and germ cell tumors, is possible when core-needle biopsy material is subjected to special histologic staining, including immunohistochemical techniques.