Overview
Nontuberculous mycobacteria (NTM) are ubiquitous environmental organisms that are normally found in soil and water and are an important cause of pulmonary infections in humans.
In 1968, Dr Wolinsky published the first comprehensive review, stating, "chronic pulmonary disease resembling tuberculosis [TB] represents the most important clinical problem associated with NTM."
Since then, a variety of manifestations of NTM infection have been described, but the lungs remain the most commonly involved site.
Preferred examination
The increasing efficiency of microbiologic laboratories in isolating small quantities of organisms has made the distinction between colonization and infection more difficult. Therefore, diagnostic guidelines from the American Thoracic Society suggest that the presence of symptoms and radiographic evidence of infiltrates (nodular or cavitary disease) are essential adjuncts to the microbiologic diagnosis.

(See the images below.)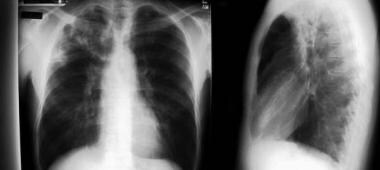 Images in a 50-year-old man with chronic obstructive pulmonary disease (COPD), a worsening cough, and a low-grade fever of 3 months' duration show cavitating consolidation and volume loss, the primary pattern associated with nontuberculous mycobacterial infections. This particular patient had a Mycobacterium kansasii infection.

Chest CT scans in a patient with Mycobacterium avium-intracellulare complex (MAI complex) infection show nodules and multifocal bronchiectasis in the middle lobe and lingula.
The best-studied NTM are slow-growing Mycobacterium avium complex (MAI complex) and Mycobacterium kansasii. Nontuberculosis mycobacteria are pathogenic mycobacteria, other than Mycobacterium leprae, that are not part of the tuberculosis complex. There are many other potentially pathogenic NTM organisms.
Approximately 80% of pulmonary NTM infections are caused by M avium complex (MAC), and M abscessus accounts for 6-13%.

Pulmonary NTM disease occurs more frequently in patients with chronic underlying disease, such as chronic obstructive pulmonary disease (COPD) and bronchiectasis.

MAI complex is the most common pathogen in the US, followed by M kansasii, whereas MAI complex and then Mycobacterium xenopi are most common in Canada and in parts of Europe. M abscessus accounts for greater than 80% of cases of NTM lung disease due to rapidly growing mycobacterial species.