Overview
Preferred examination
If patients with primary tuberculosis undergo imaging, a conventional chest radiograph may be sufficient for diagnosis in the appropriate clinical setting. (A case of primary pulmonary tuberculosis is depicted in the image below.) In patients with progressive primary or postprimary tuberculosis, computed tomography scanning is often performed, in addition to chest radiography. Magnetic resonance imaging may be used to evaluate complications of thoracic disease, such as the extent of thoracic wall involvement with empyema, but is of limited value in the evaluation of patients with pulmonary tuberculosis.

Concerning characterization of the infection as active or not, CT is more sensitive than radiography, and fluorodeoxyglucose positron emission tomography/CT (FDG PET/CT) has yielded promising results.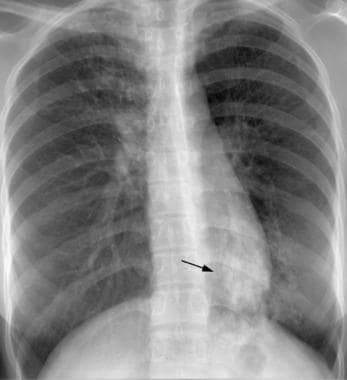 Young male patient with fever and cough has a focal opacity in the left lower lobe that looks like a pneumonia. This is a case of primary tuberculosis in an adult.
See Tuberculosis: Diagnostic Imaging and Treatment Challenges, a Critical Images slideshow, to help determine the best approach for patients with this multisystemic disease.
Typically, ultrasonography is not useful in imaging pulmonary disease. This modality may be used for thoracentesis guidance or to evaluate the pericardium for secondary tuberculous involvement.
Angiography is not used in the diagnosis of pulmonary tuberculosis. Angiographic techniques, such as bronchial arteriography and embolization in patients with hemoptysis, may be used to treat the complications of cavitary pulmonary tuberculosis.
Patients with postprimary tuberculosis may also undergo bronchoscopy to evaluate endobronchial disease and to obtain sputum specimens for microbacteriologic cultures.

Mycobacteria
Traditionally, the term tuberculosis has been used to indicate infections caused by Mycobacterium tuberculosis and M bovis; however, a multitude of causative mycobacteria are recognized.
Tuberculosis may involve multiple organs such as the lung, liver, spleen, kidney, brain, and bone. In endemic regions, the normal host immune response may be sufficient to contain the infection and prevent clinical presentation. Uncontrolled or uncontained infection may result in great morbidity and mortality.
Limitations of techniques
Conventional radiography is limited in its sensitivity and specificity. As many as 15% of patients with primary tuberculosis have normal chest radiographic findings. Clinical suspicion must remain high for prompt diagnosis in these individuals. Chest radiographic results are not specific for tuberculosis, and other entities must remain in the differential diagnosis,

Intervention
Interventional radiologists may be consulted to perform diagnostic and therapeutic bronchial artery studies, and interventional radiologic techniques may be used to confirm the diagnosis with percutaneous lymph node aspiration or biopsy to obtain material for culture, cytologic, or histologic studies.
Radiologists may perform stent placement with fluoroscopic and/or CT guidance in collaboration with the bronchoscopist, and they often obtain fluid for evaluation by performing ultrasonography- or CT-guided thoracentesis.