Overview
The number of drugs that adversely affect the respiratory system continues to increase, and their effects pose a great challenge to all physicians. A review in 1972 identified only 19 drugs with the potential to cause pulmonary disease; now, more than 350 (and counting) have been identified. Awareness of drug-induced pulmonary disease is increasing. The sole purpose of one clinical study group, the Groupe d'Etudes de la Pathologie Pulmonaire Iatrogene (GEPPI), is to provide information regarding individual cases, to collect and update literature on drug-induced lung disease, to publish updated lists of offending compounds, and to provide warnings when adverse effects of drugs are recognized.

Although conventional chest radiography is the first choice in imaging options in evaluating patients for pulmonary manifestations of drug toxicity, the limitations of the pattern approach often necessitate the use of other imaging techniques in addition to clinical and laboratory evaluation. In select cases, high-resolution computed tomography (HRCT) and radionuclide imaging have a role in detecting lung toxicity early, when it is still reversible, or in differentiating drug toxicity from other lung pathology.

The major problem with all imaging is that drug-related lung toxicity has a nonspecific appearance, and similar patterns have been described with many interstitial lung diseases. Lung toxicity resulting from various drugs can induce similar changes. In patients taking drug combinations, the imaging findings alone may not reveal the culprit.
Early recognition of drug-induced lung disease is important because it can be reversed if appropriate therapy is instituted soon after the onset of symptoms. Lack of response to empiric antibiotic treatment and an imaging pattern of organizing pneumonia should raise suspicion of everolimus-induced pneumonitis in patients undergoing therapy with this drug.

See the images below.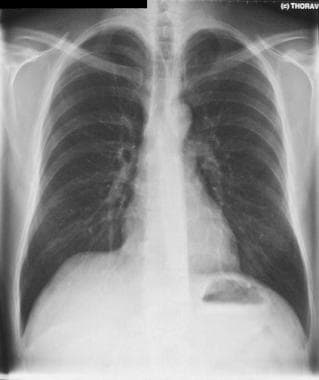 A 48-year-old man was given a chemotherapeutic regimen containing bleomycin to treat metastatic testicular cancer. This chest radiograph was obtained at the start of therapy (see also Image 2 in Multimedia). Courtesy of Sat Sharma, MD, FRCPC, FACP, FCCP, DABSM.