Practice Essentials
Kaposi sarcoma (KS) is widely recognized as the most common malignancy associated with acquired immunodeficiency syndrome (AIDS). Originally, the disease was believed to be a form of primary skin cancer; however, a viral etiology now has been firmly established.
Bronchopulmonary KS has been found on autopsy in 47% of patients with AIDS who had cutaneous Ks.

Preferred examination
A chest radiograph is usually the initial examination in patients in whom thoracic KS is suspected, because radiographic appearances of pulmonary KS are among the most distinctive seen in patients with AIDS; even subtle abnormalities should be viewed as suggestive of pulmonary involvement in a patient with known mucocutaneous disease.
An accurate diagnosis of pulmonary KS can be established by using computed tomography (CT) scanning in 90% of patients. The role of magnetic resonance imaging (MRI) in the diagnosis of KS has not been defined. Ultrasonography of the thorax is useful in the evaluation of pleural disease and for guiding therapeutic thoracentesis. Radionuclide imaging is a useful adjunct to radiography and CT scanning in selected patients; it is not always possible to differentiate KS from opportunistic infections by using anatomic imaging.

(The radiologic characteristics of pulmonary Kaposi sarcoma are depicted in the images below.)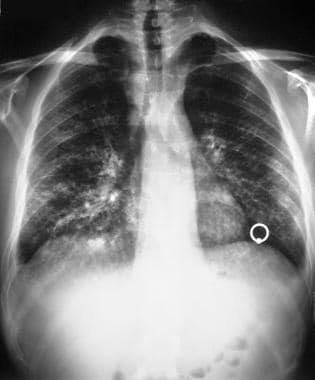 Peribronchial thickening, nodularity, and septal lines in a patient with AIDS and pulmonary involvement of Kaposi sarcoma.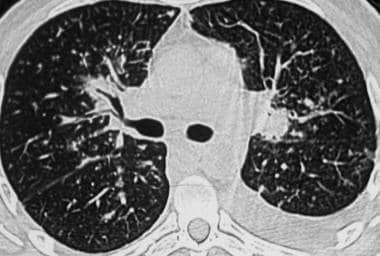 Marked peribronchovascular thickening on high-resolution CT in a patient with AIDS and pulmonary Kaposi sarcoma. Parenchymal nodularity and a unilateral pleural effusion are present.
Usually, mucocutaneous lesions are the first clinical sign of KS. Lesions usually measure 1-2 cm in diameter and are raised, violaceous, and plaquelike. They may appear brown or black in patients with dark skin. Lesions increase in size and number as the disease progresses. Involvement of the GI tract, lymph nodes, lungs, and other viscera is common. Pulmonary involvement occurs in one third of patients and is recognized clinically in 10-15% of patients. Symptoms of KS, such as breathlessness, cough, fever, and wheezing, are nonspecific. Hemoptysis may occur but is unusual. Although lung involvement invariably follows mucocutaneous disease, this may not be clinically apparent.
Pulmonary KS with bone metastases as the first presentation in HIV patients without the involvement of visceral organs or associated skin lesion has been reported.

A wide variety of pulmonary complications may occur in patients who are immunocompromised, including opportunistic infections, drug-induced lung disease, malignancy, and unrelated pathologic processes such as pulmonary edema and pulmonary embolism. These disorders may have similar radiographic appearances.