Overview
Blastomyces dermatitidis is a thermally dimorphic fungus that causes the systemic pyogranulomatous disease termed blastomycosis. This pathogen is endemic to North America, particularly in the states bordering the Mississippi and Ohio rivers, the Great Lakes, and the St. Lawrence Seaway.
Blastomycosis is the least common of the endemic systemic mycoses; the other, more common mycoses include histoplasmosis and coccidioidomycosis. Lungs, and to a lesser extent, skin and bone, are the most common organs involved with this fungus. Hematogenous dissemination can occur.

See the images below.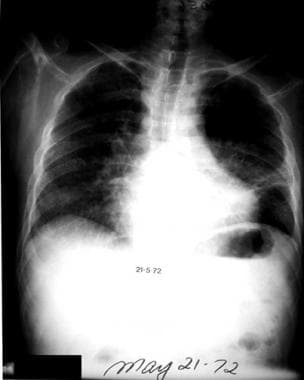 A patient visited central Canada several months ago. He developed cough, fever, and dyspnea. Chest radiograph demonstrates focal patchy opacity in the lingula. Blastomyces dermatitidis was identified on bronchoscopy.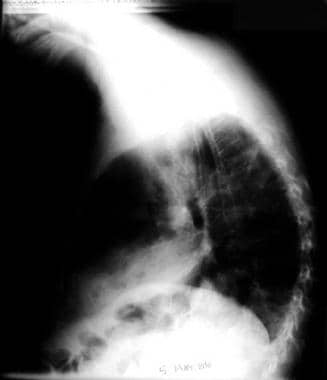 Lateral chest radiograph (same patient as in the previous image) reveals the ill-defined lingular opacity and an absence of pleural effusions.
In a 2014 study, according to the United States Agency for Healthcare Research and Quality, states within the Mississippi and Ohio River valleys had the highest age-adjusted hospitalization incidence of blastomycosis cases, with Wisconsin having the highest incidence (2.9 hospitalizations per 100,000 person-years). From 2000 to 2011, blastomycosis-associated hospitalizations increased significantly in Illinois and Kentucky, with an average annual increase of 4.4% and 8.4%, respectively. Overall, 64% of blastomycosis-associated hospitalizations were among men, and the median age at hospitalization was 53 years.

The diagnosis of thoracic blastomycosis is made on the basis of a demonstration of organisms in culture or on fungal stains (10% potassium hydroxide) of sputum, bronchoscopy specimens, or secretions obtained from cerebrospinal fluids or dermal, subcutaneous, or other lesions.
Cultures are positive in more than 90% of cases. Culture growth may take from 1 to several weeks.
Radiographic findings are nonspecific and variable, with radiographic patterns of thoracic blastomycosis being indistinguishable from those of other mycotic infections.
Chest radiography is the first imaging study performed. The most common pattern observed is acute, nonspecific focal lung opacity, which is found in 25-75% of patients.

For excellent patient education resources, see eMedicineHealth's patient education article Bronchoscopy.