Overview
Cardiac magnetic resonance imaging (MRI) has a wide range of clinical applications. Many of these applications are commonly employed in clinical practice—for example, in the evaluation of congenital heart disease, cardiac masses, the pericardium, right ventricular dysplasia, and hibernating myocardium.

Other applications, such as evaluation of myocardial perfusion and of valvular and ventricular function, are very accurately evaluated with MRI, but competing modalities, such as single-photon emission computed tomography (SPECT) scanning and echocardiography, are more commonly employed in clinical practice. Some applications, such as coronary artery imaging, are currently more accurately evaluated with other modalities. For examples of cardiac MRI scans, see the images below.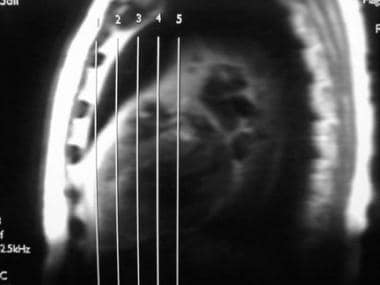 A sagittal single-shot fast spin-echo image is used as an initial localizer for coronal imaging, as shown.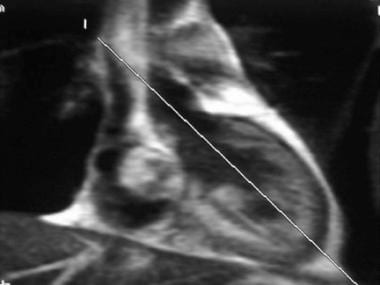 Coronal single-shot fast spin-echo image obtained off the sagittal plane. The image that most clearly depicts the aortic valve is selected. An oblique axial imaging plane is prescribed, as shown from the cardiac apex to the middle of the aortic valve.
One of the main advantages of cardiac MRI is the lack of ionizing radiation, which is substantial with SPECT and computed tomography (CT) scanning. The strength of cardiac MRI, as compared with CT scanning, is its superior temporal and contrast resolution. However, the spatial resolution of CT scanning is superior.
While there are competing modalities for every clinical application of cardiac MRI, there is no one modality that can provide as comprehensive an evaluation as MRI. For this reason, cardiac MRI is often known as the "one-stop shop."
The technical aspects of cardiac MRI are often more daunting for the novice than are the technical aspects of other modalities. The intent of this article is to serve as a primer on the technical aspects of cardiac MRI.
As the number of cardiac MRI applications is broad, the number of potential imaging techniques is correspondingly broad and cannot be covered in depth in 1 article. Therefore, this article will focus on providing an in-depth review of the most common cardiac MRI techniques. Several common clinical applications of cardiac MRI will also be addressed.