Overview
Ependymomas are believed to account for approximately 60% of all primary neoplasms of the spinal cord and filum terminale. Intraspinal ependymomas are most easily grouped into 3 classes: intramedullary lesions, myxopapillary ependymomas, and metastases from an intracranial origin. Intramedullary ependymomas constitute about 40-60% of spinal cord tumors in adults, and intradural extramedullary ependymomas are considered very rare, with the exception of those tumors at the filum terminale or conus medullaris.

See the images below.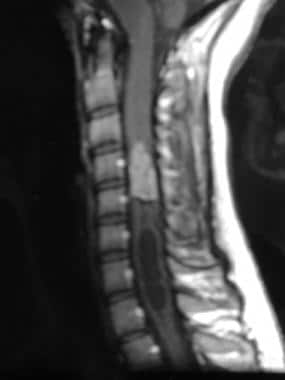 T1-weighted sagittal gadolinium-enhanced magnetic resonance image demonstrates an enhancing intramedullary cervical tumor with a caudal cyst.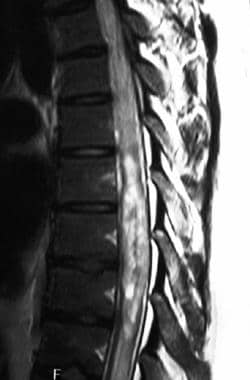 Spine ependymoma.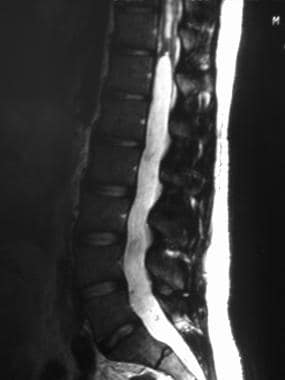 T2-weighted magnetic resonance image demonstrates a myxopapillary ependymoma in the cauda equina.
Preferred Examination
The initial imaging evaluation likely includes plain radiography of the spine. The images may demonstrate erosion of the pedicle or scalloping of the dorsal vertebral body surface. However, the yield of plain radiography is limited, and when clinical suspicion exists, MRI of the spine with and without gadolinium enhancement is the study of choice. MRI permits evaluation of the cord substance itself for masses and associated findings such as edema, hemorrhage, cyst, syringomyelia, and cord atrophy.

For myxopapillary tumors, both the brain and spine should be evaluated with MRI, with and without gadolinium enhancement. Solitary intramedullary lesions are less frequently associated with intracranial spread; thus, cerebral imaging is less important.
Myelography may assist in localizing an intraspinal mass to the extradural, intradural extramedullary, or intradural intramedullary compartments. A centrally situated, regularly fusiform cord may be suggestive of an intramedullary ependymoma, whereas fusiform swelling in the cauda equina, particularly when it is large enough to result in bony erosion, and a blockage of contrast enhancement may be consistent with an ependymoma of the filum.
With a yield similar to those of plain radiography or myelography, computed tomography (CT) scan findings are not conclusive for ependymoma. Nonspecific findings of canal widening, bony erosion, and a thickened cord or filum are suggestive but not diagnostic of ependymoma.