Overview
Astrocytomas of the spinal cord are rare tumors that arise from astrocytes in the spinal cord and occur in the adult and pediatric populations.
Most spinal cord astrocytomas are benign, low-grade tumors that are readily diagnosed with magnetic resonance imaging (MRI). These tumors characteristically cause the spinal cord to appear expanded, often with cysts and a variable enhancement pattern.
Patients usually present with symptoms at or below the level of the spinal cord tumor. The most common signs and symptoms of spinal cord tumors include back pain, numbness and paresthesias, unilateral or bilateral weakness, ataxia, bowel or bladder dysfunction, mild spasticity, and gait difficulties. A full neurologic examination is necessary for any patient with a possible spinal cord tumor.
The examination modality of choice for diagnosing and evaluating spinal cord astrocytomas is a contrast-enhanced MRI of the spine with a closed magnet. The extent of the tumor mass, the enhancement pattern of the tumor, and the presence of associated tumoral cysts and syringeal cavities are well delineated on MRI.
The location for laminectomy is based on findings on preoperative MRI. Intraoperative ultrasonography is used to define the margins of the tumor and to locate any cysts.
(See the image below.)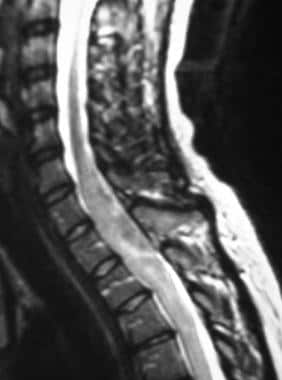 Sagittal T2-weighted magnetic resonance image of the cervicothoracic spinal cord. This image demonstrates an intramedullary lesion in the cervicothoracic spinal cord and the associated cord expansion. Histology revealed a low-grade astrocytoma.