Overview
Meningiomas are the most commonly reported intracranial tumor. They represent approximately 38% of all intracranial neoplasms in females and 20% in males.
Meningiomas are also the most common extra-axial tumors in the brain and the most frequently occurring tumors of mesodermal or meningeal origin. They are more common in women than men and are usually diagnosed after age 30.

Advances in radiologic imaging techniques, such as computed tomography (CT) scanning and magnetic resonance imaging (MRI), have improved the ability to predict the success for complete removal of the mass. Imaging information about the dural attachment site, the location and severity of edema,
and the displacement of critical neurovascular structures is useful for planning the operative approach and has an effect on the outcome.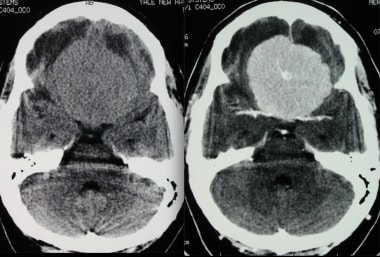 Transverse axial CT without and with contrast shows a spoke-wheel pattern within this avidly enhancing meningioma. Although this pattern is typically seen angiographically, it can also be noted on cross-sectional imaging.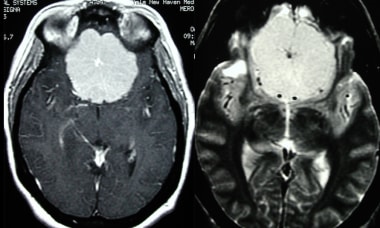 Subsequent MRI of the previous CT with the following sequences: axial T1 post gadolinium adminsitration and axial T2 sequences. This again shows a large midline frontal meningioma with a spoke-wheel pattern.
Neuroradiologists and neurosurgeons must be aware of both the typical and atypical imaging appearances of meningiomas, as there is some correlation with different histologic types of tumor.
The World Health Organization (WHO) classifies meningiomas into 15 subtypes under 3 major categories:
Grade 1 (typical or benign), representing 88-94% of cases
Grade II (atypical), representing 5-7% of cases
Grade III (anaplastic or malignant), representing 1-2% of cases
Significant factors contributing to recurrence include atypical and malignant histologic types and heterogeneous tumor contrast enhancement on CT scans.
Meningiomas arise from the arachnoid membranes, specifically from meningothelial cells. Most meningiomas grow inward toward the brain as discrete well-defined, dural-based masses and are spherical or lobulated in contour. Flat tumors, termed en plaque, infiltrate the dura and grow as a thin carpet or sheet of tumor along the convexity dura, falx, or tentorium. Dural attachment of meningiomas can be pedunculated or broad-based (sessile). Because the pia and arachnoid form a membranous barrier between brain and tumor, some meningiomas grow into the subarachnoid space, but invasion of the brain is infrequent.
Preferred examination
MRI is preferred for the diagnosis and evaluation of brain meningiomas.
It more accurately evaluates en plaque and posterior fossa meningiomas, which may be missed on CT scanning. CT scanning, however, clearly depicts bony hyperostosis, which may be difficult to appreciate on MRI.
CT scanning historically had limitations in performing direct imaging in any plane other than axial. However, with modern spiral CT scanning and multisection or multidetector-row CT (MDCT) scanning, the quality of sagittal and coronal images that can be reconstructed from axial data has increased significantly. CT scanning is less helpful than MRI in differentiating different types of soft tissue.
The differential diagnosis for brain meningioma includes dural metastasis (with breast and prostate cancer being the most common primary malignancies), hemangiopericytoma, granulomatous disease (including sarcoidosis and tuberculosis), idiopathic hypertrophic pachymeningitis, extramedullary hematopoiesis, hemangioma, and dura/venous sinuses. With certain anatomic locations, other differential diagnoses should be considered, including vestibular schwannoma for cerebellopontine angle tumors, pituitary macroadenoma and craniopharyngioma for parasellar tumors, and chordoma/chondrosarcoma for masses around the clivus.
Radiologic intervention
The development of catheters and the continued refinement of embolic materials and radiographically controlled interventional procedures have contributed to improved treatment of patients with brain meningiomas. The clinician must be aware of the active participation of the neurosurgeon and neuroradiologist in the therapy for neurosurgical patients.

The best available treatment for benign meningiomas is complete surgical resection of the tumor. Nevertheless, interventional neuroradiologists commonly contribute in performing preoperative embolization to reduce the blood supply to the tumor. Treatment of meningiomas is benefited by embolization, but especially those with a complex presentation, giant meningiomas, meningiomas exhibiting malignant or angioblastic characteristics, or meningiomas involving the skull base, scalp, or critical vascular structures. The preoperative embolization of meningiomas is commonly used to facilitate surgery.
In a study of the effects of preoperative embolization on overall surgical outcomes after meningioma resection, preembolization and postembolization tumor enhancement patterns on MRI defined as embolization fraction correlated with decreased intraoperative blood loss and better postoperative functional outcomes. Tumor location significantly correlated with the decision to embolize preoperatively.

Embolization can be carried out at the same time as the diagnostic angiography session or may occur later if detailed procedural planning is required. Distal, homogeneous, and permanent occlusion of the vascular bed by injecting small particles (150-300 microns of polyvinyl alcohol [PVA]) through microcatheters is the goal. Bilateral dural devascularization shortens the surgical resection time and permits total removal of the tumor. The procedure causes tumor necrosis, expanding the spectrum of meningiomas that can be safely resectioned during surgery.
PVA particles ranging in size from 100 to 2000 microns have been used, but the newer class of deformable particles and Bead Block have been shown to be more effective in distal embolotherapy to reach the capillary bed of the meningioma. Embospheres can be tagged with chemotherapeutic agents. Several meningiomas of the convexity have been embolized with Embospheres in our experience.
A cautious approach should be taken regarding pathologic evaluation of preoperatively embolized meningiomas; one study has suggested that preoperatively embolizing meningiomas may risk overgrading the pathologic specimen if the interpreting pathologist is not aware of the recent procedure. Features such as neoangiogenesis (microvessel density), necrosis, and prominent nucleoli should be interpreted with caution in such specimens.

Approximately 2% of patients have complications associated with embolization that result in neurologic deficits. At the theoretical level, embolization may reduce the likelihood of recurrence. Embolization also may be the only treatment required in older or high-risk patients. See the images below.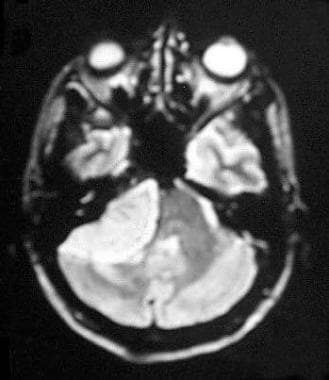 T2-weighted magnetic resonance image shows a hyperintense mass attached to the petrous bone, within the cerebellopontine angle, in keeping with a cerebellopontine angle meningioma. Differential diagnosis includes vestibular schwannoma. Features on this image include a sharply defined tumor margin, subtle edema, and mass effect on the fourth ventricle and the brainstem. Hyperintensity on the T2-weighted image indicates a soft tumor consistency and microhypervascularity, which is seen more often in aggressive, angioblastic, or meningothelial meningioma.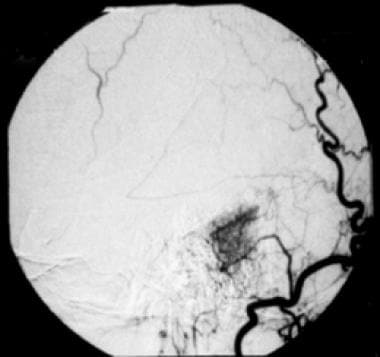 Selective angiogram of right occipital artery shows focal hypervascularity through the auricular artery. Early and delayed staining is seen in this cerebellopontine angle meningioma, characterizing the typical "mother-in-law sign."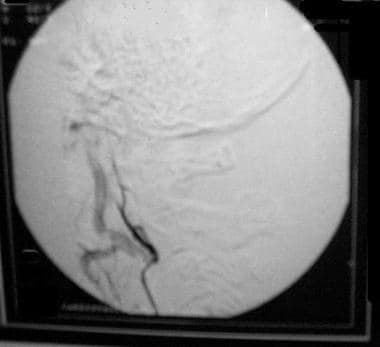 This angiogram demonstrates successful embolization of this cerebellopontine angle meningioma prior to surgery, via embolization of the right occipital artery with polyvinyl alcohol particles.