Overview
Ganglioglioma was first described by Courville in 1930 as a central nervous system neoplasm containing both astrocytic and neuronal components.
Gangliogliomas may occur anywhere in the central nervous system but are not encountered commonly.
Similar to other brain tumors, imaging techniques define the location of gangliogliomas and their relationship to adjacent structures. Because of the relative rarity and nonspecific appearance of these lesions, gangliogliomas are only infrequently considered a presurgical diagnosis.

Magnetic resonance imaging (MRI) with contrast enhancement is more sensitive and specific than other imaging techniques in determining the presence and location of gangliogliomas and in characterizing the lesions' cystic and/or solid components.
However, the imaging appearances of these tumors are nonspecific, and the diagnosis is usually established by histology and immunohistochemistry. See the image below.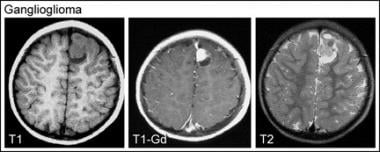 Axial magnetic resonance images (T1-weighted, T1-weighted with contrast, and T2-weighted) demonstrate a left superior medial frontal mixed solid and cystic mass that is surgically proven and typical ganglioglioma. The solid anterior component is hypointense on the T1-weighted image, of intermediate intensity on the T2-weighted image, and reveals dense contrast enhancement. The cystic posterior component has low cerebrospinal fluidlike signal on the T1-weighted image and bright signal on the T2-weighted image with no contrast enhancement. Note that the tumor extends to a cortical surface, and no surrounding edema is seen.