Practice Essentials
Microscopic polyangiitis (MPA) is a vasculitis of small vessels. Patients frequently present with renal manifestations, but systemic manifestations, arthritis, mononeuritis multiplex, and other signs and symptoms are also common.
(See Presentation and Workup.)
Vasculitis in small vessels, including arterioles, capillaries, and venules, a characteristic of MPA, is absent in polyarteritis nodosa. This absence is the proposed distinguishing feature between those two disorders. Granulomatosis with polyangiitis (Wegener granulomatosis, GPA), MPA, and eosinophilic granulomatosis with polyangiitis (Churg-Strauss syndrome, EGPA) comprise a category of small vessel vasculitis related to antineutrophil cytoplasmic antibodies (ANCAs) and are characterized by a paucity of immune deposits.
MPA and GPA seem to be part of a clinical spectrum. However, an absence of granuloma formation and sparing of the upper respiratory tract are features of MPA. These features help to distinguish MPA from GPA, although the two conditions are occasionally difficult to distinguish.
The image below depicts pulmonary alveolar capillaritis.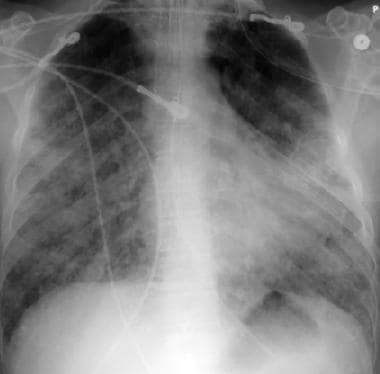 Pulmonary alveolar capillaritis.
Immunosuppressive medications are used to control MPA. The choice of agents depends in part on the extent of disease, the rate of progression, and the degree of inflammation. See Treatment and Medication.
See Vasculitis: Case Presentations, a Critical Images slideshow, for more information on clinical, histologic, and radiographic imaging findings in various forms of vasculitis.