Overview
Radiation therapy is an essential component in Gynecology in the primary nonsurgical management and the adjuvant postoperative treatment of selected malignancies arising in the female reproductive tract. Gynecologic cancers were among the first malignancies treated with ionizing radiation, more than a century ago. (See the image below.)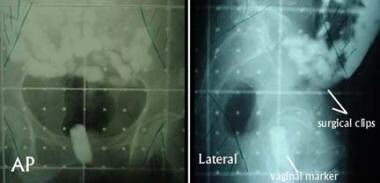 Images show initial anteroposterior (AP, left) and lateral (right) fields used for postoperative adjuvant pelvic external-beam radiotherapy in a patient with stage IC grade 2 adenocarcinoma of the endometrium who underwent hysterectomy. Additional high-risk features included extensive lymphovascular invasion and a serosal resection margin of about 2 mm. Visible are contrast material in the small bowel and the vaginal marker, which is a tampon soaked with radiopaque material. Areas to be blocked in the parallel, opposed AP-posteroanterior and lateral beams are indicated in the corners of these simulation images. The surgical clips marking the sampled region of the external iliac lymph nodes also facilitate design of the lateral fields.
Current strategies for treating cancers of the uterine corpus, uterine cervix, vulva, and vagina are tailored to the clinical and pathologic stage of disease. Early stage lesions of the lower genitourinary tract can be treated surgically if resection can be accomplished without substantial tissue disruption. Postoperative radiotherapy is reserved for cases in which histopathologic analysis of the removed specimen reveals features suggesting a high risk for local recurrence.
Primary radiotherapy can provide an opportunity for cure for women with unresectable, locally advanced disease; for women with resectable disease in whom the risk of surgical morbidity is unacceptably high; and for women with medical risk factors that contraindicate primary surgical therapy. However, for women with distant metastatic disease at presentation, cure is unlikely, although palliative radiotherapy frequently improves a patient's quality of life when used to relieve symptoms.
Although adjuvant radiotherapy is commonly used to manage advanced or metastatic cervical and endometrial cancer, it is sometimes administered as adjuvant therapy for ovarian cancer. Radiation therapy may also be used for hormonal ablation.
In this article, clinical indications and common techniques for radiation therapy in the management of common gynecologic cancers are described.