Overview
Infertility affects approximately 13-14% of reproductive-aged couples. It is defined as the inability to conceive after 1 year of properly timed, unprotected intercourse. This definition is based on the cumulative probability of pregnancy.
Table 1. Cumulative Probability of Pregnancy in Couples With Normal Fertility (All Reproductive-aged Women) (Open Table in a new window)
| | | |
| --- | --- | --- |
| Month | Monthly Probability | Cumulative Probability |
| 1 | 0.2 | 0.20 |
| 2 | 0.2 | 0.36 |
| 3 | 0.2 | 0.49 |
| 4 | 0.2 | 0.59 |
| 5 | 0.2 | 0.67 |
| 6 | 0.2 | 0.74 |
| 7 | 0.2 | 0.79 |
| 8 | 0.2 | 0.83 |
| 9 | 0.2 | 0.86 |
| 10 | 0.2 | 0.89 |
| 11 | 0.2 | 0.91 |
| 12 | 0.2 | 0.93 |
Cycle fecundability is the probability that a single menstrual cycle will result in pregnancy (see Table 1 above). Cycle fecundity is the probability that a single cycle will result in a live birth. Assuming a constant monthly probability of conceiving (fecundability) of 20%, the theoretical cumulative pregnancy rate after 12 months is 93%. However, studies show that this number is actually lower. A famous study conducted in the 1950s showed that 50% conceived within 3 months, 72% within 6 months, and 85% within 12 months.
Other cohort studies have produced similar results.
Fecundability and fecundity are dependent on multiple factors as described below, but one of the most important is the female partner's age. Cycle fecundability decreases as the number of oocytes decreases. Cycle fecundity also decreases, largely due to an increase in miscarriages. See the image below.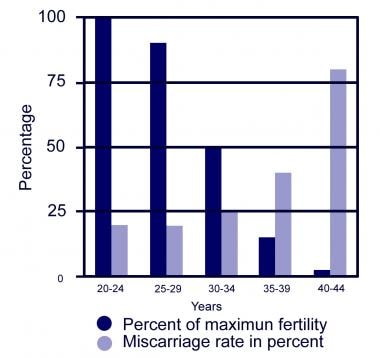 Female age and fertility.
The number and quality of a woman's oocytes declines with age. The decline in the number of oocytes begins at 20 weeks' gestation when the female fetus has approximately 6-7 million oogonia (largest lifetime endowment). The number of oocytes decreases to approximately 2-3 million at birth and decreases again to 300,000 by the time of puberty. Interestingly, the human female has lost most of her eggs before she is even capable of reproducing. At present, the pool of eggs is believed to be nonregenerable.
After the onset of puberty and menses, the female human ovary recruits at least 30-50 oocytes during each menstrual cycle. The oocytes compete with one another to become the dominant follicle and eventually ovulate to be released as an egg capable of being fertilized. Prior to the onset of menopause (10-15 y), menstrual cycles shorten and rapid follicular loss occurs because more oocytes are being recruited.
The birth rate among US women has dropped from 106.2/1000/year in 1950 to 62.9/1000/year in 2014
. This has coincided with several social trends including later marriage, increased divorce rates, improvement in contraception and access to family planning, increased educational level achieved among women, and a greater number of women in the work force. Interestingly, the birth rates by age have dramatically shifted, with birth rates in women aged 15-29 years decreasing and birth rates among women aged 30-44 years increasing from the years 1990–2014.
Though not as abrupt or noticeable as menopause in women, changes in fertility and sexual functioning do occur in men as they grow older. One review of the literature shows that, currently, there is not enough data to show a clear effect of advancing paternal age on ART outcomes.
A recent retrospective analysis of 2,627 intracytoplasmic sperm injection (ICSI) cycles showed paternal age had no effect on pregnancy outcomes and parameters of embryo quality. Both studies point out to the need for more studies in this topic with long term follow up
.
For related information, see Medscape's article Infertility.