Overview
Abnormalities of the vascular structures of the head and brain have long been recognized. McCormick published an influential classification system in "The Pathology of Vascular ('Arteriovenous') Malformations."
He described the arteriovenous malformation (AVM), cavernous malformation, venous malformation, telangiectasia, and varix. Intracranial varices are not of significant current clinical concern. This overview focuses on the previous 4 classes.
See the image below.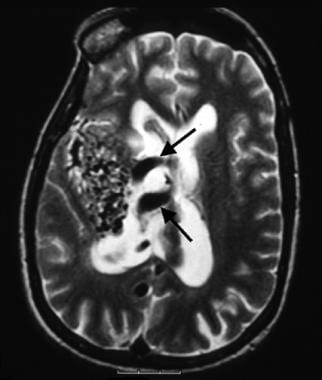 A 44-year-old woman presented with left-sided hemiparesis and intraventricular hemorrhage on her head CT. This axial T2-weighted MRI shows arteriovenous malformation nidus on the right side. The arrows demonstrate large draining veins within the right lateral ventricle.