Background
In the United States, the incidence of closed head injury is estimated to be approximately 200 cases per 100,000 persons per year. In a population of 291.6 million people, this rate equates to more than 570,000 patients annually. Approximately 15% of these patients succumb to the injury upon arrival to the emergency department.

Traumatic injuries remain the leading cause of death in children and in adults aged 45 years or younger. Head injuries cause immediate death in 25% of acute traumatic injuries.
Traumatic brain injury (TBI) results in more deaths than does trauma to other specific body regions.
Penetrating intracranial injuries have worse outcomes than closed head injuries.
Motor vehicle collisions (MVCs) are the most common cause of closed head injuries for teenagers and young adults.
Alcohol or drug use contributes to as many of 38% of cases of severe head trauma in younger patients.
A recent development has been the apparent increase in brain injuries among the elderly; this increase is thought to be related to the use of anticoagulant and antiplatelet drugs.

A CT scan of left frontal acute epidural hematoma is shown below.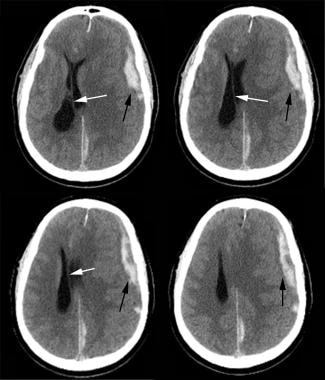 CT scan of left frontal acute epidural hematoma (black arrow) with midline shift (white arrow). Note the left posterior falx subdural hematoma and left frontoparietal cortical contusion.
Head injury significantly contributes to deaths from trauma.
Annual mortality from closed head injuries is approximately 100,000 patients or 0%, 7%, and 36% of mild, moderate, and severe head injuries, respectively.
Patients with severe head injury have a 30-50% mortality rate, and those who survive are often left with severe neurological deficits that may include a persistent vegetative state.
Permanent disability in survivors ranges from 10-100%, depending on the severity of the injuries. This produces more than 90,000 newly disabled patients annually, including 2500 who are in a persistent vegetative state.

The financial burden of head injuries in the United States is estimated to be $75-100 billion annually.
Injuries to the central nervous system tend to be the most costly on a per-patient basis because they often result in debilitating physical, psychological, and psychosocial deficits that, in turn, require extensive long-term rehabilitation and care.
The last 3 decades have been alternately exhilarating and frustrating for clinicians and researchers interested in TBI. Laboratory and bedside research has greatly improved our understanding of posttraumatic cerebral pathophysiology. These new insights have failed to make the transition to clinically used therapies. Many of the major clinical trials of the last decades have been negative studies that have shown us what does not work. Demonstrating the efficacy of new treatments has been extraordinarily difficult.