Practice Essentials
Glomus jugulare tumors are rare, slow-growing, hypervascular tumors that arise within the jugular foramen of the temporal bone and frequently involve the lower cranial nerves.
They are included in a group of tumors referred to as paragangliomas, which occur at various sites and include carotid body, glomus vagale, and glomus tympanicum tumors.
Jugular foramen syndrome, or paresis of cranial nerves IX to XI, is pathognomonic for these tumors.

Signs and symptoms
The most common symptoms are conductive hearing loss and pulsatile tinnitus. Other aural signs and symptoms are ear fullness, otorrhea, hemorrhage, bruit, and the presence of a middle ear mass. Significant ear pain is uncommon. Involvement of the inner ear produces vertigo and sensorineural hearing loss.

Glomus jugulare tumors occur predominantly in women in the fifth and sixth decades of life. Because of the insidious onset of symptoms, these tumors often go unnoticed, and delay in diagnosis is frequent. Because of the location and extent of involvement, glomus jugulare tumors present significant diagnostic, management, and social challenges.
Metastases from glomus tumors occur in approximately 4% of cases.

Examination
Otoscopic examination reveals a characteristic, pulsatile, reddish-blue tumor behind the tympanic membrane that is often the beginning of more extensive findings (ie, the tip of the iceberg).
In up to 75% of patients, a middle-ear mass, or rising sun sign, may be visible.

Audiologic examination reveals mixed conductive and sensorineural hearing loss. The sensorineural component tends to be more significant with larger tumors.
Plain skull radiography may show enlargement of the lateral jugular foramen and fossa. Axial and coronal computed tomography (CT) scanning with thin sections are superior at demonstrating the extent of bone destruction. Magnetic resonance imaging (MRI) with gadolinium-diethylenetriamine pentaacetic acid (DTPA) contrast is best for delineating tumor limits.
Treatment
Surgery may be contraindicated because of age or general physical condition. Surgical resection for type I tumors is relatively simple and complication free, but large tumors affecting the lower cranial nerves and extending beyond the petrous apex carry a significant risk of postoperative complications, especially in older patients. In such cases, embolization, radiation, Gamma Knife stereotactic radiosurgery, or intratumoral injection of cyanoacrylate glue may be considered.

Images
See the images below: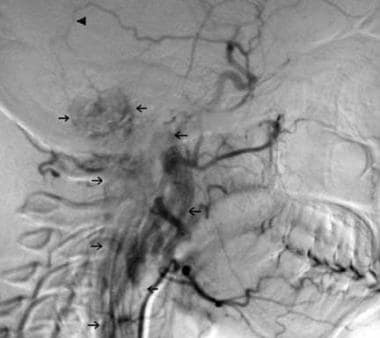 Lateral view of the initial carotid arteriogram of a 20-year-old woman who presented in June 1970 with episodic hypertension, headaches, and palpitations. Urine catecholamine levels were elevated, and a pheochromocytoma was suspected. She underwent a negative exploratory laparotomy. She subsequently developed palsies of the IX, X, XI, and XII cranial nerves on the right side. A norepinephrine-secreting glomus jugulare tumor with intracranial and cervical extension was identified on radiologic and arteriographic imaging. Arrows delineate the tumor blush. The arrowhead demonstrates a branch of the middle meningeal artery providing blood supply to the tumor. This branch was embolized.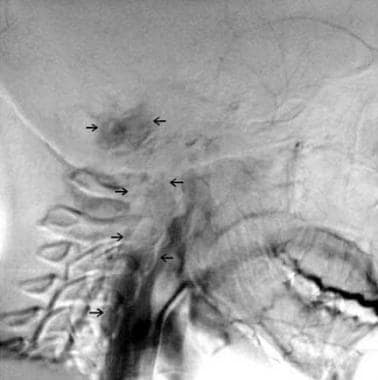 A significant decrease of tumor vascular blush (arrows) following embolization of a norepinephrine-secreting glomus jugulare tumor with intracranial and cervical extension.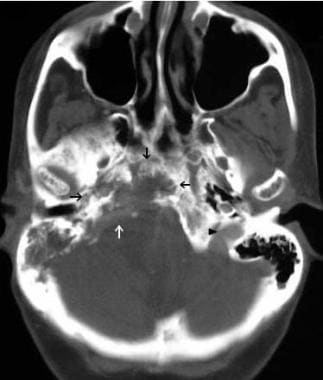 CT imaging demonstrates the extent of bony destruction (white and black arrows) by the tumor. The normal jugular foramen on the left (arrow head) is shown for comparison. The patient subsequently underwent surgical resection of the extracranial portion of this extensive tumor. The remaining intracranial portion was treated with radiation therapy (54 Gy). Follow-up evaluations, including imaging and laboratory investigations, demonstrated long-term control of both tumor growth and catecholamine production.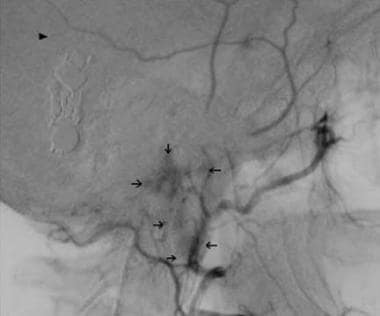 Lateral carotid arteriogram obtained 22 years after radiation therapy in a 20-year-old woman who presented in June 1970 with episodic hypertension, headaches, and palpitations.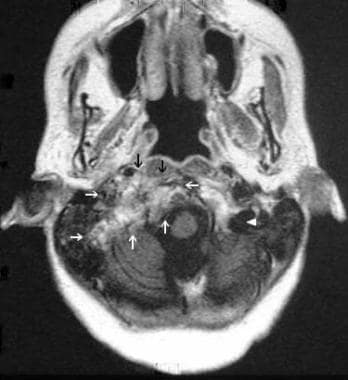 Corresponding MRI of the tumor depicted in the previous image indicating no evidence of tumor growth over time.