Background
Choroid plexus papillomas (CPPs) are benign neoplasms of the choroid plexus, a structure made from tufts of villi within the ventricular system that produces cerebrospinal fluid (CSF).
CPPs are commonly observed in the lateral ventricles of children, but they can be encountered in adults. While the vast majority of these neoplasms are benign, a small percentage can be malignant.

CPPs comprise about 1% of intracranial neoplasms but 2-4% in children. The most common location is the atrium of the lateral ventricle in children and the fourth ventricle in adults. Rare locations include the third ventricle, cerebellopontine (CP) angle, and cerebral parenchyma.

An image depicting a choroid plexus papilloma can be seen below.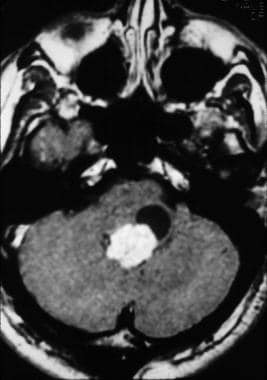 Imaging appearance of a fourth ventricular choroid plexus papilloma (CPP).
SEER data
The Surveillance and End Results (SEER) database was reviewed for population-based outcomes of choroid plexus tumors (CPTs), including choroid plexus papillomas (CPP), atypical CPPs (aCPP), and choroid plexus carcinomas (CPC). A total of 349 patients with CPTs were identified (120 CPCs, 26 aCPPs, and 203 CPPs). Patients with CPC presented at a younger age (median, 3 yr; mean, 14.8 yr) relative to CPP (median, 25 yr; mean, 28.4 yr). Histology was a significant predictor of overall survival (OS), with 5-year OS rates of 90% for CPP, 77% for aCPP, and 58% for CPC. Older age and male sex were prognostic for worse OS and cause-specific survival for CPP. Only extent of surgery had a significant impact on survival for CPC.

In another review of SEER data, of 107 CPPs and 95 CPCs, more than 75% of CPCs were diagnosed in patients younger than 5 years, versus 48% for CPPs; and 65% of CPCs and 57% of CPPs occurred in males. In both groups, at least 90% of children underwent surgical resection, and gross total resection (GTR) was achieved in 67% of CPCs and 63.6% of CPPs. Almost 17% of CPCs were treated with radiation, versus only 0.9% of CPPs. More than 98% of patients with CPP were alive at the last follow-up, whereas only 62% of CPC patients were.