Background
The genus Thogotovirus in the family Orthomyxoviridae contains multiple species, including Araguari, Aransas Bay, Bourbon, Dhori, Jos, Thogoto, and Upolu viruses. Of these viruses, only two have been identified in the United States: Aransas Bay virus (on the southern gulf coast of Texas), from soft ticks found in the nests of seabirds, and Bourbon virus, as a cause of human infection in Kansas and, more recently, in Missouri (although the pathogenesis remains undefined). In the genus Thogotovirus, only 3 have been associated with human disease: Thogoto, Dhori, and Bourbon viruses.

Thogoto and Dhori viruses are transmitted by ticks. Their genome is composed of 6 segments of negative-sense, single-stranded RNA. Replication and transcription occur in the cell nucleus. Polymerase basic subunits 1 and 2, in addition to the polymerase acidic subunit, compose the polymerase complex. These subunits synthesize viral genomic negative-strand DNA, complementary positive-strand RNA, and capped polyadenylated mRNAs.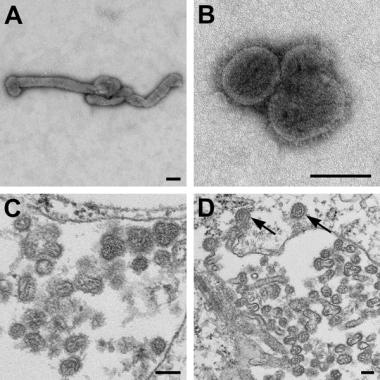 Electron microscopic images of novel Thogotovirus isolate. Filamentous (A) and spherical (B) virus particles with distinct surface projection are visible in culture supernatant that was fixed in 2.5% paraformaldehyde. Thin-section specimens (C and D), fixed in 2.5% glutaraldehyde, show numerous extracellular virions with slices through strands of viral nucleocapsids. Arrows indicate virus particles that have been endocytosed. Scale bars indicate 100 nm. Courtesy of the CDC.