Background
The spinal cord is composed of neuronal pathways, glial tissue, and interwoven vascular structures that perfuse the spinal parenchyma. Spinal cord vascular malformations (arterial and venous) represent a heterogenous group of blood vessel disorders that affect the spinal cord parenchyma either directly or indirectly. This group consists of spinal arteriovenous malformations (AVMs), dural arteriovenous fistulas (AVF), spinal hemangiomas, cavernous angiomas, and aneurysms. The focus of this article is the most prevalent spinal vascular malformations, AVMs and AVFs.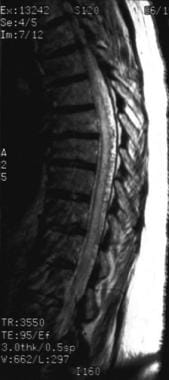 Spinal malformation. This is a sagittal T2-weighted MRI of the thoracic spine of a 68-year-old woman with a 9-month history of back pain and sensory loss, progressing to the point of loss of bowel and bladder function along with a sudden onset of paraparesis. Note the thoracolumbar junction with an edematous spinal cord and dilated serpiginous intradural venous plexus.
AVMs and AVFs are rare disorders that may cause neurologic deterioration. An accurate diagnosis is important because these lesions may represent a reversible cause of myelopathy. Improvements in spinal cord imaging, such as MRI and angiography, have provided further insight into the anatomy and pathophysiology of these lesions. In addition, less-invasive treatment options such as neuroendovascular surgical approaches are presently being further explored.
In 1992, Anson and Spetzler classified spinal cord vascular malformations into the following 4 categories:

Type 1: This dural AVF is the most common type of malformation, accounting for 70% of all spinal vascular malformations.
These fistulas are created when a radiculomeningeal artery feeds directly into a radicular vein, usually near the spinal nerve root. Dural AVFs are most commonly found in the thoracolumbar region.
Patients with type 1 malformations become symptomatic because the AVF creates venous congestion and hypertension, resulting in hypoperfusion, hypoxia, and edema of the spinal cord. Due to the slow-flow nature of type 1 AVFs, hemorrhage rarely occurs. Most dural AVFs are believed to occur spontaneously, but the exact etiology is still unknown.
Type I lesions are most frequently found in men between the fifth and eighth decades of life.
Type 2: Referred to as a glomus AVM, type 2 malformations consist of a tightly compacted group of arterial and venous vessels (nidus) inside a short segment of the spinal cord. Multiple feeding vessels from the anterior spinal artery and/or the posterior spinal circulation typically supply these AVMs. The abnormal vessels are intramedullary in location, although superficial nidus compartments can reach the subarachnoid space.
Type 2 AVMs are the most commonly encountered intramedullary vascular malformations, representing about 20% of all spinal vascular malformations. These lesions usually present in younger patients with acute neurologic deterioration secondary to their location, which is usually the dorsal cervicomedullary region. The mortality rate related to type 2 malformation is reported at 17.6%. After initial hemorrhage, the rebleed rate is 10% within the first month and 40% within the first year.
Type 3: These malformations are arteriovenous abnormalities of the spinal cord parenchyma fed by multiple vessels. These juvenile malformations are extensive lesions with abnormal vessels that can be both intramedullary and extramedullary in location. These lesions are typically found in young adults and children.
Type 4: Also known as pial AVFs, these malformations are intradural extramedullary AVFs on the surface of the cord that result from a direct communication between a spinal artery and a spinal vein without an interposed vascular network. They are usually seen in patients who are between their third and sixth decade of life.
Spinal vascular malformations can also be classified into 2 general groups. One group consists of the spinal dural fistulas (type 1), and the other group has intradural pathology (types 2-4).
Spinal dural arteriovenous fistulas (SDAVFs) are rare pathologies, with a yearly incidence of 5-10 new cases/million, constituting 60-80% of spinal arteriovenous malformations. Clinical symptoms include progressive paraparesis, paresthesias, bladder, and bowel disturbances.