Background
Intramedullary spinal cord abscesses are infrequently encountered in everyday neurosurgical practice. Hart reported the earliest documented spinal cord abscess in 1830. Since then, fewer than 100 cases have been reported in the medical literature. With modern antibiotics and neurosurgical techniques, even smaller numbers of these infections are expected to be encountered in the future. Since abscesses may occur anywhere along the spinal axis, anatomy varies with location involved. The most common location for an intramedullary abscess is the posterior thoracic spinal cord.
Since the original publication of this article, several other case reports have been published that discuss intramedullary spinal cord abscesses.
These case reports, while detailing several unusual presentations of patients with intramedullary spinal cord abscesses, add little to the core concepts promulgated in the original article. Patients with intramedullary spinal cord abscesses present with neurological findings related to the level of spinal cord involvement; MRI with gadolinium is still the procedure of choice for early diagnosis; and successful outcomes depend upon early diagnosis, aggressive surgical treatment, and appropriate antibiotic treatment following surgery. Even when these guidelines are followed, 70% of patients are left with neurological sequelae.
The presumptive diagnosis of intramedullary abscess requires prompt definitive diagnosis. This of course necessitates demonstration of an infection with subsequent identification of that organism. Therefore, a laminectomy to diagnose and culture the organism is usually required.
See the image below.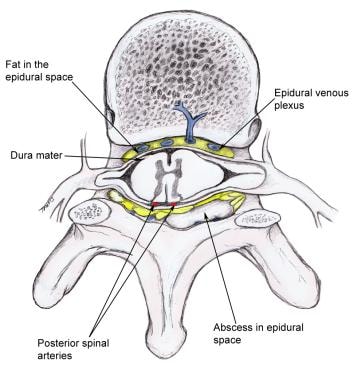 Abscess that compresses the spinal cord and its vasculature.